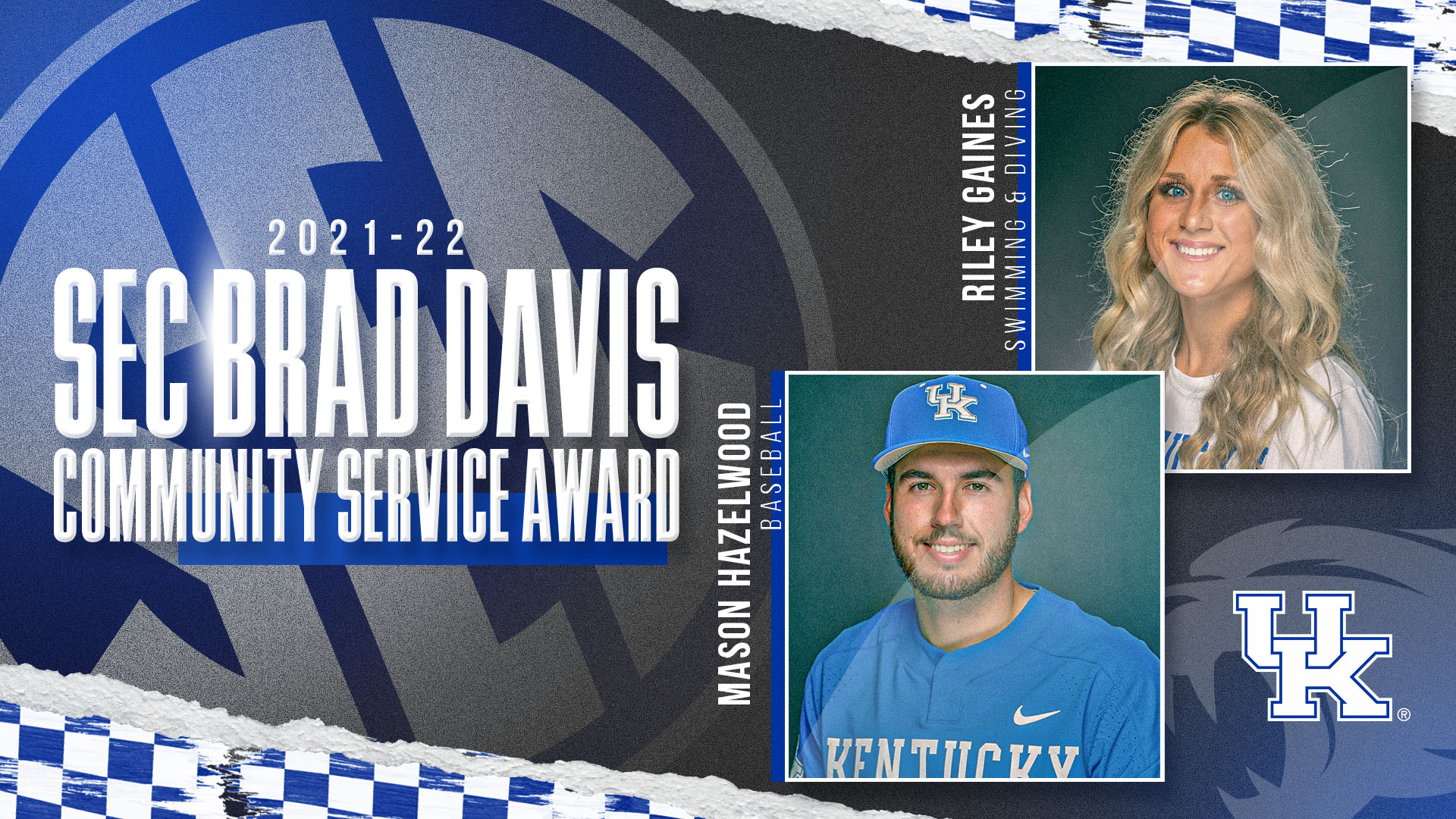 LEXINGTON, Ky. – Kentucky swimming & diving's Riley Gaines and baseball's Mason Hazelwood have been named the 2022 Brad Davis Community Service Award winners for the school, the Southeastern Conference announced Thursday.  
Each of the league's 14 members are awarded with one female and one male student-athlete across the entire athletics department before all recipients at the institutional level are considered for the league-wide award.  
Both Hazelwood, a senior pitcher from Salvisa, Kentucky, and Gaines, a senior freestyle and butterfly specialist from Gallatin, Tennessee, will receive a $5,000 post-graduate scholarship. 
Gaines has a remarkable track record of community service, having been involved in programs such as God's Pantry, Special Olympics of Kentucky, Give 10 (R.E.A.L. Read), the Shriner's Hospital, Kentucky United Telethon and Amachi. She was inducted into the 2022 Frank G. Ham Society of Character which honors student-athletes who show an extraordinary commitment to academic excellence, athletic participation, personal development, career preparation and serving as a role model. She was recently awarded the prestigious Sullivan Award, UK's highest honor for humanitarian efforts. 
Also excelling in the classroom, Gaines – who has maintained a 3.876 cumulative grade-point average as a health sciences major – has earned a spot on the Dean's List seven times and the Athletic Director's Honor Roll four times. She has also landed on the SEC Academic Honor Roll the past four years and is a three-time College Swimming & Diving Coaches Association of America Scholar All-America First Team selection. She was named the 2022 SEC Women's Swimming and Diving Scholar-Athlete of the Year. 
Her accomplishments in the pool are just as impressive as they are out of the water. A two-time team captain, Gaines will graduate this May as one of the most decorated swimmers in program history. She owns the school record in three individual and four relay events, is an Olympic Trials qualifier and was instrumental in UK winning its first-ever SEC title in 2021. She has also amassed 12 All-America honors throughout her four-year career in the blue and white and is the SEC record holder in the 200 fly. 
Hazelwood returned this season in remarkable fashion, pitching in his first game just 10 months after undergoing surgery to repair an elbow ligament in his pitching arm, which earned him the school's Blue Heart Award for perseverance in his recovery. He has gone 1-2 with a 5.48 earned run average in nine outings and has been moved into a starting role after injuries decimated the pitching staff. 
For his career, he is 9-8 with a 3.86 ERA and currently ranks third on the school's career list for fewest hits allowed per nine innings. 
Hazelwood has been active in the community and served as a student teacher at a local elementary school during Fall 2021, completing his work in December. He graduated in December with a degree in Elementary Education and is working on his graduate certificate in Positive Youth Development. 
The SEC Community Service Post-Graduate Scholarship is named for former Associate Commissioner Brad Davis. Davis succumbed to cancer on March 2, 2006. He had been a member of the SEC staff since 1988, first serving as an assistant commissioner until 1994 when he was promoted to associate commissioner.