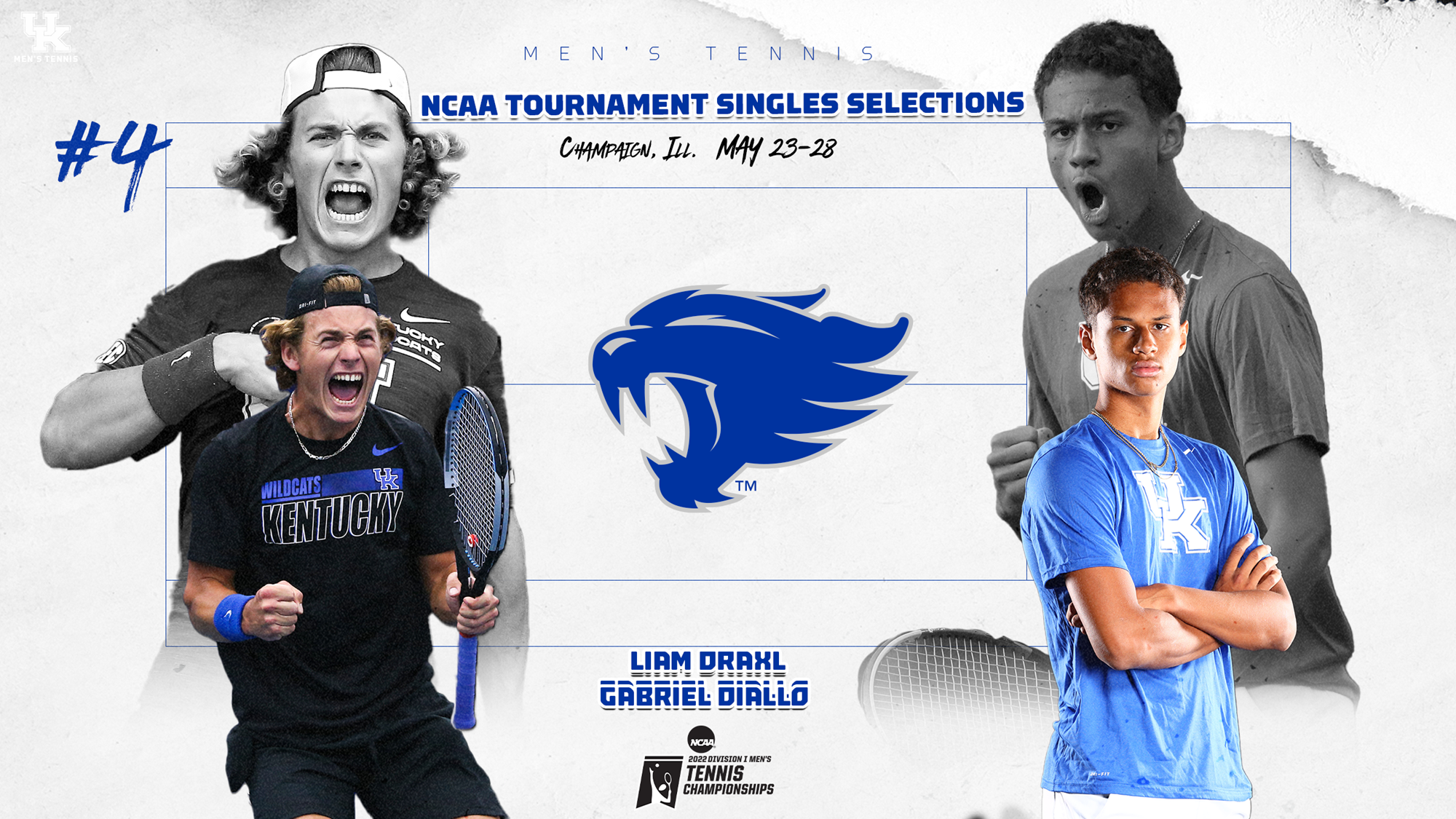 Draxl, Diallo Earn Bids to NCAA Singles Tournament
LEXINGTON, Ky. – Once the team portion of the 2022 NCAA Men's Tennis Championship concludes, Kentucky juniors Liam Draxl and Gabriel Diallo will continue their postseason run as individuals.
 
Both Draxl and Diallo earned at-large selections into the field, with reigning Intercollegiate Tennis Association Player Draxl earning the No. 4 overall seed. The NCAA Singles Tournament will be held from May 23-28 at the Khan Outdoor Tennis Complex in Champaign, Illinois, just one day after the conclusion of the team championship. 
 
Similar to dual match competition, every matchup will play out to the best of three sets. No-ad scoring and a seven-point tiebreaker (first to seven points, must win by two points) at six-games-all will be used for all matches.
 
Draxl capped off another stellar regular season with an All-Southeastern Conference First Team selection. A native of Newmarket, Ontario, Draxl won 13 dual matches in singles this year at the team's top spot, with seven of those coming against ITA ranked competition. He peaked as the eighth-ranked player in the ITA polls this year and earned an SEC Player of the Week award on April 18 after defeating two consecutive top-40 opponents. 
 
Diallo has also had another bright season as the team's highest ranked player in singles, reaching as high as No. 4 while appearing in every poll. An All-SEC First Team selection as well, Diallo split time at the two and three spots, going 6-2 at the two and 10-1 at the three, good for a 16-3 record in dual matches. As the team's leader in wins on the year at 30-6, the Montreal native's best win came on April 8 against Tennessee's No. 5 Johannus Monday, taking the match by a dominant 6-0, 6-1 result. 
 
This marks the second consecutive bid to the singles tournament for Diallo and Draxl, who both had deep runs last season. Diallo, the 14th-seed a season ago, made it to the Sweet 16, and then-top-seeded Draxl etched himself in Wildcat history by becoming the first UK player to reach the Final Four since Eric Quigley in 2012.
 
Kentucky earned the No. 8 overall seed in the team portion of the NCAA Tournament, hosting DePaul, East Tennessee State and Northwestern this Friday and Saturday. UK will open their postseason run against the DePaul Blue Demons at the Hilary J. Boone Center on Friday at 1 p.m. ET. Tickets are on sale now and more information about the first and second round can be found here.
 
For the latest on the Kentucky men's tennis team, follow @UKMensTennis on Twitter and Facebook, @kentuckymenstennis on Instagram, and on the web at UKAthletics.com.
 
– GO CATS –
For more information contact:
Ryan Cullinane (rrcu222@uky.edu) – (859) 257-8309