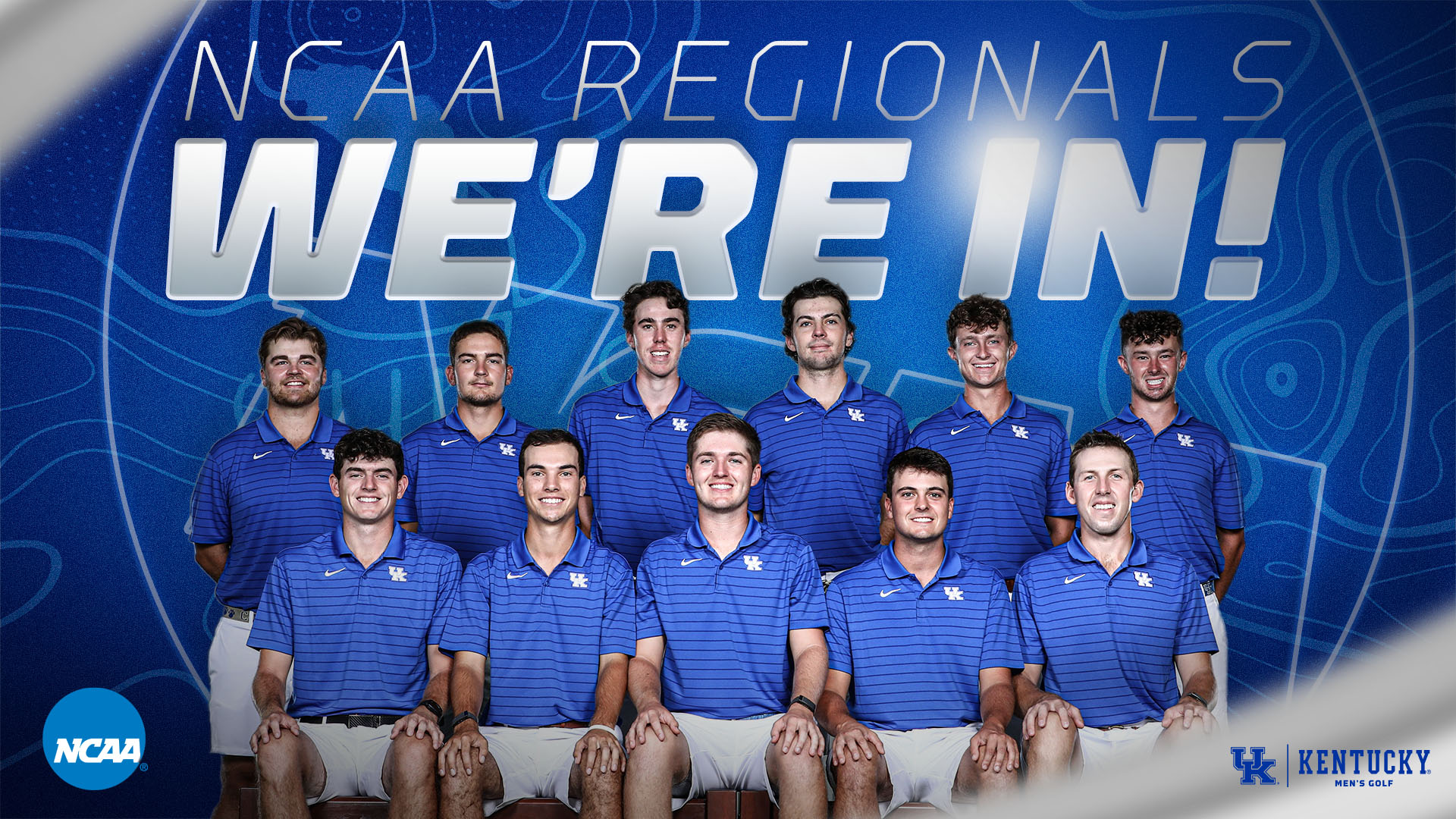 Wildcats Selected for Columbus Regional
LEXINGTON, Ky. – The the Kentucky men's golf team was selected to the 2022 NCAA Division I Men's Golf Championship on Wednesday. Kentucky made the postseason field and will compete in the Columbus Regional in Columbus, Ohio at the Ohio State Golf Club, May 16-18.
 
This marks the 13th time under head coach Brian Craig that the Wildcats have advanced to postseason play.
"I am super proud of this team to advance to the NCAA Regional in Columbus," Craig said. "The Scarlet Course is a tremendous venue and a great spot for this team. We had a rough fall season, but these guys hung in there in the spring and earned this bid.
 
"More importantly, this would be Cullan Brown's senior year," Craig said. "I just showed the team a custom golf show with #B4B on it. Cullan will never, ever leave our hearts. He is with us now and on our minds always. We will take Cullan's shoes with us next week and do our best to honor him both on and off the course."
 
The 13-team regional features just one other team from the Southeastern Conference in No. 14 Arkansas. The remainder of the field includes No. 2 Oklahoma State, No. 11 Georgia Tech, No. 23 Clemson, East Tennessee State, Ohio State, Duke, Northwestern, Florida Gulf Coast, San Francisco, Wright State and Southern Illinois.
 
The field is comprised of 81 teams and 45 individuals and will compete in six regional sites, May 16-18 (13 teams and 10 individuals at three regionals and 14 teams and five individuals at three regionals). Thirty teams and six individuals will advance from regional sites to the National Championship to be played May 27-June 1 at Grayhawk Golf Club in Scottsdale, Arizona.
 
The six regional sites include Jimmie Austin Golf Club in Norman, Oklahoma, hosted by Oklahoma, Traditions Club in Bryan, Texas, hosted by Texas A&M, Ohio State Golf Club (Scarlet) in Columbus, Ohio, hosted by Ohio State, The Reserve at Spanos Park in Stockton, California, hosted by Pacific and Visit Stockton, Yale Golf Club in New Haven Connecticut, hosted by Yale, and the PGA National (Champions) in Palm Beach Gardens, Florida, hosted by Florida Atlantic and the Palm Beach County Sports Commission.
 
This marks the 13th postseason regional appearance for Kentucky under the direction of Craig. The Wildcats placed ninth in 2019, fifth in 2018, seventh in 2017, fourth in 2016 and 2014, 10th in 2013, ninth in 2009, 17th in 2008, 10th in 2006, fourth in 2005, first in 2004 and sixth in 2003.
 
Kentucky is paced by Jacob Cook who is totaling a career-low 71.39 stroke average. He also has amassed six top-20 individual finishes on the season. Garrett Wood owns a 71.64 stroke average and posted four top-20 finishes, while Alex Goff is averaging 71.96 strokes per round and matched Wood with four top-20 finishes. Goff led the way at the SEC Championship with a tie for 18th.
 
UK's current roster has some experience in postseason play. Goff played as an individual at the Noblesville Regional in 2021. He finished in a tie for 18th and shot 1-under par for the week. Zach Norris played in one round in 2019 at the Athens Regional and shot a 75, and Wood tied for 65th as an individual at the Louisville Regional in 2019 at Xavier prior to joining the Kentucky men's golf team that offseason.
 
For the latest on the Kentucky men's golf team, follow @UKMensGolf on Twitter and on the web at UKathletics.com.