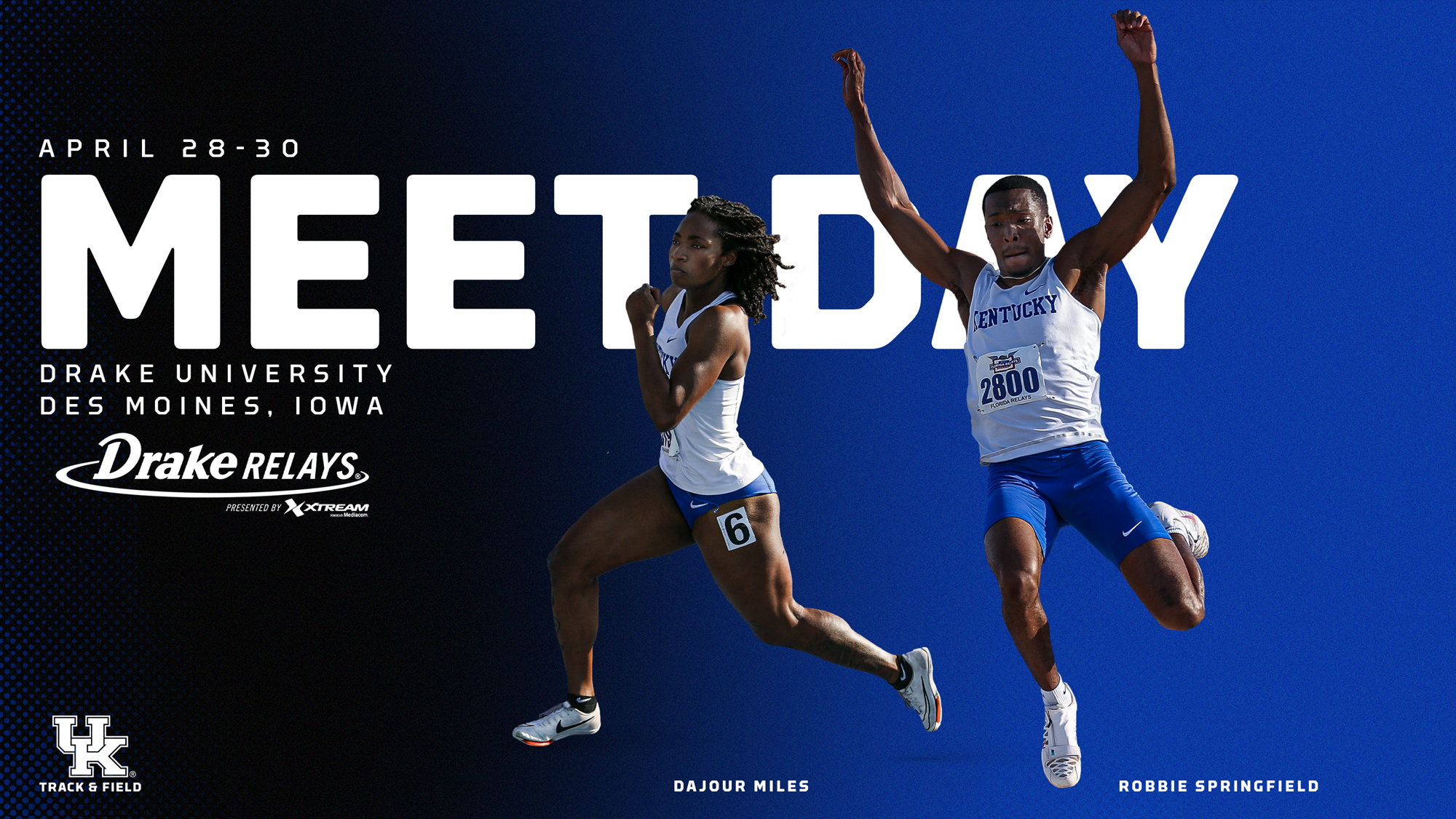 April 28, 2022 - 07:36 PM
UKTF Returns to Drake Relays
DES MOINES, Iowa – Kentucky track & field is set to compete at the 112th annual Drake Relays at Drake University from Thursday to Saturday. 
On Thursday, five Wildcat distance runners will take the 800-meter, 1,500m, and 5,000m starting at 6 p.m. ET/5 p.m. CT and ending at 8:30 p.m. ET/7:30 p.m. CT. 
Friday's events begin at noon ET for Kentucky with the women's javelin and end by 10 p.m. ET with the men's 4x200m. 
On Saturday, UKTF starts at 12:30 p.m. with the women's hammer and ends at 4 p.m. with the 4x400m. 
Kentucky track & field will mostly run relays instead of individual events, while the field athletes will compete in their usual events. 
Meet Information 
Live Results can be found at results.drakerelays.us 
The meet can be streamed live on usatf.tv and tickets can be found at draketix.com 
The meet schedule, Kentucky student-athlete schedule and any other necessary meet links are attached above. 
UKTF at Drake Relays 2019 
In 2019, the Wildcats' first time at Drake Relays since 1988 and the last time the team attended the meet, Kentucky won eight events, highlighted by Daniel Roberts' victory over world and Olympic gold medalist Omar McLeod in the World Showdown Invitational 110-meter hurdles. 
Faith Ross became just the third runner and first since 2004 to sweep the university-college 100 hurdles and 400 hurdles and was voted the Outstanding Performer in the women's division. The Wildcats also swept the men's and women's 4×200 relays, with Celera Barnes, Abby Steiner, Chloe Abbott and Kianna Gray taking the women's title and Dwight St. Hillaire, Jacob Smith, Daniel Roberts and Cameron Council earning the men's title. 
UKTF Alumnae and Olympic medalists Kendra Harrison and Jasmine Camacho-Quinn went first and second in the 100m hurdles, respectively. 
Marie-Josée Ebwea-Bile Excel won the triple jump, Ellen Ekholm won the high jump, and Tai Brown placed first in the collegiate 110m hurdles. 
The Wildcats Last Meet Weekend: Kentucky Invitational 
The Wildcats had another weekend filled with record-setting performances and personal bests, featuring three facility records, four school records, 10 new 2022 NCAA top 20 times/marks, 25 event wins and over 40 personal bests. 
Abby Steiner gave the Big Blue Nation a taste of #SteinerSpeed, in the lone home meet of the outdoor season. The senior smashed the facility record in the 200m running an outdoor personal best, 22.05. Third fastest in collegiate history. UK's women's 4×400-meter relay of Karimah Davis, Abby Steiner, Dajour Miles and Alexis Holmes broke the school and track records with a time of 3:25.79 that ranks No. 3 in the nation this season. 
Senior Masai Russell broke the 100m hurdles track record with a time of 12.71 that ranks No. 6 in the nation this season. She improved her PB with a time that ranks No. 3 on the UK all-time list, only behind the gold and silver medalists at the most recent Olympic Games: Jasmine Camacho-Quinn (12.40 in 2018) and Keni Harrison (12.50 in 2015).  
Jade Gates broke the UK hammer school record with a throw of 219'0″/66.77m in the first event of the day. She also broke teammate Molly Leppelmeier's school record in her first attempt (214'7″/65.40m).  
Tori Herman tied her personal best, which is the UK school record, 4:14.12 en route to the 1500m win and the No. 6 time in the country this season. 
Holmes added a 400m individual win to the relay school record she played a part in, winning in 51.54. Dwight St. Hillaire won the men's quarter mile in 46.193 defeating teammate Kennedy Lightner (46.197) in a photo finish. 
UK volunteer assistant coach and UT alum Christian Coleman won the men's 200m in 19.92 (+0.5). Lance Lang was the top collegian and overall runner-up in 20.30, the seventh fastest in the NCAA this season. Dwight St. Hillaire was third in 20.38, while Jacob Smith placed fifth (20.76). The Wildcats earned a 2-3-4-5-6-7-8-9-10 finish in the event. 
UK's men's and women's 4x100m relays started the second day off with wins. The men's quartet of Lance Lang, Dwight St. Hillaire, Jacob Smith and Kennedy Lightner ran a season best, No. 3 on the UK all-time list and the No. 16 time in the nation this season: 39.18. 
Lance Lang won the men's 100m with a windy 10.02 time (+2.4), which ranks No. 4 on the NCAA qualifying list that allows any times run with a tailwind under 4 meters/second. 
UK's women's 4×1 of Shadajah Ballard, Abby Steiner, Russell and Karimah Davis ran 42.91 for the win. 
Alumnus and 2008 NCAA Discus Champion Rashaud Scott won the men's discus while Josh Sobota was top collegian, second overall, with a toss of 177'5″/54.09m. Sobota also won the men's shot put with a mark of 60'8.75″/18.51m. 
 
Sophie Galloway won the women's triple jump (41'3.75″/12.59m (-0.6) ) and Kendall Jordan placed second (40'6.75″/12.36m (+0.5)). 
Jenna Gearing won the women's 800m with a time of 2:04.67 that put her at No. 6 on the UK all-time list and No. 20 in the country this year. DeAnna Martin was runner-up in 2:05.28, No 8 on the UK all-time list. 
Rahman Minor won the men's high jump with a jump of 7'0.5″/2.15m, while Donsten Brown placed third. 
Logan Coles won the men's hammer throw with a personal best and freshman record toss of 208'1″/63.43m, while Michael Browning was runner-up (197'9″/60.28m).  
  
Masai Russell won the women's 400m hurdles in 56.46m and Darci Khan took second place (1:02.17). 
Kenroy Williams won the men's 400m hurdles with a time of 50.53 and Beck O'Daniel was runner-up in a personal best 51.60. 
In the women's 200m behind Steiner's historic performance, All-American sprinter Karimah Davis was second in 23.10, Megan Moss was third in 23.48, Dajour Miles was fourth in 23.54 and Shadajah Ballard placed fifth in 23.60. 
Annika Williams and Sophie Galloway placed second and third in the women's long jump respectively. Williams' mark was a six-inch PB and moved her to No. 5 on the UK all-time list. 
Follow Kentucky Track and Field and Cross Country on Facebook, Instagram, Twitter and at UKathletics.com.