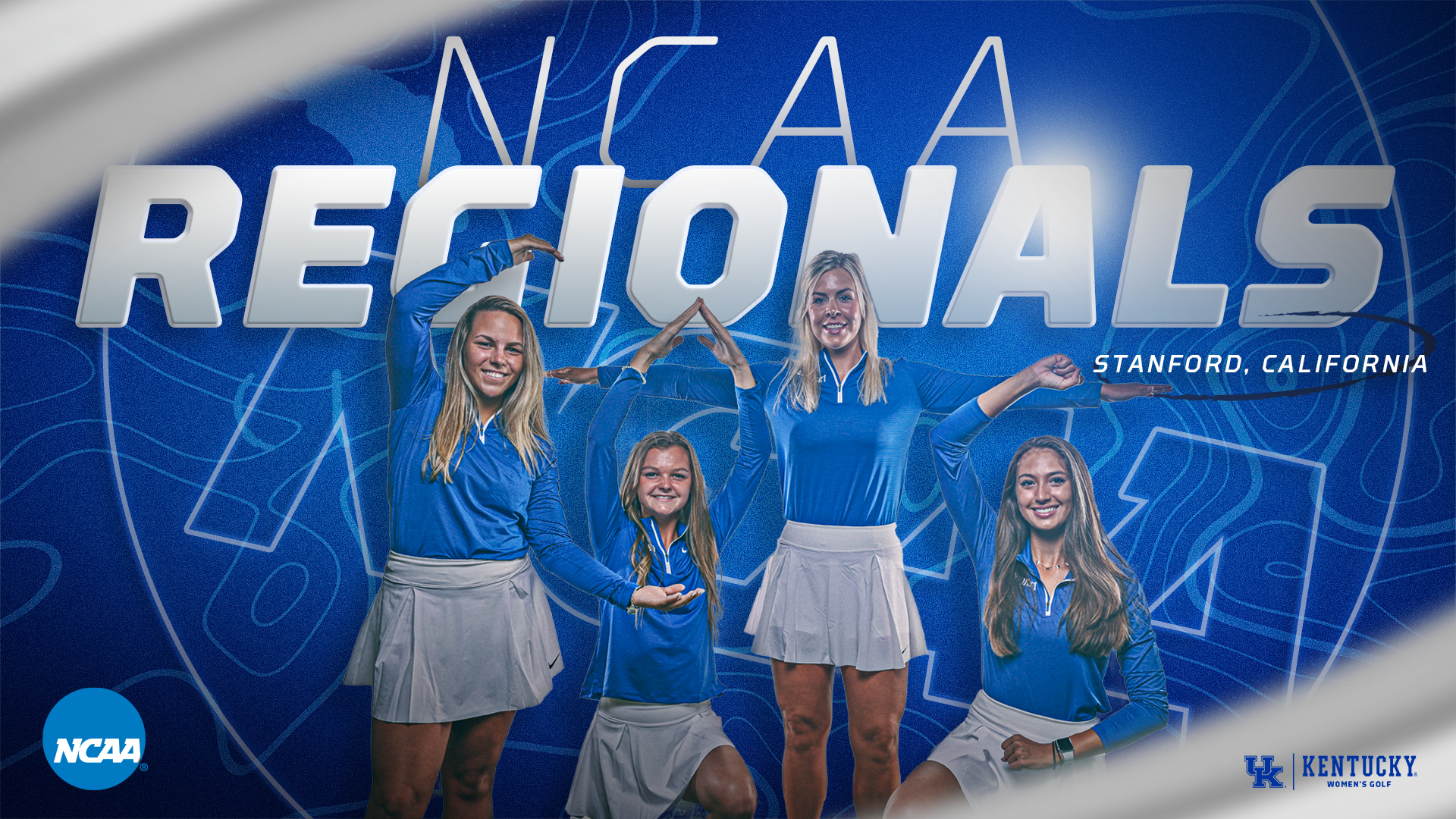 April 27, 2022 - 10:58 PM
Wildcats Headed Cross-Country for NCAA Regionals
LEXINGTON, Ky. – The University of Kentucky Women's Golf program was selected as a five-seed to compete in Stanford, Calif. for Regionals, announced the NCAA on Wednesday.
The Stanford Regional will be played at the Stanford Golf Course (Par 71, 6,291 yards ) May 9-11 with Stanford University serving as the host institution.
Kentucky will play against Southeastern Conference opponent LSU, who was selected as a three-seed. The Cats will also compete against 11 other programs, including six individual qualifiers.
In addition to the Stanford Regional, teams will be competing in Albuquerque, N.M., Ann Arbor, Mich., Franklin, Tenn., Stillwater, Okla., and Tallahassee, Fla.
Last year the Cats found success at the Columbus Regional advancing to the program's first NCAA Finals since 1992.
Kentucky looks to repeat that success next month in California with hopes of another championship run.
ABOUT THE NCAA CHAMPIONSHIPS
Six regional tournaments will be conducted May 9-11 to determine the championship finals field. Regional tournaments are considered preliminary rounds of NCAA championships
competition and all national championship policies apply.
A total of 72 teams and 36 individual participants have been selected for regional competition. Of the 396 players participating in the regionals, 132 will advance to the
championship finals, with the top four teams and top two individuals (not on an advancing team) advancing from each regional.
The national championships will be May 20-25 at Grayhawk Golf Club in Scottsdale, Ariz. hosted by Arizona State and The Thunderbirds. The final three days of the championships will be televised live by the GOLF Channel.
BIRDIES FOR TORNADO RELIEF FUNDRAISER
Collectively, UK Women's Golf has tallied 209 birdies since announcing the start of a new fundraiser to aid fellow Kentuckians in the Western region of the state who were devastated by an EF4 tornado in early December of last year. This tally includes the birdies shot throughout the SEC Championships.
In partnership with the Kentucky Red Cross, the program is asking for monetary donations or pledges. For each birdie made, beginning with the Darius Rucker Intercollegiate and throughout the rest of the 2022 spring season, money will be given to those impacted by the catastrophic disaster.
Those wishing to donate can do so by clicking here.
For the latest on Kentucky Women's Golf, follow the team on Twitter, Facebook and Instagram, as well as on the web at UKathletics.com.