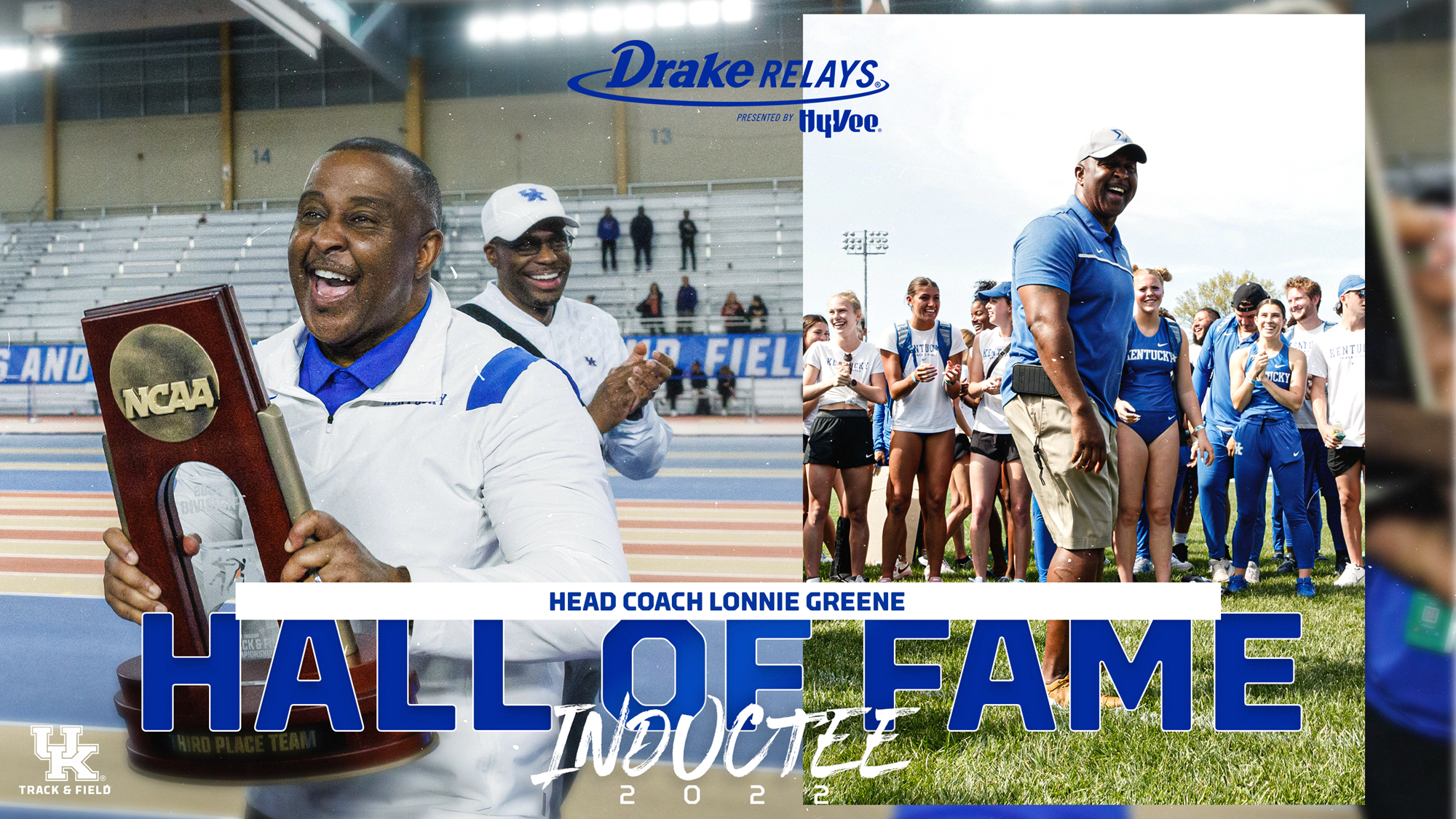 April 26, 2022 - 05:19 PM
UKTF Head Coach Lonnie Greene to be Inducted into Drake Relays Hall of Fame
LEXINGTON, Ky. —Kentucky track & field Head Coach Lonnie Greene will be inducted into the Drake Relays Hall of Fame on Thursday afternoon in Des Moines, Iowa.
Greene is in his fourth season as head of the track and field and cross-country programs at Kentucky after six seasons coaching the men's and women's teams at Purdue.
He will be the 89th inductee into the Coaches Hall of Fame, which was established in 1977 with charter members John L. Griffith (Drake), Harry Gill (Illinois), Tom E. Jones (Wisconsin), Clyde Littlefield (Texas), Leo Johnson (Illinois) and Bill Easton (Drake and Kansas).
"I am extremely humbled by this great honor," Greene said. "To be enshrined into this great fraternity of coaches, athletes and educators is an awesome blessing. This is something I hope to talk to my children's children about for years to come. I have admired members of this hall of fame for years, and now to become a member of such an outstanding group of individuals, I am truly honored."
Greene will become the first Kentucky coach to be inducted.
Greene's student-athletes have earned 34 Drake Relays titles in the past nine years, dating back to his coaching days at Purdue.
In 2019, the Wildcats' first time at Drake Relays since 1988 and the last time they attended the meet, Kentucky won eight events, highlighted by Daniel Roberts' victory over world and Olympic gold medalist Omar McLeod in the World Showdown Invitational 110-meter hurdles.
Faith Ross became just the third runner and first since 2004 to sweep the university-college 100 hurdles and 400 hurdles and was voted the Outstanding Performer in the women's division. The Wildcats also swept the men's and women's 4×200 relays. It was the fourth year in a row that a women's 4x200m coached by Greene won the event at Drake. His Purdue teams won the women's 4×200 in 2016-17-18.
With Greene's fearless leadership, Kentucky athletes have earned All-America recognition 51 times at the NCAA Indoor Championships, including 23 this year, and 49 times at the 2021 NCAA Outdoor Championships.
At this year's NCAA Indoor Championships, the Kentucky women had 13 first-team All-Americans, including Abby Steiner with her second 200m national championship title and Masai Russell, who ran for second place in the 60m hurdles (7.95 seconds). The women's placed third in the team standings, matching the best finish in program history.
Kentucky athletes also have won nine Southeastern Conference indoor championships under Coach Greene, including three by Steiner in the 200, Alexis Holmes' two 400m titles and Lance Lang's recent 200m SEC title. Steiner won the indoor 200 this year in a blazing 22.09, the fastest in American history, the fastest in the world this year and the second-fastest ever, trailing only the 21.87 run in 1993 by Merlene Ottey, a member of the Drake Relays Athletes Hall of Fame.
Greene reinvigorated the track and field program at Purdue, coaching 38 athletes who earned a total of 86 All-America honors, including 21 who earned first-team recognition in 60 events. His athletes won 11 individual men's Big Ten championships (four indoors, seven outdoors) and 20 individual women's titles (11 indoors, nine outdoors).
The Boilermakers also won six Big Ten women's relay titles during his tenure. He was the Big Ten women's indoor coach of the year in 2017 and guided Purdue to the women's conference outdoor championship later that year. His women's team finished eighth at the 2018 NCAA Outdoor Championships, the school's highest finish ever.
Greene, whose full name is Rolando, is a native of Nassau, Bahamas, but has roots in the Bluegrass State. He earned his B.S. from Murray State University in 1989. He is married to LaTayna Stewart. The couple has a daughter, Charisse; three sons, Cameron, Isaiah and Jacob; and two grandchildren, Tylan and Caleb.
Follow Kentucky Track and Field and Cross Country on Facebook, Instagram, Twitter and at UKathletics.com.