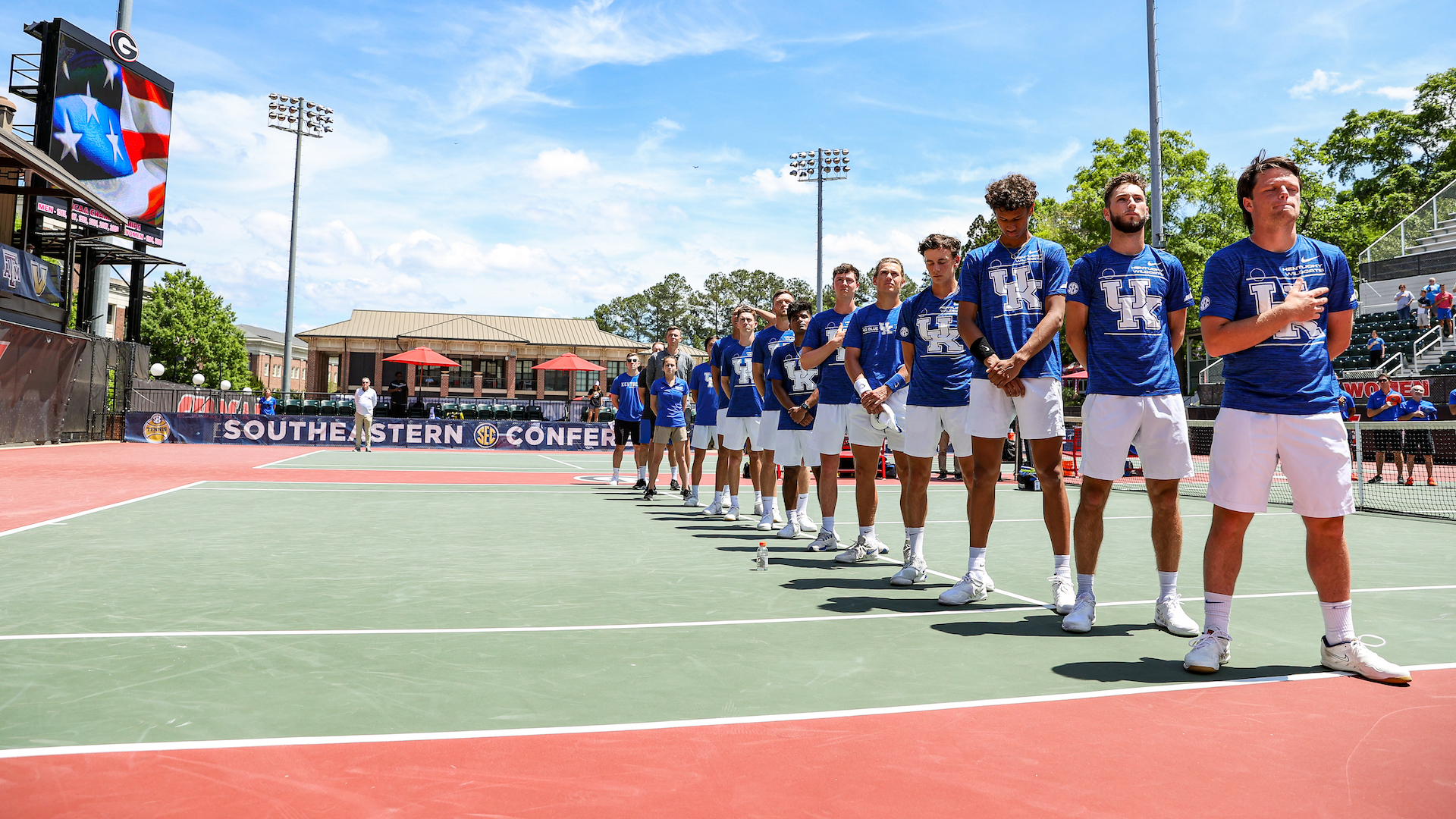 April 24, 2022 - 06:01 PM
Kentucky's SEC Tournament Run Ends in the Championship
ATHENS, Ga. –  The third-seeded Kentucky Wildcats ended their Southeastern Conference Tournament run on Sunday afternoon, falling to the one-seed Florida Gators in a 4-0 decision during the championship at the Dan Magill Tennis Complex.
 
Gabriel Diallo and Joshua Lapadat were named to the All-Tournament team, with both athletes picking up two wins each in singles and doubles. UK is now 21-7 overall on the season.
 
The match started in doubles, where the Gators opened a lead that the Wildcats were unable to recover from. 
 
After tying the set 3-3 on court three, Liam Draxl and Alexandre Leblanc pushed but could not claim the win and lost to Duarte Vale and Nate Bonetto, 6-3. No. 10 Sam Riffice and Ben Shelton were able to clinch the point for Florida by taking down No. 75 Francois Musitelli and Millen Hurrion, 6-2.
 
In singles, Kentucky could not create any momentum throughout its first sets. JJ Mercer was unable to pick up a deuce point with the first set at 5-4, dropping the first. The redshirt sophomore was unable to force a third, dropping the match to No. 116 Josh Goodger, 6-4, 6-1. 
 
On court two, No. 16 Diallo dropped just his third match this spring, now standing at 14-3 in dual matches. UF's 27th-ranked Riffice bested the Montreal native, 6-3, 6-3, and put the score at match point for the Gators.
 
No. 8 Draxl played the top singles player in the country, No. 1 Shelton, keeping the sets close throughout. After dropping a 6-4 result in the first, Draxl clawed his way back in the second with a chance to force a tiebreaker. Again, at deuce point, the junior was unable to convert the opportunity, and fell to Shelton 6-4, 7-5, which clinched the match for Florida.
 
The Wildcats will now prepare for their NCAA Tournament run, set to begin in 12 days. The selection committee will announce the full bracket on May 2, with the top-seed selected to host the first few matches. 
 
SEC Tournament Championship
Florida 4, Kentucky 0
 
Singles
1. #1 Ben Shelton (UF) def. #8 Liam Draxl (UK) 6-4, 7-5
2. #27 Sam Riffice (UF) def. #16 Gabriel Diallo (UK) 6-3, 6-3
3. #87 Duarte Vale (UF) vs. #102 Millen Hurrion (UK) 6-2, 4-6, unfinished
4. #122 Andy Andrade (UF) vs. Francois Musitelli (UK) 6-7 (7-9), 4-2, unfinished 
5. Mattias Siimar (UF) vs. #108 Joshua Lapadat (UK) 6-4, 4-3, unfinished
6. #116 Josh Goodger (UF) def. JJ Mercer (UK) 6-4, 6-1
Order of finish: 6, 2, 1*
 
Doubles
1. #10 Sam Riffice/Ben Shelton (UF) def. #75 Francois Musitelli/Millen Hurrion (UK) 6-2
2. #37 Andy Andrade/Mattias Siimar (UF) vs. Gabriel Diallo/Joshua Lapadat (UK) 4-5, unfinished 
3. Duarte Vale/Nate Bonetto (UF) def. Liam Draxl/Alexandre LeBlanc (UK) 6-3
Order of finish: 3, 1*
 
For the latest on the Kentucky men's tennis team, follow @UKMensTennis on Twitter and Facebook, @kentuckymenstennis on Instagram, and on the web at UKAthletics.com.
 
– GO CATS –
For more information contact:
Ryan Cullinane (rrcu222@uky.edu) – (859) 257-8309