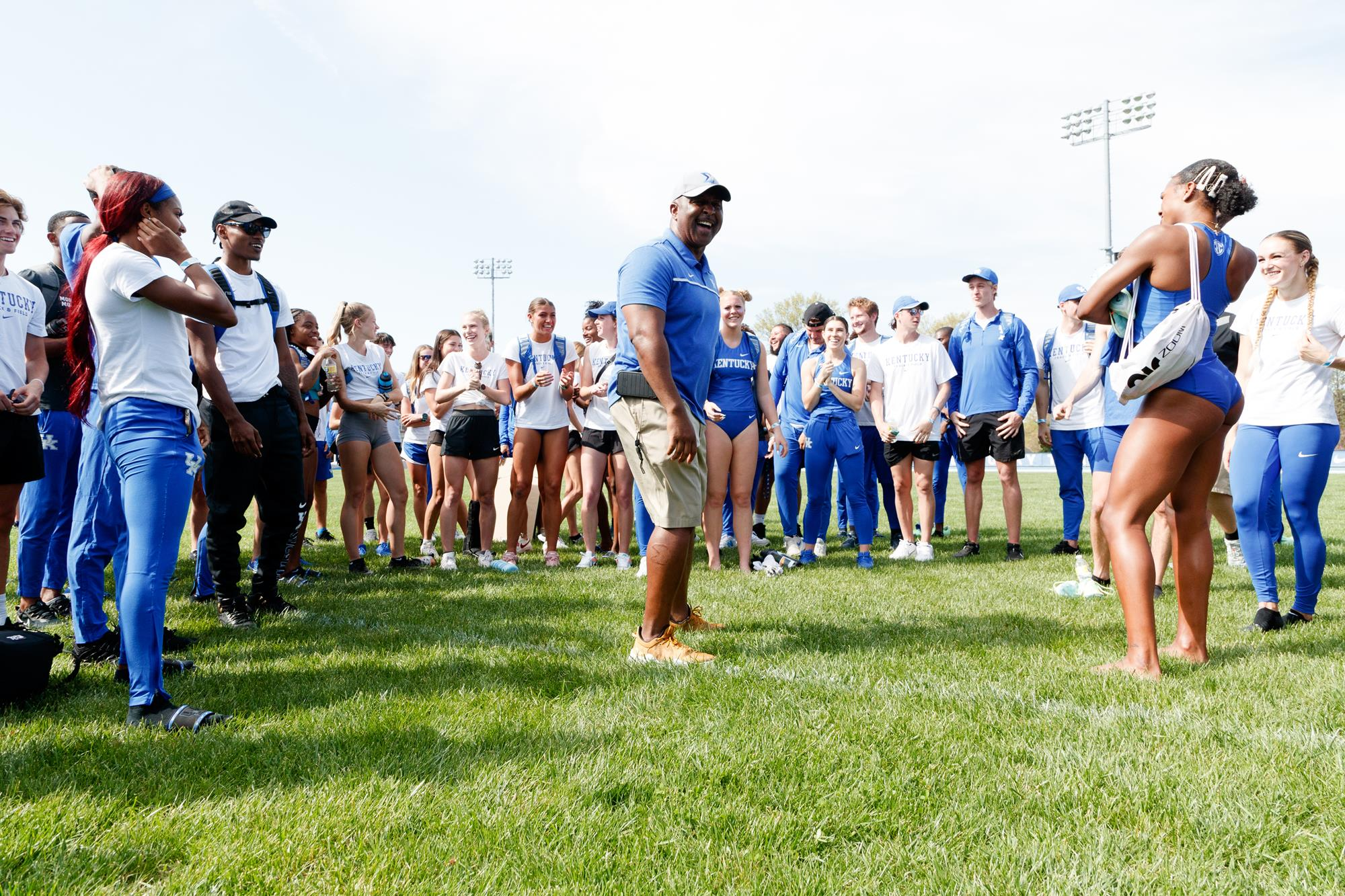 April 23, 2022 - 06:09 PM
UKTF Wins 25 Individual Events at the Kentucky Invitational
LEXINGTON, Ky. – The Kentucky track & field teams earned 17 individual event wins plus an additional event where an alumnus won and a Wildcat was competing unattached, taking the team's two-day total to 26 event wins and two more top-collegian finishes at the Kentucky Invitational at the UK Track & Field Complex. 
 
UK's women's 4×400-meter relay of Karimah Davis, Abby Steiner, Dajour Miles and Alexis Holmes broke the school and track records with a time of 3:25.79 that ranks No. 3 in the nation this season. 
 
Senior Masai Russell broke the 100m hurdles track record with a time of 12.71 that ranks No. 6 in the nation this season. She improved her PB with a time that ranks No. 3 on the UK all-time list, only behind the gold and silver medalists at the most recent Olympic Games: Jasmine Camacho-Quinn (12.40 in 2018) and Keni Harrison (12.50 in 2015).  
 
Holmes added a 400m individual win to the relay school record she played a part in, winning in 51.54. Dwight St. Hillaire won the men's quarter mile in 46.193 defeating teammate Kennedy Lightner (46.197) in a photo finish. 
 
UK's men's and women's 4x100m relays started the day with wins. The men's quartet of Lance Lang, Dwight St. Hillaire, Jacob Smith and Kennedy Lightner ran a season best, No. 3 on the UK all-time list and the No. 16 time in the nation this season: 39.18. 
Lance Lang won the men's 100m with a windy 10.02 time (+2.4), which ranks No. 4 on the NCAA qualifying list that allows any times run with a tailwind under 4 meters/second. 
 
UK's women's 4×1 of Shadajah Ballard, Abby Steiner, Russell and Karimah Davis ran 42.91 for the win. 
 
Simi Akinrinsola won the women's shot put with a mark of 45'9.75″/13.96m. Leah Moore placed third with a mark of 45'3.75″/13.81m. 
 
Alumnus and 2008 NCAA Discus Champion Rashaud Scott won the men's discus while Josh Sobota was top collegian, second overall, with a toss of 177'5″/54.09m. Sobota also won the men's shot put with a mark of 60'8.75″/18.51m. 
 
Areti Filipidou won the women's discus with a mark of 166'3″/50.68m. Molly Leppelmeier was runner-up (162'1″/49.41m). 
 
Sophie Galloway won the women's triple jump (41'3.75″/12.59m (-0.6) ) and Kendall Jordan placed second (40'6.75″/12.36m (+0.5)). 
 
Siobhan Szerencits won the women's pole vault, clearing 13'4.5″/4.08m. 
 
Dajour Miles won the women's 100m in a personal best 11.52. Karimah Davis was second (11.54). 
 
Jackson Watts won the men's 3k steeplechase in 9:10.46. 
 
UK's men's 4x400m relay of Dwight St. Hillaire, Lance Lang, Kenroy Williams and Kennedy Lightner ran 3:05.67 to win the last event of the competition. 
Patrick Kimball won the men's 100m hurdles with a time of 14.45. 
 
Friday report:  
Abby Steiner ran the third fastest 200m in collegiate history, Jade Gates' broke the hammer throw school record and Tori Herman tied her school record in the 1500m on the competition's opening day. 
The Wildcats totaled 25 personal bests on Friday. 
 
Abby Steiner gave the Big Blue Nation a taste of #SteinerSpeed, in the lone home meet of the outdoor season. The senior smashed the facility record in the 200m running an outdoor personal best, 22.05. Third fastest in collegiate history. 
Jade Gates broke the UK hammer school record with a throw of 219'0″/66.77m in the first event of the day. She also broke teammate Molly Leppelmeier's school record in her first attempt (214'7″/65.40m). 
 
Tori Herman tied her personal best, which is the UK school record, 4:14.12 en route to the 1500m win and the No. 6 time in the country this season. UK alumna and volunteer assistant coach Katy Kunc was runner up in 4:17.72, while Rachel Boice was fourth, Kaitlyn Lacy was sixth, Julz Williams was seventh and Kaylie Kenne was eighth. 
 
Jenna Gearing won the women's 800m with a time of 2:04.67 that put her at No. 6 on the UK all-time list and No. 20 in the country this year. DeAnna Martin was runner-up in 2:05.28, No 8 on the UK all-time list. 
 
Rahman Minor won the men's high jump with a jump of 7'0.5″/2.15m, while Donsten Brown placed third. 
Keaton Daniel won the men's pole vault clearing 17'3.5″/5.27m. Matthew Peare, Jacob Sobota and Dalton Shepler gave UK a 1-2-3-4 placing in the event. 
 
Logan Coles won the men's hammer throw with a personal best and freshman record toss of 208'1″/63.43m, while Michael Browning was runner-up (197'9″/60.28m). 
 
Masai Russell won the women's 400m hurdles in 56.46m and Darci Khan took second place (1:02.17) 
 
Kenroy Williams won the men's 400m hurdles with a time of 50.53 and Beck O'Daniel was runner-up in a personal best 51.60. 
 
UK volunteer assistant coach and UT alum Christian Coleman won the men's 200m in 19.92 (+0.5). Lance Lang was the top collegian and overall runner-up in 20.30. Dwight St. Hillaire was third in 20.38, while Jacob Smith placed fifth (20.76). The Wildcats earned a 2-3-4-5-6-7-8-9-10 finish in the event. 
 
In the women's 200m behind Steiner's historic performance, All-American sprinter Karimah Davis was second in 23.10, Megan Moss was third in 23.48, Dajour Miles was fourth in 23.54 and Shadajah Ballard placed fifth in 23.60. 
 
Annika Williams and Sophie Galloway placed second and third in the women's long jump respectively. Williams' mark was a six-inch PB and moved her to No. 5 on the UK all-time list. 
 
During Saturday's meet, the program honored 29 seniors in the Class of 2022. 
 
Men 
Myles Anders – sprints 

Nathaniel Bann – sprints 

Tai Brown – hurdles/sprints 

Jacob Brizendine – distance 

Trey Causey III – jumps 
Brian Faust – sprints 

Joseph Jardine – pole vault 

Patrick Kimball – hurdles 

Jacob Smith – sprints 

Joshua Sobota – throws 
Jacob Sobota – multi 

Robbie Springfield III – jumps 

Gabe Szalay – distance 

Trevor Warren – distance 

Lincoln Young – pole vault 
Women 
Perri Bockrath – distance  

Rachel Boice – distance  

Sophie Carrier – distance  

Amaya Chadwick – hurdles  
Karimah Davis – sprints  

Alexis Holmes – sprints  

Kaitlyn Lacy – distance 

Sarah Michels – distance  

Natalie Molotky – distance 
Masai Russell – hurdles/sprints  

Abby Steiner – sprints  

Siobhan Szerencsits – pole vault 

Kelli Walsh – distance  
 
Austin Peay, Bellarmine, Brescia, Campbellsville, Centre College, Eastern Kentucky, Kentucky, Kentucky Wesleyan, Midway, Morehead State, Murray State, Pikeville, Saint Louis, Transylvania and Western Kentucky competed at the meet. 
 
Follow Kentucky Track and Field and Cross Country on Facebook, Instagram, Twitter and at UKathletics.com. 
 
Friday, April 22 

Women 

Hammer 

Prelim/Final 

1. Jade Gates: 219'0″/66.77m | School record, No. 13 in the nation this season 

2. Molly Leppelmeier: 210'7″/64.19m 7. 7. Leah More: 154'9″/47.17m, PB 

8. Simi Akinrinsola: 152'10″/46.59, PB 

Women 

Javelin 

Prelim/Final 

3. Sophie Galloway: 124'10″/38.04m, PB 

4. Annika Williams: 120'7″/36.76m 

Men 

High Jump 

Final 

1. Rahman Minor: 7'0.5″/2.15m 

3. Donsten Brown: 6'4.75″/1.95m, outdoor PB 

Men 

Pole Vault 

Final 

1. Keaton Daniel: 17'3.5″/5.27m 

2. Matthew Peare: 16'9.5″/5.12m 

3. Jacob Sobota: 15'9.75″/4.82m 

4. Dalton Shepler: 15'3.75″/4.67m 

Women 

Long Jump 

Prelim/Final 

2. Annika Williams: 20'7″/6.27m (+0.1) | six-inch PB, No. 5 on UK all-time list 

3. Sophie Galloway: 19'2.75″/5.86 (0.0), PB 

4. Meg Wilson: 19'2.50/5.85mw (+3.0), PB 

6. Kendall Jordan: 18'7″/5.66m (+0.9), PB 

Men 

Hammer 

Prelim/Final 

1. Logan Coles: 208'1″/63.43m, PB, freshman record, remains 5th all-time for UK 

2. Michael Browning: 197'9″/60.28m, PB 

5. John Kruzel: 167'6″/51.05m, PB 

Women 

400 Meter Hurdles 

Final 

1. Masai Russell: 56.46 

2. Darci Khan: 1:02.17, PB 

Men 

400 Meter Hurdles 

Final 

1. Kenroy Williams: 50.53 

2. Beck O'Daniel: 51.60, PB 

Women 

200 Meter 

Final 

1. Abby Steiner: 22.05 (+0.5) | No. 3 collegiate all-time, outdoor school record, Kentucky Invitational Record, facility record 

2. Karimah Davis: 23.10 

3. Megan Moss: 23.48, PB 

4. Dajour Miles: 23.54 

5. Shadajah Ballard: 23.60, PB 

11. Kaylyn Heath: 24.03 

12. Devynne Charlton (UK volunteer coach, Purdue alum): 24.04 

17. Seven Simms: 24.64 

18. Jaida Knowles: 24.71 

38. Jasmine Jackson: 26.19 (0.9) 

42. Mandy Dickerson: 26.43 

43. Patrice Cornelius: 26.86 

48. Cierra Fogg: 27.05 (+1.7) 

Men 

200 Meter 

Final 

1. Christian Coleman (UK volunteer coach, UT alum): 19.92 (+0.5)  

2. Lance Lang: 20.30 (+0.5) 

3. Dwight St. Hillaire: 20.38 (+0.5) 

5. Jacob Smith: 20.76 (+1.5) 
6. Brian Faust: 20.82 (+1.5), PB 

7. Tai Brown: 20.84 (+1.5), PB 

8. Kennedy Lightner: 20.91 (+0.5) 

9. Rodney Heath Jr.: 21.00w (+2.4) 

10. Myles Anders: 21.37 (+1.5) 

27. Patrick Kimball: 22.96 (+0.9) 

Women 

1500 Meter 

Final 

1. Tori Herman: 4:14.12 | =PB + UK record, No. 6 in the nation this season 

2. Katy Kunc (UK alum): 4:17.72 

4. Rachel Boice: 4:28.25 

6. Kaitlyn Lacy: 4:29.21 

7. Julz Williams: 4:32.66, PB 

8. Kaylie Kenne: 4:32.88, PB 

Men 

1500 Meter 

Final 

3. Jake Allen: 3:46.91 

5. Dylan Allen: 3:47.91 

8. Harper Moore: 3:51.16 

9. Jacob Brizendine: 3:51.35 

20. Trevor Warren: 3:57.96 

23. Matt Duvall: 3:59.50 

24. Gabriel Szalay: 4:01.69 

Women 

800 Meter Invite 

Final 

1. Jenna Gearing: 2:04.67 | No. 6 on UK all-time list, No. 20 in the country this year, PB 

2. DeAnna Martin: 2:05.28 | No. 8 on UK all-time list, PB 

3. Jenna Schwinghamer: 2:06.24 

4. Phoebe McCowan: 2:06.81, PB 

7. Bryanna Lucas: 2:09.25 
Saturday, April 23 

Women  

Shot Put  

Prelim/Final  

  

1. Simi Akinrinsola: 45'9.75″/13.96m  

3. Leah Moore: 45'3.75″/13.81m  

6. Annika Williams: 40'6″/12.34m  

Women  

4 x 100 Meter  

Final  

1. UK (Ballard, Steiner, Russell, Davis: 42.91  

Men  

4 x 100 Meter  

Final  

1. UK (Lang, St. Hillaire, Smith, Lightner): 39.18 | Season best, No. 3 UK all-time, No. 16 in the nation this season  

Women  

High Jump  

Final  

4. Annika Williams: 5'5.25″/1.66m  

Men  

Discus  

Prelim/Final  

1. Rashaud Scott (UK Class of 2008): 177'5″/54.09m  

2. Josh Sobota: 176'7″/53.82m  

5. John Kruzel: 151'5″/46.17m  

10. Michael Browning: 121'9″/37.12m 

Women  

3000 Meter  

Final  

2. Sarah Michels: 10:10.30, PB 

4. Kelli Walsh: 10:21.44,  

5. Sophie Carrier: 10:27.77  

6. Natalie Molotky: 10:32.85  

12. Anna Guerra: 10:55.18  

Women  

Triple Jump  

Prelim/Final  

1. Sophie Galloway: 41'3.75″/12.59m (-0.6)  

2. Kendall Jordan: 40'6.75″/12.36m (+0.5), PB 

Women  

100 Meter Hurdles  

Prelim  

1. Masai Russell: 12.90Q (-0.6)  

2. Devynne Charlton (UK Volunteer Assistant): 13.13q   

3. Shadajah Ballard: 13.19Q, PB 

4. Darci Khan: 13.34q  

5. Kendall Jordan: 13.92Q  

8. Sophie Galloway: 14.36q  

9. Annika Williams: 14.38q  

12. Carolyn Boyke-Johnson: 14.66  

Women  

100 Meter  

Prelim  

1. Dajour Miles: 11.53Q 

2. Karimah Davis: 11.57Q  

4. Kaylyn Heath: 11.80q  

9. Jaida Knowles: 12.19q  

12. Seven Simms: 12.36, PB 

26. Mandy Dickerson: 13.02  

29. Cierra Fogg: 13.45  

Men  

100 Meter  

Prelim  

1. Lance Lang: 10.26Q  

2. Rodney Heath Jr.: 10.29Q 

3. Myle Anders: 10.73Q  

6. Tai Brown: 10.92Q  

Women  

Pole Vault  

Final  

1. Siobhan Szerencsits: 13'4.5″/4.08m  

3. Payton Phillips: 12'10.75″/3.93m  

Men  

Shot Put  

Prelim/Final  

1. Josh Sobota: 60'8.75″/18.51m  

Women  

Discus  

Prelim/Final  

1. Areti Filipidou: 166'3″/50.68m  

2. Molly Leppelmeier: 162'1″/49.41m  

Women  

400 Meter  

Final  

1. Alexis Holmes: 51.54, outdoor PB 

3. Megan Moss: 52.23  

Men  

400 Meter  

Final  

1. Dwight St. Hillaire: 46.193  

2. Kennedy Lightner: 46.197, outdoor PB 

Women  

800 Meter  

Final  

3. Julz Williams: 2:15.98  

12. Eliza Scoggin: 2:23.94  

Men  

800 Meter  

Final  

2. Alex Justus: 1:52.42  

3. Jake Allen: 1:52.66  

14. Harper Moore: 1:56.58  

Women  

100 Meter Hurdles  

Final  

1. Masai Russell: 12.71 | PB, facility, improves No. 3 mark on UK all-time list, No. 5 in the nation this year 

2. Devynne Charlton (UK volunteer assistant: 12.89  

3. Darci Khan: 13.16  

4. Shadajah Ballard: 13.20  

6. Kendall Jordan: 13.91, PB 

8. Sophie Galloway: 14.33, PB 

Men  

110 Meter Hurdles  

Final  

 1. Patrick Kimball: 14.45 

Women  

100 Meter  

Final  

1. Dajour Miles: 11.52 | PB 

2. Karimah Davis: 11.54  

5. Kaylyn Heath: 11.77  

Men  

100 Meter  

Final  

1. Lance Lang: 10.02w (+2.4) | No. 4 on NCAA qualifying list this season  

2. Rodney Heath: 10.15w, PB 

4. Myles Anders: 10.63  

Men  

3000 Meter Steeple  

Final  

1. Jackson Watts: 9:10.46, PB 

3. McLean Griffin: 9:35.09  

Women  

4 x 400 Meter  

Final  

1. UK (Davis, Miles, Steiner, Holmes): 3:25.79 | UK absolute (indoor/outdoor) record, facility record, season best, No. 3 in the nation this season  

2. UK: 3:25.79  

6. UK: 3:59.23  

Men  

4 x 400 Meter  

Final  

1. UK (St. Hillaire, Lang, Williams, Lightner): 3:05.67  

3. UK: 3:19.33