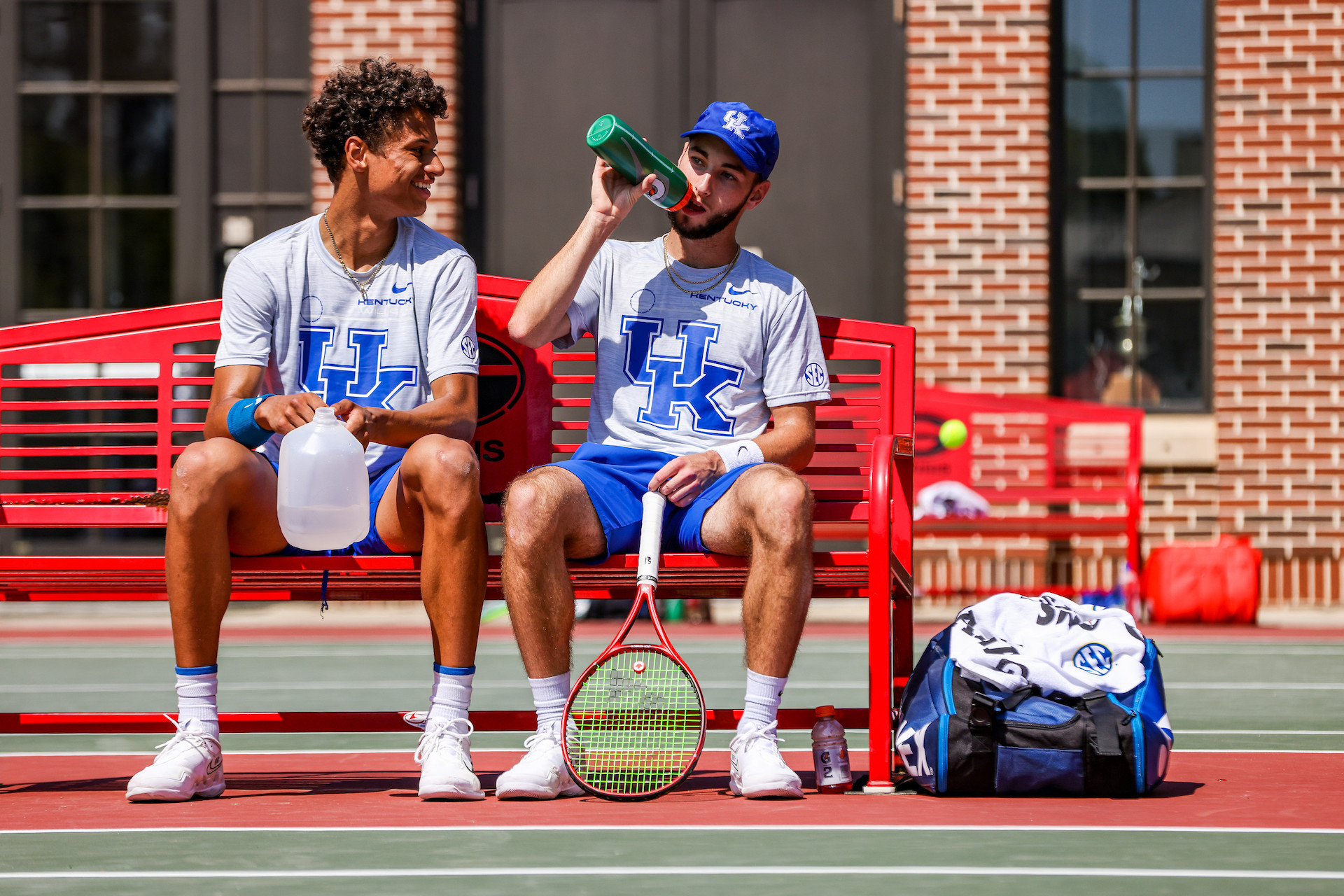 April 23, 2022 - 03:21 PM
Kentucky Defeats Auburn to Advance to SEC Tournament Championship
ATHENS, Ga. – The three-seed Kentucky men's tennis team has advanced to the Southeastern Conference Tournament Championship after defeating No. 7 Auburn in a 4-1 decision at the Magill Tennis Complex on Saturday afternoon.
 
Tomorrow's title match, which will be at 2 p.m. ET, will be televised on the SEC Network.
 
Gabriel Diallo notched his second straight match-clinching point, defeating Jan Galka, 6-4, 7-5. His win will give the Wildcats a chance to win their second SEC Tournament title in program history. When asked about what his mindset was heading into tomorrow's title match, the junior was laser-focused on staying in the present.
 
"Have fun, just to have fun," said Diallo. "This is my first time playing in (the SEC Championship). It's in Georgia. The venue is insane, and the weather is nice, so I'm just trying to have fun and create memories."
 
The match opened in doubles competition with close contests on all three courts. 
 
While Liam Draxl and Alexandre Leblanc opened their match against Maxwell Giddens and Jackson Ross down 3-2, they took four-straight games to win it. It was capped off by a powerful slam by Leblanc for a 6-3 final. Diallo and Joshua Lapadat clinched the point for UK with a 6-3 victory of their own over Tyler Stice and Galka. 
 
Kentucky got off to a hot start in singles with five athletes winning their first set. No. 108 Lapadat was the first to finish and extended the Wildcats' lead to 2-0 after prevailing 6-2, 6-2 over Will Nolan. The sophomore was undefeated against SEC opponents in conference play.
 
Captain Millen Hurrion started off strong and finished in the same way. The fifth year took the first set 6-1 and went on to claim the second, 6-3, and put it at match point in Kentucky's favor. He improved to 17-7 on the season with the win. 
 
Auburn was able to claim a win on court four, however. Francois Musitelli was unable to overcome Finn Murgett and fell 6-4, 6-2. With the match score at 3-1, Diallo was able to claim his team-high 30th win of the year and fourth match-clinching victory.
 
The Wildcats will face off against the either the one-seed Florida Gators or five-seed Tennessee Volunteers. UK lost 4-3 against UF and won 4-3 against UT, with both matches played at the Boone Center in Lexington. 
 
SEC Tournament Semifinals
Kentucky 4, Auburn 1
 
Singles
1. #8 Liam Draxl (UK) vs. #28 Tyler Stice (AUM22) 6-4, 2-6, 1-0, unfinished 
2. #16 Gabriel Diallo (UK) def. Jan Galka (AUM22) 6-4, 7-5
3. Millen Hurrion (UK) def. Tad Maclean (AUM22) 6-1, 6-3
4. Finn Murgett (AUM22) def. Francois Musitelli (UK) 6-4, 6-2
5. #108 Joshua Lapadat (UK) def. Will Nolan (AUM22) 6-2, 6-2
6. JJ Mercer (UK) vs. Spencer Gray (AUM22) 6-3, 2-6, 1-5, unfinished
Order of finish: 5, 3, 4, 2*
 
Doubles
1. #75 Francois Musitelli/Millen Hurrion (UK) vs. #11 Tad Maclean/Finn Murgett (AUM22) 4-5, unfinished 
2. Gabriel Diallo/Joshua Lapadat (UK) def. Tyler Stice/Jan Galka (AUM22) 6-3
3. Liam Draxl/Alexandre LeBlanc (UK) def. Mawell Giddens/Jackson Ross (AUM22) 6-3
Order of finish: 3, 2*
 
For the latest on the Kentucky men's tennis team, follow @UKMensTennis on Twitter and Facebook, @kentuckymenstennis on Instagram, and on the web at UKAthletics.com.
 
– GO CATS –
For more information contact:
Ryan Cullinane (rrcu222@uky.edu) – (859) 257-8309