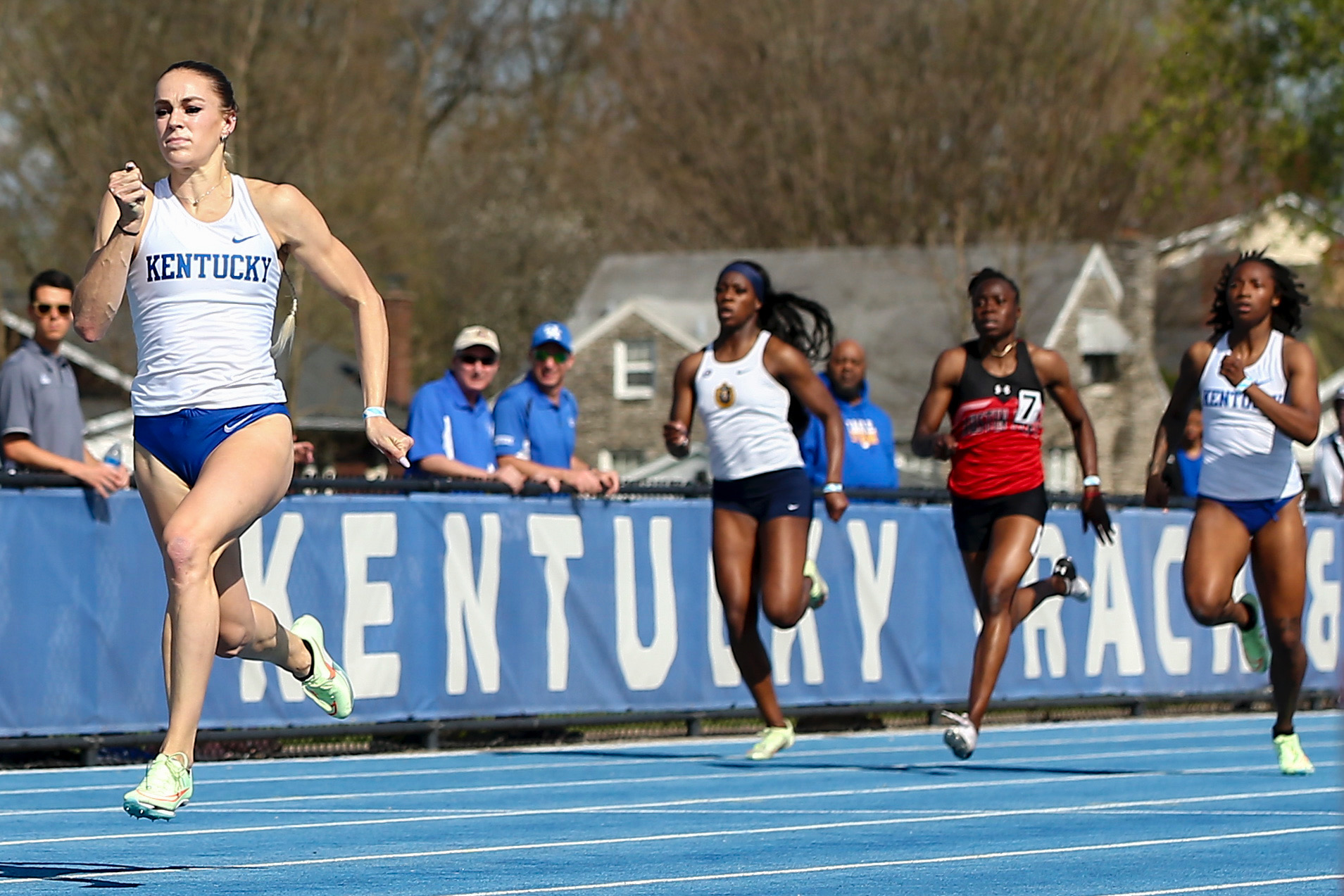 April 22, 2022 - 08:12 PM
Steiner Runs NCAA No. 3 All-Time 200m Time at Kentucky Invitational
LEXINGTON, Ky. – University of Kentucky track & field earned nine event wins on the first of two days of the Kentucky Invitational at the UK Track & Field Complex, highlighted by Abby Steiner's third fastest 200m in collegiate history, Jade Gates' hammer throw school record and Tori Herman's school record 1500m run. 
The Wildcats totaled 25 personal bests on day one with Senior Day and more events coming up on Saturday.
 
Abby Steiner gave the Big Blue Nation a taste of #SteinerSpeed, in the lone home meet of the outdoor season. The senior smashed the facility record in the 200m running an outdoor personal best, 22.05. Third fastest in collegiate history. 
Jade Gates broke the UK hammer school record with a throw of 219'0″/66.77m in the first event of the day. She also broke teammate Molly Leppelmeier's school record in her first attempt (214'7″/65.40m). 
 
Tori Herman tied her personal best, which is the UK school record, 4:14.12 en route to the 1500m win and the No. 6 time in the country this season. UK alumna and volunteer assistant coach Katy Kunc was runner up in 4:17.72, while Rachel Boice was fourth, Kaitlyn Lacy was sixth, Julz Williams was seventh and Kaylie Kenne was eighth. 
 
Jenna Gearing won the women's 800m with a time of 2:04.67 that put her at No. 6 on the UK all-time list and No. 20 in the country this year. DeAnna Martin was runner-up in 2:05.28, No 8 on the UK all-time list. 
 
Rahman Minor won the men's high jump with a jump of 7'0.5″/2.15m, while Donsten Brown placed third. 
Keaton Daniel won the men's pole vault clearing 17'3.5″/5.27m. Matthew Peare, Jacob Sobota and Dalton Shepler gave UK a 1-2-3-4 placing in the event. 
 
Logan Coles won the men's hammer throw with a personal best and freshman record toss of 208'1″/63.43m, while Michael Browning was runner-up (197'9″/60.28m). 
 
Masai Russell won the women's 400m hurdles in 56.46m and Darci Khan took second place (1:02.17) 
 
Kenroy Williams won the men's 400m hurdles with a time of 50.53 and Beck O'Daniel was runner-up in a personal best 51.60. 
 
UK volunteer assistant coach and UT alum Christian Coleman won the men's 200m in 19.92 (+0.5). Lance Lang was the top collegian and overall runner-up in 20.30. Dwight St. Hillaire was third in 20.38, while Jacob Smith placed fifth (20.76). The Wildcats earned a 2-3-4-5-6-7-8-9-10 finish in the event. 
 
In the women's 200m behind Steiner's historic performance, All-American sprinter Karimah Davis was second in 23.10, Megan Moss was third in 23.48, Dajour Miles was fourth in 23.54 and Shadajah Ballard placed fifth in 23.60. 
 
Annika Williams and Sophie Galloway placed second and third in the women's long jump respectively. Williams' mark was a six-inch PB and moved her to No. 5 on the UK all-time list. 
 
Meet Information 
Both field and running events begin at noon on Saturday, with field events ending at 3 p.m. and running events ending at 4:30 p.m. 
 
Admission is free for all spectators and live results can be found at pttiming.com 
 
The senior ceremony will be held Saturday at 12:20 p.m. after the men's 4x100m and will feature 28 seniors: 
 
Men 
Myles Anders – sprints 

Nathaniel Bann – sprints 

Tai Brown – hurdles/sprints 

Jacob Brizendine – distance 

Trey Causey III – jumps 

Brian Faust – sprints 

Joseph Jardine – pole vault 

Patrick Kimball – hurdles 

Jacob Smith – sprints 

Joshua Sobota – throws 

Jacob Sobota – multi 

Robbie Springfield III – jumps 

Gabe Szalay – distance 

Trevor Warren – distance 

Lincoln Young – pole vault 
Women 
Perri Bockrath – distance  

Rachel Boice – distance  

Sophie Carrier – distance  

Amaya Chadwick – hurdles  

Karimah Davis – sprints  

Alexis Holmes – sprints  

Kaitlyn Lacy – distance 

Sarah Michels – distance  

Natalie Molotky – distance 

Masai Russell – hurdles/sprints  

Abby Steiner – sprints  

Siobhan Szerencsits – pole vault 

Kelli Walsh – distance  
Although the meet will not be live streamed, the senior ceremony will be broadcast on Facebook Live for those who can't make it to the meet. 
 
The teams attending are Austin Peay, Bellarmine, Brescia, Campbellsville, Centre College, Eastern Kentucky, Kentucky, Kentucky Wesleyan, Midway, Morehead State, Murray State, Pikeville, Saint Louis, Transylvania and Western Kentucky. 
 
Below are the parking options for spectators on Friday and Saturday. 
E Lot in-front of Cliff Hagan 

C16 Lot below Outdoor Track 

Green Lot (Friday only) 

Parking Structure #7 is a pay lot, but available. 
 
Follow Kentucky Track and Field and Cross Country on Facebook, Instagram, Twitter and at UKathletics.com. 
 
Friday, April 22 

Women 

Hammer 

Prelim/Final 

1. Jade Gates: 219'0″/66.77m | School record, No. 13 in the nation this season 

2. Molly Leppelmeier: 210'7″/64.19m 7. 7. Leah More: 154'9″/47.17m, PB 

8. Simi Akinrinsola: 152'10″/46.59, PB 

Women 

Javelin 

Prelim/Final 

3. Sophie Galloway: 124'10″/38.04m, PB 

4. Annika Williams: 120'7″/36.76m 

Men 

High Jump 

Final 

1. Rahman Minor: 7'0.5″/2.15m 

3. Donsten Brown: 6'4.75″/1.95m, outdoor PB 

Men 

Pole Vault 

Final 

1. Keaton Daniel: 17'3.5″/5.27m 

2. Matthew Peare: 16'9.5″/5.12m 

3. Jacob Sobota: 15'9.75″/4.82m 

4. Dalton Shepler: 15'3.75″/4.67m 

Women 

Long Jump 

Prelim/Final 

2. Annika Williams: 20'7″/6.27m (+0.1) | six-inch PB, No. 5 on UK all-time list 

3. Sophie Galloway: 19'2.75″/5.86 (0.0), PB 

4. Meg Wilson: 19'2.50/5.85mw (+3.0), PB 

6. Kendall Jordan: 18'7″/5.66m (+0.9), PB 

Men 

Hammer 

Prelim/Final 

1. Logan Coles: 208'1″/63.43m, PB, freshman record, remains 5th all-time for UK 

2. Michael Browning: 197'9″/60.28m, PB 

5. John Kruzel: 167'6″/51.05m, PB 

Women 

400 Meter Hurdles 

Final 

1. Masai Russell: 56.46 

2. Darci Khan: 1:02.17, PB 

Men 

400 Meter Hurdles 

Final 

1. Kenroy Williams: 50.53 

2. Beck O'Daniel: 51.60, PB 

Women 

200 Meter 

Final 

1. Abby Steiner: 22.05 (+0.5) | No. 3 collegiate all-time, outdoor school record, Kentucky Invitational Record, facility record 

2. Karimah Davis: 23.10 

3. Megan Moss: 23.48, PB 

4. Dajour Miles: 23.54 

5. Shadajah Ballard: 23.60, PB 

11. Kaylyn Heath: 24.03 

12. Devynne Charlton (UK volunteer coach, Purdue alum): 24.04 

17. Seven Simms: 24.64 

18. Jaida Knowles: 24.71 

38. Jasmine Jackson: 26.19 (0.9) 

42. Mandy Dickerson: 26.43 

43. Patrice Cornelius: 26.86 

48. Cierra Fogg: 27.05 (+1.7) 

Men 

200 Meter 

Final 

1. Christian Coleman (UK volunteer coach, UT alum): 19.92 (+0.5)  

2. Lance Lang: 20.30 (+0.5) 

3. Dwight St. Hillaire: 20.38 (+0.5) 

5. Jacob Smith: 20.76 (+1.5) 
6. Brian Faust: 20.82 (+1.5), PB 

7. Tai Brown: 20.84 (+1.5), PB 

8. Kennedy Lightner: 20.91 (+0.5) 

9. Rodney Heath Jr.: 21.00w (+2.4) 

10. Myles Anders: 21.37 (+1.5) 

27. Patrick Kimball: 22.96 (+0.9) 

Women 

1500 Meter 

Final 

1. Tori Herman: 4:14.12 | =PB + UK record, No. 6 in the nation this season 

2. Katy Kunc (UK alum): 4:17.72 

4. Rachel Boice: 4:28.25 

6. Kaitlyn Lacy: 4:29.21 

7. Julz Williams: 4:32.66, PB 

8. Kaylie Kenne: 4:32.88, PB 

Men 

1500 Meter 

Final 

3. Jake Allen: 3:46.91 

5. Dylan Allen: 3:47.91 

8. Harper Moore: 3:51.16 

9. Jacob Brizendine: 3:51.35 

20. Trevor Warren: 3:57.96 

23. Matt Duvall: 3:59.50 

24. Gabriel Szalay: 4:01.69 

Women 

800 Meter Invite 

Final 

1. Jenna Gearing: 2:04.67 | No. 6 on UK all-time list, No. 20 in the country this year, PB 

2. DeAnna Martin: 2:05.28 | No. 8 on UK all-time list, PB 

3. Jenna Schwinghamer: 2:06.24 

4. Phoebe McCowan: 2:06.81, PB 

7. Bryanna Lucas: 2:09.25 
Saturday, April 23rd 

12:00 PM 

Women 

Shot Put 

Prelim/Final 

Leppelmeier, Akinrinsola, Moore, A. Williams 

12:00 PM 

Women 

4 x 100 Meter 

Final 

Everyone 

12:10 PM 

Men 

4 x 100 Meter 

Final 

Everyone 

12:20 PM 

SENIOR CEREMONY 

12:30 PM 

Women 

High Jump 

Final 

A. Williams 

12:30 PM 

Men 

Discus 

Prelim/Final 

Jo. Sobota, Kruzel, Browning 

1:00 PM 

Women 

3000 Meter 

Final 

Carrier, Guerra, Walsh, Michels, Molotky 

1:15 PM 

Men 

3000 Meter 

Final 

 
 

1:30 PM 

Women 

Triple Jump 

Prelim/Final 

Galloway, Jordan 

1:30 PM 

Men 

Triple Jump 

Prelim/Final 

 
 

1:30 PM 

Women 

100 Meter Hurdles 

Prelim 

Russell, Ballard, Khan, A. Williams, 

Jordan, Galloway, Boyke-Johnson 

1:45 PM 

Women 

100 Meter 

Prelim 

Davis, Ballard, Miles, Heath, Knowles, Dickerson, Simms, 

Fogg 

2:00 PM 

Men 

100 Meter 

Prelim 

Lang, Heath Jr., T. Brown, Anders 

2:00 PM 

Women 

Pole Vault 

Final 

Szerencsits, Phillips 

2:00 PM 

Men 

Shot Put 

Prelim/Final 

Jo. Sobota 

2:00 PM 

Women 

Discus 

Prelim/Final 

Filipidou, Leppelmeier 

2:10 PM 

Women 

400 Meter 

Final 

Holmes, Moss, McClennon 

2:25 PM 

Men 

400 Meter 

Final 

St. Hillaire, Faust, Lightner, Smith 

2:35 PM 

Women 

800 Meter 

Final 

J. Williams, Scoggin 

2:45 PM 

Men 

800 Meter 

Final 

Justus, J. Allen, Brizendine, Moore 

3:00 PM 

Women 

100 Meter Hurdles 

Final 

Russell, Ballard, Khan, A. Williams, Jordan, Galloway, 

Boyke-Johnson 

3:05 PM 

Men 

110 Meter Hurdles 

Final 

Kimball 

3:10 PM 

Women 

100 Meter 

Final 

Davis, Ballard, Miles, Heath, Knowles, Dickerson, Simms, 

Fogg 

3:15 PM 

Men 

100 Meter 

Final 

Lang, Heath Jr., T. Brown, Anders 

3:20 PM 

Women 

3000 Meter Steeple 

Final 

 
 

3:35 PM 

Men 

3000 Meter Steeple 

Final 

Griffin, Watts, S. Williams 

3:50 PM 

Women 

4 x 400 Meter 

Final 

UK 

4:00 PM 

Men 

4 x 400 Meter 

Final 

UK