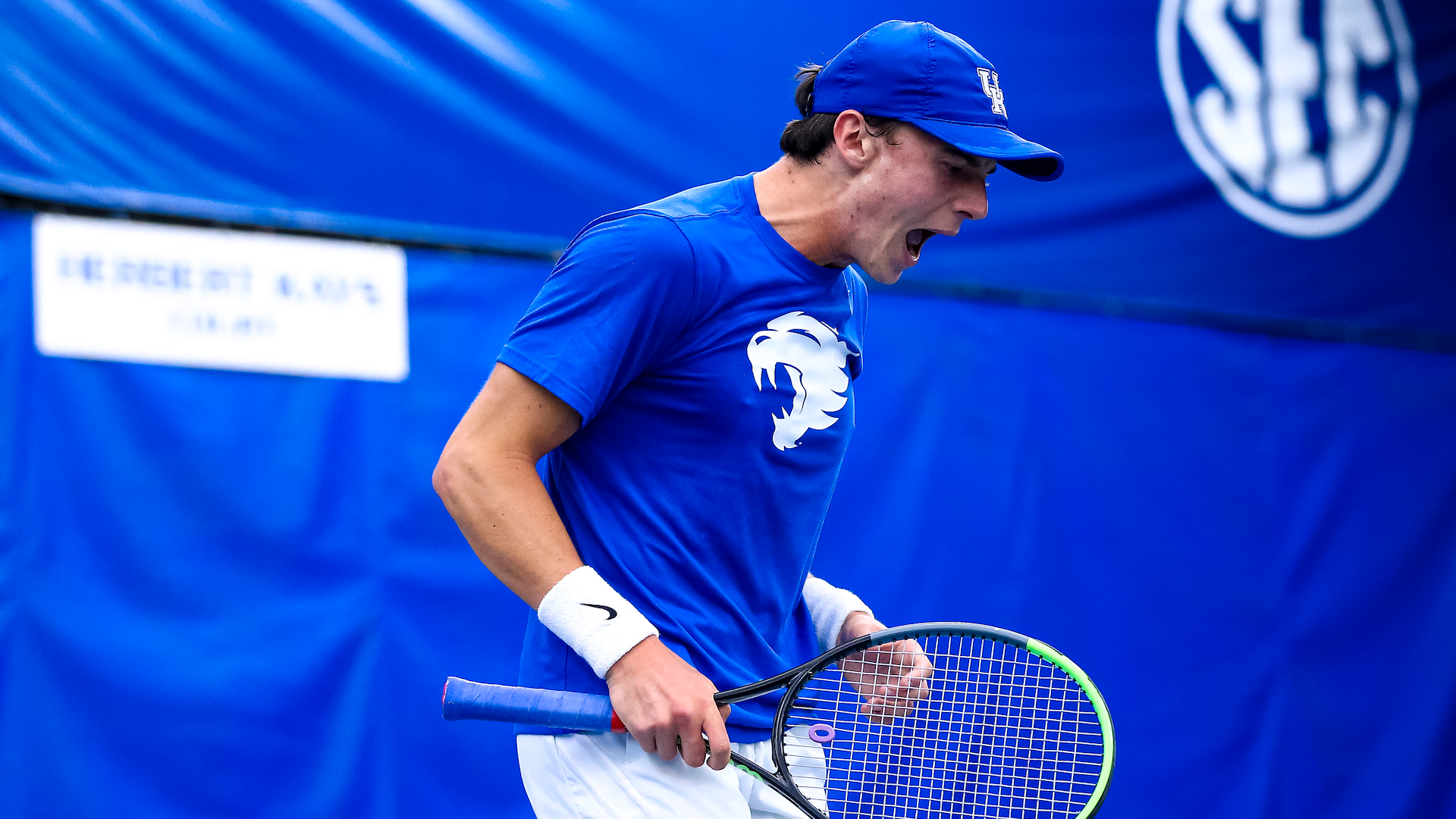 April 22, 2022 - 03:00 PM
Kentucky Sweeps Arkansas, Advances to SEC Tournament Semifinals
ATHENS, Ga. – The No. 3-seed Kentucky Wildcats defeated the No. 11-seed Arkansas Razorbacks in sweeping fashion by a 4-0 result in the Southeastern Conference Tournament quarterfinals on Friday afternoon at the Dan Magill Tennis Complex in Athens, Georgia.
 
UK will next play in the semifinal round on Saturday at 11 a.m. ET against the No. 7-seed Auburn Tigers. Kentucky improves to 20-6 overall while Arkansas is now 15-15 on the year. 
 
"We have respect for Arkansas, we always have some tough battles with them," said head coach Cedric Kauffmann. "We knew they would come out and try to play well and compete. I am proud of the team; We have two more days to go."
 
Ranked 10th nationally, the Wildcats opened the day against 51st-ranked Arkansas with an impressive showing and jumped out to an early lead. Liam Draxl and Alexandre Leblanc opened doubles competition with a commanding 6-2 win over Jacob Sweeney and Hunter Harrison on court three. At the one spot, No. 75 Francois Musitelli and Millen Hurrion clinched it with a 6-3 win of their own over No. 83 Nico Roussett and Alex Reco.
 
Ahead by a 1-0 score, Kentucky entered singles competition and picked up right where doubles left off. UK claimed five of the six first sets in singles to take control of the match. 
 
Joshua Lapadat notched his team-high 18th win of the spring and picked up another point for the blue and white. Lapadat, the 108th-ranked singles player, bested Melvin Manuel, 6-3, 6-1, on court five. The sophomore was a perfect 11-0 in SEC matches this season.
 
Musitelli picked up a win over Adrien Burdet, 6-3, 6-1, and earned his fourth-straight singles win. The Dijon, France native was the only athlete to pick up wins in both doubles and singles on Friday.
 
No. 16 Gabriel Diallo then took down Rousset to confirm the sweep for the Wildcats. While trailing in the first set, Montreal native Diallo came alive after going down 5-2 and claimed five-straight games. In a 7-5, 6-2 finish, Diallo picked up his third match-clinching win of the season. 
 
Auburn, the 30th-ranked team in the country, upset No. 2 seed South Carolina by a 4-2 decision on Friday morning. Although the Tigers dropped the doubles point, they went on to win four singles matches. AU has one athlete ranked in singles, No. 28 Tyler Stice, who is 18-12, and one tandem in doubles, No. 11 Tad McClean and Finlay Murgett, who are 18-6 together. 
 
Kentucky and Auburn previously faced each other in the regular season on March 18 at the Boone Center in Lexington, with the Wildcats prevailing by a 4-3 final. 
 
SEC Tournament Quarterfinal Round
Kentucky 4, Arkansas 0
 
Singles
1. #8 Liam Draxl (UK) vs. #26 Alex Reco (ARK) 4-6, 5-3, unfinished
2. #16 Gabriel Diallo (UK) def. Nico Rousset (ARK) 7-5, 6-2
3. #102 Millen Hurrion (UK) vs. Oscar Pinto Sansano (ARK) 7-6 (7-4), 4-1, unfinished 
4. Francois Musitelli (UK) def. Adrien Burdet (ARK) 6-2, 6-4
5. #108 Joshua Lapadat (UK) def. Melvin Manuel (ARK) 6-3, 6-1
6. JJ Mercer (UK) vs. #107 Aleksa Bucan (ARK) 7-6 (7-5), 1-1, unfinished
Order of finish: 5, 4, 2*
 
Doubles
1. #75 Francois Musitelli/Millen Hurrion (UK) def. #83 Nico Rousset/Alex Reco (ARK) 6-3
2. Joshua Lapadat/Gabriel Diallo (UK) vs. Melvin Manuel/Adrien Burdet (ARK) 5-3, unfinished 
3. Liam Draxl/Alexandre LeBlanc (UK) def. Jacob Sweeney/Hunter Harrison (ARK) 6-2
Order of finish: 3, 1*
 
For the latest on the Kentucky men's tennis team, follow @UKMensTennis on Twitter and Facebook, @kentuckymenstennis on Instagram, and on the web at UKAthletics.com.
 
– GO CATS –
For more information contact:
Ryan Cullinane (rrcu222@uky.edu) – (859) 257-8309