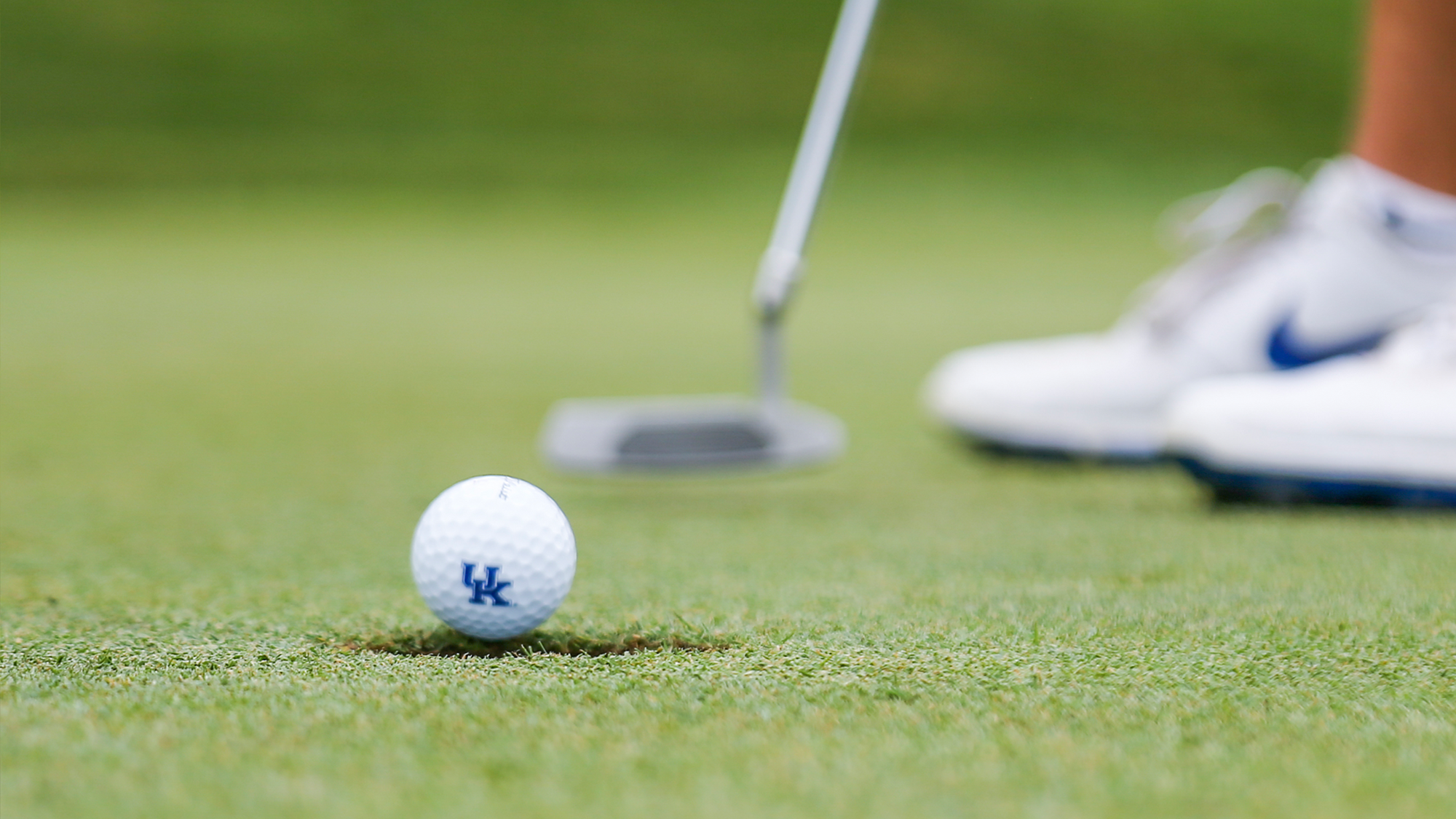 April 19, 2022 - 11:56 AM
Kentucky Set for SEC Men's Golf Championship
LEXINGTON, Ky. – The Kentucky men's golf team will open action at the Southeastern Conference Championship on Wednesday in a quest for a league crown. The SEC Championship, arguably the toughest league tournament in the country, will be played for the 21st time at St. Simon's Island on the Seaside Course which is rated as one of the top-50 courses in the country.
 
The Wildcats will utilize the same starting lineup as they did in each of its last two regular-season events. UK will field a starting five of Jacob Cook, Garrett Wood, Alex Goff, Campbell Kremer and Hugo Archer. Jay Kirchdorfer will serve as UK's alternate.  
 
UK will tee off on Wednesday alongside Mississippi State beginning at 9:40 a.m. ET off of the No. 1 tee box.
  
This year's format will once again feature a 54-hole stroke play, with an individual tournament crown being awarded on Friday. The top eight teams will stick around for match play beginning on Saturday. Two finalists will be determined for a head-to-head match-play showdown for the conference's champion on Sunday.
 
All 14 league teams are ranked in the top 70 of the most recent Golfstat rankings. Twelve of the nation's top 50 players will take part in the league tournament this week as well.
 
Goff and Cook are the only two players with SEC Championship experience. Goff tied for 28th overall with rounds of 74-70-72 and Cook tied for 33rd behind rounds of 69-78-70 a season ago in an 11th-place finish for the Wildcats. Wood, Kremer, Archer and Kirchdorfer will appear in the event for the first time.
 
UK made its first appearance in match play in 2019 and won the 2005 SEC Championship under Brian Craig bolstered by the play of SEC Player of the Year J.B. Holmes.
NOTEWORTHY
Tournament Field: No. 3 Vanderbilt, No. 10 Arkansas, No. 12 Georgia, No. 15 Auburn, No. 16 Florida, No. 18 Tennessee, No. 19 Texas A&M, No. 21 Ole Miss, No. 22 South Carolina, No. 25 LSU, Alabama, Kentucky, Mississippi State and Missouri comprise the field.  
 
Course Details: This marks the 21st year for the SEC Championship to be contested on the Sea Island Golf Club's Seaside Course. The SEC has conducted its annual championship on St. Simons Island since 2001. Since 1927, the Sea Island Golf Club has enjoyed a legacy as one of America's premier golf clubs. 
 
Rated No. 1 in the U.S. among the "World's 50 Best Golf Hotels" by Golf Digest Index, Sea Island Golf Club offers three exceptional 18-hole championship courses. The Seaside Course, home to the PGA TOUR's McGladrey Classic, is a links course graced by majestic ocean vistas in the tradition of St. Andrews.
 
Originally designed in 1929 by famed architects Harry S. Colt and Charles Alison, the Seaside Course was updated in 1999 by Tom Fazio – earning it a prominent place on Golf Digest's list of "Top 100 Courses in the United States." 
 
Cook: UK's captain leads the team with a career-best 71.00 stroke average in 2021-22. He's also turned in five top-10 individual finishes and six in the top 20. He has generated a team-best 17 par-or-better rounds on the season and has shot 72 or better in 19 rounds this season. Cook produced a career-low 66 in the final round of the Old Town Collegiate Invitational and also carded a career-low 204 in the same event for a tie for ninth. His best finish of the season was a tie for fourth at the Schenkel Invitational. In his most recent outing, Cook turned in three rounds of 70 for a tie for ninth at the Lewis Chitengwa Memorial.
 
Wood: The Mason, Ohio, native is nearly matching Cook stat-by-stat. He is averaging a career-low 71.44 stroke average, has produced 16 par-or-better rounds, has three top-10 finishes and five top-20s. Wood shot a career-low 65 in the final round of two tournaments this season and also fired a career-best 205 in a tie for 14th at Old Town. Although he's making his SEC Championship debut, Wood had two career top-10 finishes, including a victory in the Big East Conference Championship as a member of Xavier before transferring to Kentucky.
 
Goff: UK's junior will make his 23rd career start at the SEC Championship this week. He is shooting 72.22 for the season and has a season-low 67. Goff has produced 12 par-or-better rounds this season and has amassed 31 in his collegiate career. The Kings Mountain, North Carolina, native produced a top-10 finish at the Steelwood Collegiate Invitational and tied for 14th in his last outing at the Lewis Chitengwa Memorial. He has produced a par-or-better round in five of his last eight rounds.
 
Kremer: The sophomore from Louisville, Kentucky, is playing the best golf of his career for the Wildcats this year. Kremer is averaging a 72.71 stroke average for the season and earned his first two career top-20 finishes during his second season with the Cats. He has logged 10 par-or-better rounds and totaled a career-best 213 in a tie for 16th at Steelwood.
 
Archer: The Rennes, France, native had a big start to his sophomore campaign with a career-best tie for third at the Island Resort Intercollegiate. He also carded a career-low 68 in the opening round of that tournament. He also secured a career-low tournament score of 213 in the top-five showing. Archer has made four starts for the Wildcats this season and has six par-or-better rounds. He's averaging a 73.33 stroke average for the year.
 
Kirchdorfer: The junior from Louisville, Kentucky, has made five of his nine career appearances in 2021-22. His best finish came at Steelwood when he narrowly missed on a top-20 finish with a 21st-place showing. Kirchdorfer has four par-or-better rounds and earned a career-low tournament score of 214 at Steelwood.
 
For the latest on the Kentucky men's golf team, follow us on Twitter, Facebook, Instagram and on the web at UKathletics.com.