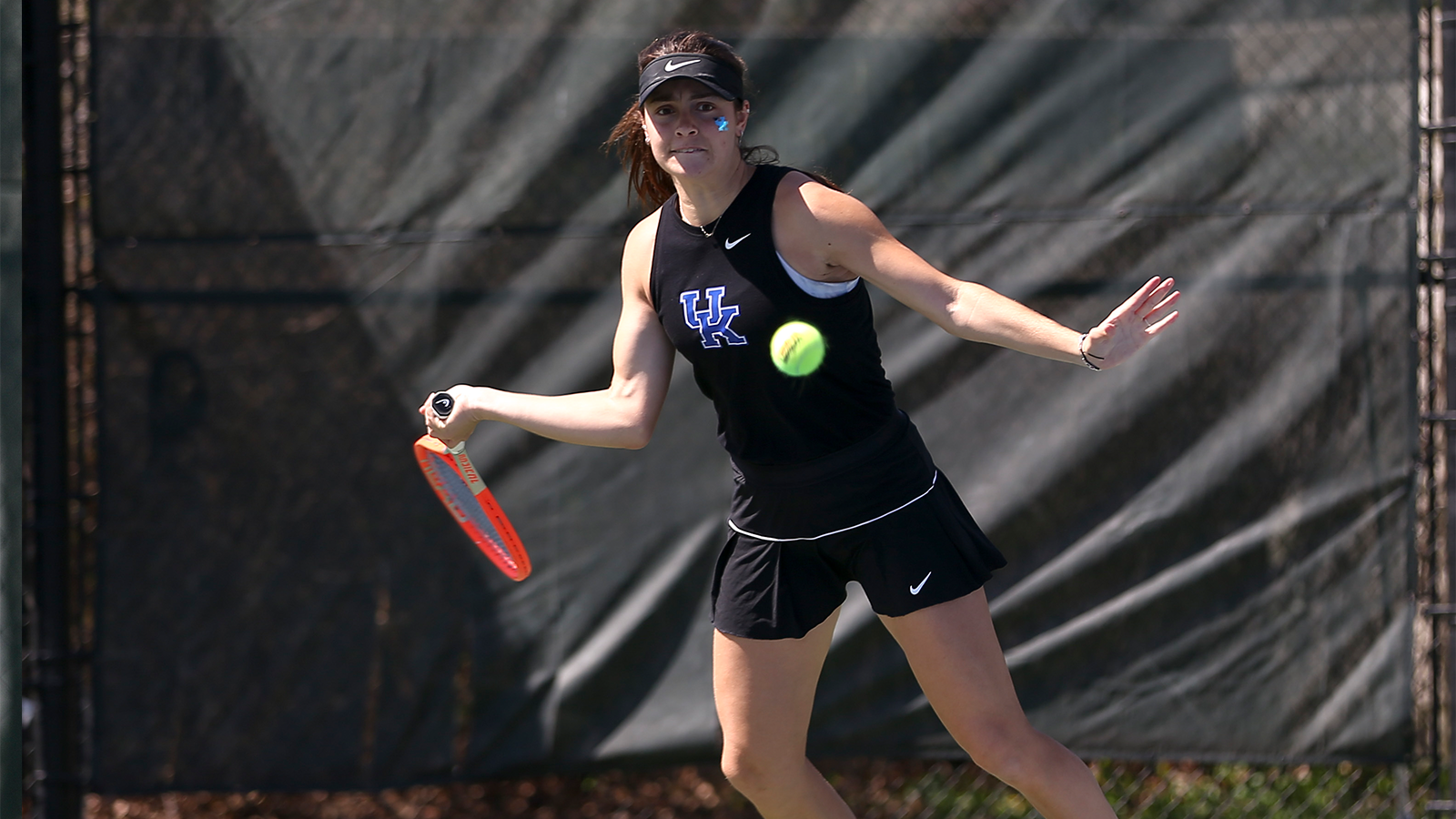 April 15, 2022 - 02:30 PM
Kentucky Women's Tennis Taken Down by No. 47 Ole Miss
LEXINGTON, Ky. – The No. 58 Kentucky women's tennis team fell flat on Friday afternoon at the Hilary J. Boone Tennis Center, dropping a 4-0 decision to No. 47 Ole Miss. The Wildcats are now 12-13 on the season and 0-12 in Southeastern Conference play.
Ole Miss began the match by securing the doubles point. Anaelle Leclercq-Ficher and Sabina Machalova first defeated the 27th-ranked duo of Fiona Arrese and Ellie Eades, 6-4, on the court one before Rachel Krzyzak and Lillian Gabrielson topped Carlota Molina and Florencia Urrutia, 6-3, in the third spot.
The Rebels were able to carry their momentum into singles play, claiming the first three matches on courts one, five and three to make it a sweep. Following its win, Ole Miss improves to 13-9 overall with a 5-7 mark in conference action.
The Wildcats are back at the Hilary J. Boone Tennis Center on Sunday to host Mississippi State at noon for the regular season finale. Kentucky will also honor its lone senior, Carla Girbau, prior to the start of the match for Senior Day.
No. 47 Ole Miss 4, No. 58 Kentucky 0
Singles
1. No. 65 Sabina Machalova (OM) def. Florencia Urrutia (UK) 6-0, 6-3
2. Carlota Molina (UK) vs. No. 123 Anaelle Leclercq-Ficher (OM) Unfinished
3. Ludmila Kareisova (OM) def. Carla Girbau (UK) 6-2, 6-3
4. Fiona Arrese (UK) vs. Rachel Krzyzak (OM) Unfinished
5. Lillian Gabrielson (OM) def. Lidia Gonzalez (UK) 6-2, 6-3
6. Maialen Morante (UK) vs. Reka Zadori (OM) Unfinished
Order of finish: 1, 5, 3*
Doubles
1. Anaelle Leclercq-Ficher/Sabina Machalova (OM) def. No. 27 Fiona Arrese/Ellie Eades (UK) 6-4 
2. Carla Girbau/Lidia Gonzalez (UK) vs. Ludmila Kareisova/Reka Zadori (OM) Unfinished 
3. Rachel Krzyzak/Lillian Gabrielson (OM) def. Carlota Molina/Florencia Urrutia (UK) 6-3
Order of finish: 1, 3*
For the latest on the Kentucky women's tennis program, follow @UKWomensTennis on Twitter and Instagram, on Facebook, and on the web at UKathletics.com