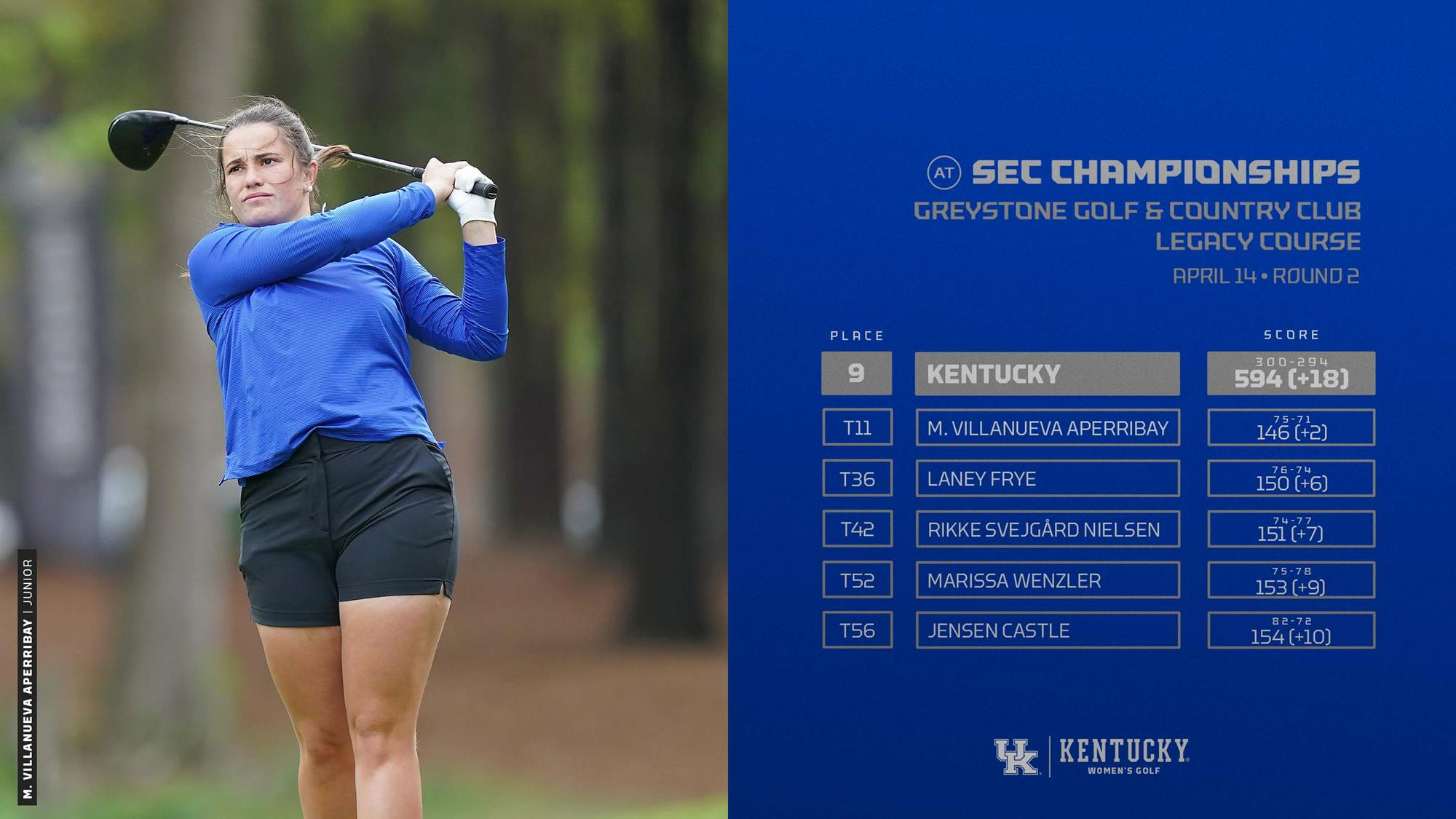 April 14, 2022 - 07:32 PM
Kentucky Fights Hard Through Round Two
BIRMINGHAM, Ala. – Kentucky Women's Golf completed its second round of the SEC Championships at Greystone Golf and Country Club on Thursday.
 
Playing on the Legacy Course (par 72, 6,331 yards), the Wildcats finished the day in ninth shooting 10-over-par during the second round of 18. UK is in close contention to making the eight-team cut on Friday. The third round of 18 will begin with a shotgun start at 10 a.m. leading into match play at 5 p.m.
 
"I thought we got off to somewhat of a steady start today and found our rhythm as the round progressed, stated Head Coach Golda Borst. "Unfortunately, we really struggled on our 15th hole and that cost us, but all of the girls finished strong and had looks at birdies to finish off their rounds."
María Villanueva Aperribay came to play as she sunk four consecutive birdies on the back nine of the course. She continued this momentum to finish the day one-under-par with a 71. The junior sits just outside of the top 10, tied for 11th.
 
Sophomore Laney Frye remained steady shooting two-over-par for a second-round 74. The highlight of her round was an excellent eagle on hole three to place her one-under on the front nine. The Kentucky native is currently tied for 36th shooting +2 on the day. 
 
Rikke Svejgård Nielsen began her round with a bogey but was able to find her rhythm. Finding more even-par holes than bogies, the senior shot a 77 (+5) to place herself T42.
 
Marissa Wenzler was not far behind Svejgård Nielsen shooting a 78 (+6) for a T52 finish after her second round. Jensen Castle was right behind tied for 56th showing much improvement with even par. She showed grit and determination after shooting 82 (+10) on Wednesday.
 
"Tomorrow will be an exciting day and I look for our team to stay disciplined and calm through the noise," said Borst. "If we can do that, then we will be in good shape." 
The SEC Championships will continue through Sunday with an eight-team cut following Friday's round of stroke play. Following the cut, the remaining teams will battle through two rounds of match play to determine the 2022 conference champion.
Live stats of the tournament are available courtesy of GolfStat, which fans can access here. The final round on Sunday will be broadcasted on SEC Network at 8:30 a.m. 
This year's tournament marks the ninth consecutive year for the SEC Championship to be contested in at the Greystone Golf and Country Club. The SEC has conducted its annual championship at Greystone since 2013 (Founder's Course 2013-14, 2015-21).
BIRDIES FOR TORNADO RELIEF FUNDRAISER
Collectively, UK Women's Golf has tallied 205 birdies since announcing the start of a new fundraiser to aid fellow Kentuckians in the Western region of the state who were devastated by an EF4 tornado in early December of last year. This tally includes the birdies shot throughout the SEC Championships. 
 
In partnership with the Kentucky Red Cross, the program is asking for monetary donations or pledges. For each birdie made, beginning with the Darius Rucker Intercollegiate and throughout the rest of the 2022 spring season, money will be given to those impacted by the catastrophic disaster.
 
Those wishing to donate can do so by clicking here.
For the latest on Kentucky Women's Golf, follow the team on Twitter, Facebook and Instagram, as well as on the web at UKathletics.com.