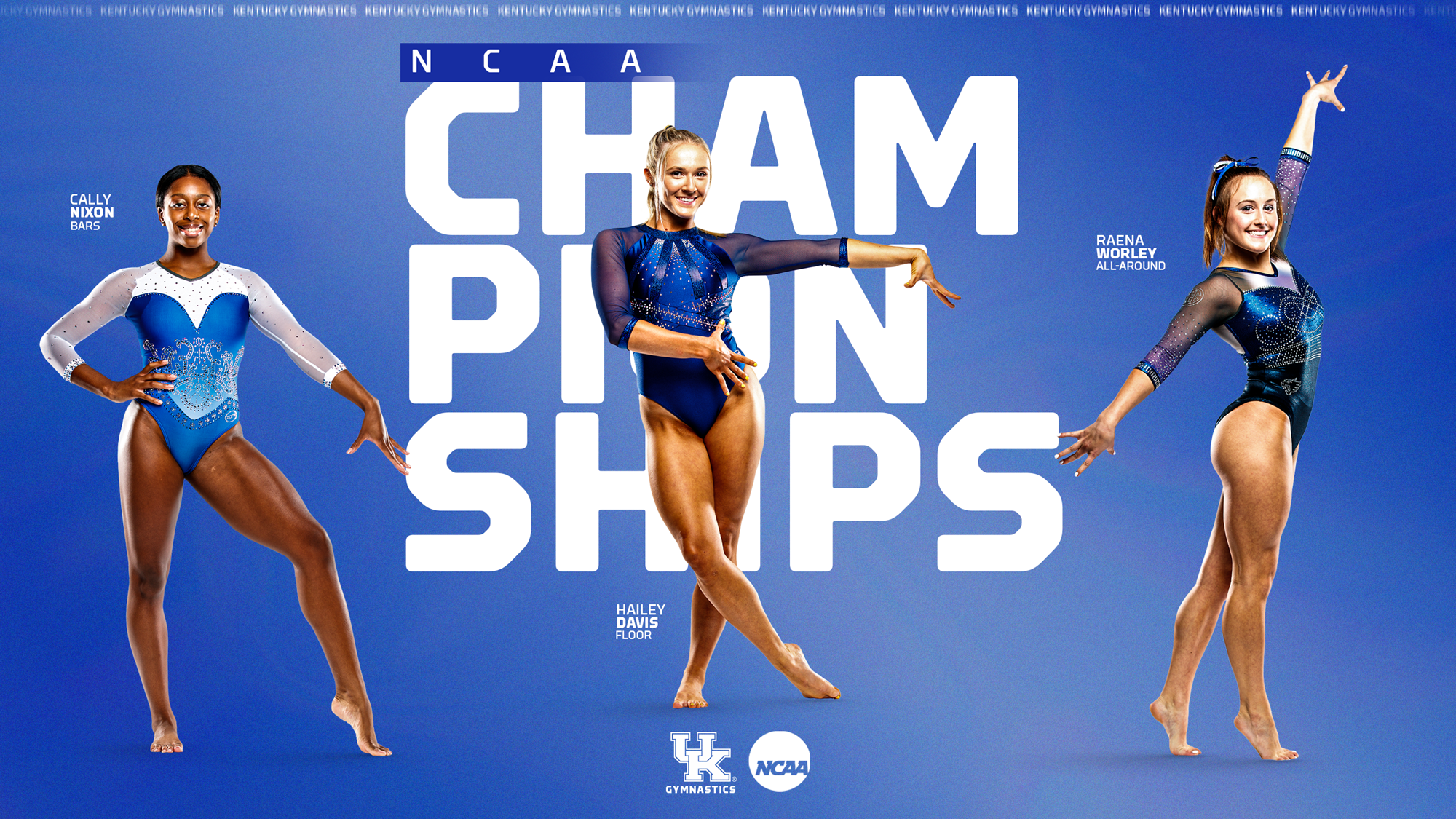 April 13, 2022 - 03:09 PM
Trio of Wildcat Gymnasts Take on NCAA Championships
FORT WORTH, Texas – Three Kentucky gymnasts will compete in the second session of the NCAA Championships on Thursday at Dickies Arena in Fort Worth.
Raena Worley, Cally Nixon and Hailey Davis will all be taking part in the individual component of the 2022 NCAA Championships as they look to medal in individual events. 
 
Kentucky's all-around standout Raena Worley will rotate with the University of Florida as she looks for her eighth title of the season. The junior has won the all-around seven times this year posting her highest tally of 39.750. Her most recent title was at the NCAA Auburn Regional where she topped the all-around leaderboard in the second round and earned the third spot in the regional finals. 
  
Cally Nixon will compete in the uneven parallel bars event where she will show off her impressive skill and giant dismount. Throughout her senior season, Nixon has shown consistency each time she has competed. At the NCAA Auburn Regional, she scored a 9.950 in both the second and final rounds. The mark was just short of her career and season best, 9.975. Nixon set her personal record in the early-season quad-meet against Georgia, Central Michigan and Illinois.
 
Sophomore Hailey Davis can be found on the floor exercise Thursday where she will perform her beautiful and well-executed routine. The crowd-favorite performance features a variety of elite skills which earned the gymnast a top mark of 9.950 this season. Like Nixon, Davis showed consistency of her own on the floor tying her personal best in both rounds of the regional. 
 
Both Nixon and Davis will be rotating with the University of Auburn for the semifinals Thursday.
 
The semifinal round of the Championships will feature two sessions of competition followed by the final round on Saturday. Worley, Nixon, and Davis will all compete in the second session at 6 p.m. ET which can be watched on ESPN2 and the ESPN app which can be accessed by clicking here.
 
The finals will be televised live on ABC this Saturday beginning at 1 p.m. ET.
 
Live stats are also available for session one, session two, and finals.
 
Follow along with Kentucky Gymnastics on Twitter, Facebook and Instagram, and on the web at UKathletics.com.