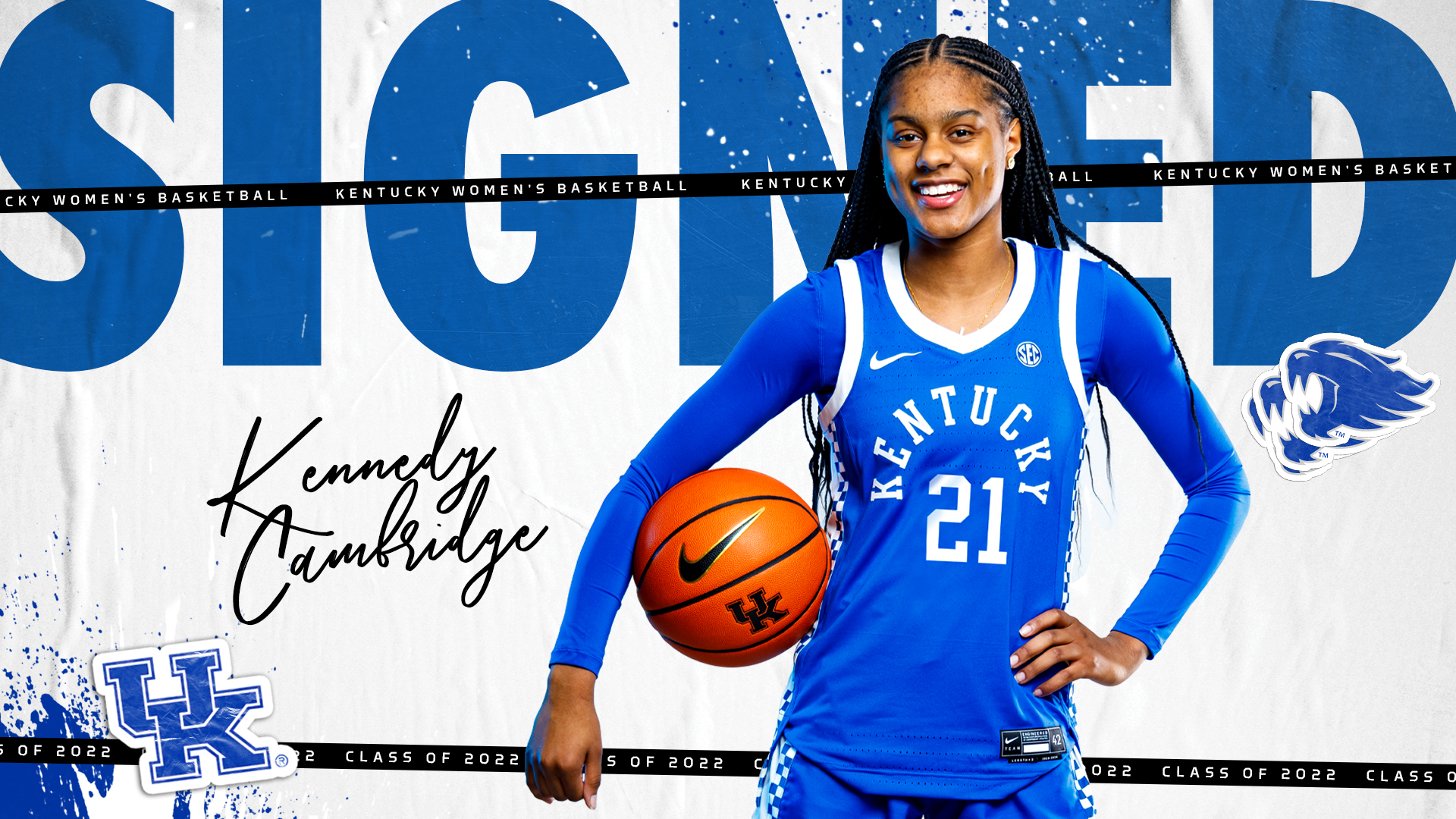 April 13, 2022 - 10:35 AM
Tennessee State Champion Kennedy Cambridge Signs with Kentucky
LEXINGTON, Ky. – Adding to an already impressive class, University of Kentucky women's basketball head coach Kyra Elzy has announced the signing of Kennedy Cambridge, who will bring a championship pedigree to Lexington in 2022-23.
 
Cambridge is the fifth player to sign with Kentucky this season, joining four-star post Tionna Herron (DeSoto, Texas), four-star guard Saniah Tyler (Florissant, Missouri), Miss Kentucky Basketball Amiya Jenkins (Lawrenceburg, Kentucky) and in-state star guard Cassidy Rowe (Virgie, Kentucky).
 
"We are incredibly excited to officially welcome Kennedy to Big Blue Nation," Elzy said. "It's rare in the late singing period you have a chance to sign such an incredible talent like Kennedy. We absolutely fell in love with her and her family during the recruiting process. Her basketball pedigree speaks for itself. She is athletic and explosive but plays under control, which is exactly what we want for a guard in our system. Kennedy really took her offensive game to the next level this season. We think her skillset is going to translate well to the SEC. Our staff is looking forward to working with her and seeing her in Kentucky blue very soon."
 
Below is a detailed look at Cambridge and what she will bring to Lexington next season.
 
Kennedy Cambridge, 5-8, Guard, Nashville, Tennessee (Ensworth High School)
A four-star prospect according to ESPN.com, which ranks her as the 36th-best guard in the 2022 class … Ranked No. 52 overall by All-Star Girls Basketball Report … Helped Ensworth High School win their third state title in the last four seasons in 2022, averaging 14.8 points per game, 4.6 rebounds per game, 3.6 steals per game and 3.0 assists per game … Scored 11 points in the state semifinal game and posted a game-high 21 points with 11 rebounds, five assists and five blocks in the state championship game … Was a finalist for the Tennessee Miss Basketball award in 2022 … Was named to the All-Midstate Team in 2022 … Helped Ensworth to the state semifinals as a junior averaging 13.2 points with 2.8 assists per game … As a sophomore, she averaged 7.2 points, 3.1 assists, 2.9 steals and shot 55.2 percent from the field in helping Ensworth to the state championship.
 
For more information on the Kentucky women's basketball team, visit UKathletics.com or follow @KentuckyWBB on Twitter, Instagram, Facebook and TikTok.