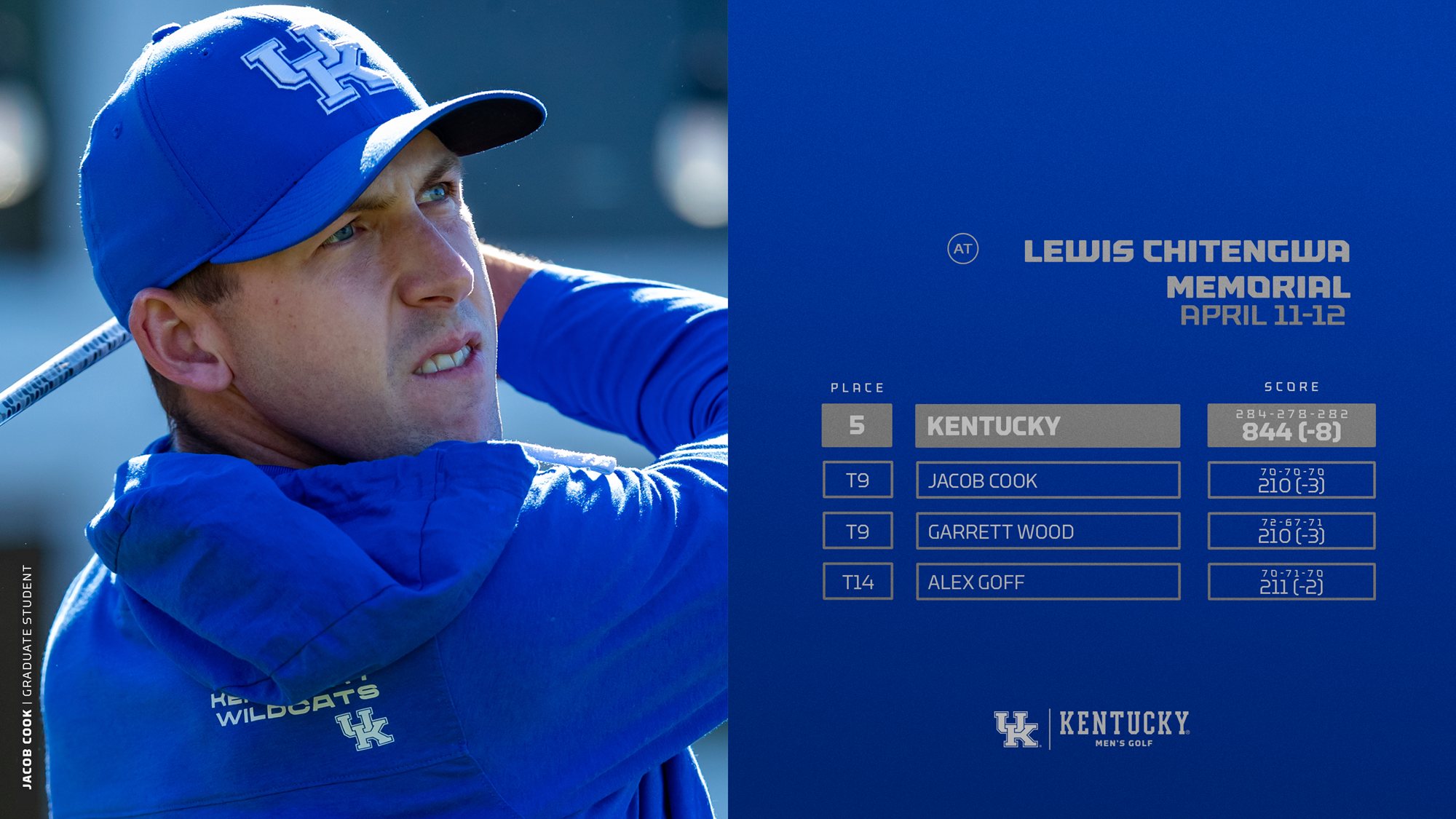 April 12, 2022 - 03:21 PM
Jacob Cook Earns Team-Leading Fifth Top-10 Finish in Finale
CHARLOTTESVILLE, Va. – Jacob Cook and Garrett Wood both notched individual top-10 finishes, and the Kentucky men's golf team registered the eighth-lowest tournament score in the Brian Craig era to highlight a fifth-place finish at the Lewis Chitengwa Memorial on Tuesday.
 
Cook logged his team-leading fifth top-10 finish with rounds of 70-70-70 for a 3-under scorecard and a tie for ninth. Wood matched Cook's finish behind scores of 72-67-71 to mark his third top-10 finish of the season.
 
The Wildcats tied for the lowest round of any team during the second round and came in under par during Tuesday's third round, but the Wildcats could not catch the leaders. The host Virginia Cavaliers edged Tennessee by one stroke for the team victory at 15-under par. North Florida finished in third at 11-under and Charlotte was two shots better than UK for fourth place.
"We made progress this week. Jacob Cook, Garrett Wood and Alex Goff were solid and led the team well," Craig said. "Campbell Kremer played two good rounds when he was not hitting it his best and Hugo Archer had a huge 71 for us today in the final round. The goal is always to peak in April and May. It is obvious we are moving in that direction, but we are still leaving too much in the tank. We have a good week of training before we head to the SEC Championship. It will be focused and productive and then we will head to St. Simons Island to play our best."
 
UK's 844 score was the second lowest of the season and tied for the eighth-best score in the Craig era. It marked the fourth top-five finish of the season for the Cats who will now head to the Southeastern Conference Championship April 20-24 at Seaside Golf Club in St. Simons Island, Georgia.
 
Cook provided the Cats the steady hand of a team leader with three successive rounds of 70. His 210 combined score tied for the third lowest of his career and he has now capped four tournaments this season under par. The Frankfort, Kentucky, native has generated a team-high 17 par-or-better rounds this season and came in under par in each of the three rounds this week.
 
He opened the third round with a birdie at the par-five 12th. Bogeys at the 14th and 16th bookended a birdie at the 15th. He moved to 1-over for the round with a bogey at the first, but then had birdies at the par-four third and the par-four fifth to move to 1-under for the round. He was even par the rest of the way for the ninth-place finish.
 
Wood enjoyed a sensational second round where he fired a 67. He played his final 16 holes of the round at 4-under par with birdies at the second, third, sixth and eighth. The Mason, Ohio, native opened play during the third-round capitalizing on the positive momentum with birdies at the par-five 12th and the par-four 14th. He combated bogeys at the 17th, third, sixth and ninth with birdies at the seventh and 10th. He finished his round with an even-par score on his 18th hole of the round on the par-three 11th.
 
Wood now has seven top-10 finishes in his career and a trio this season. He has generated 16 par-or-better rounds on the year.
 
Goff picked up his third top-20 finish of the season and the 11th of his career with a tie for 14th and a 2-under tournament score. The Kings Mountain, North Carolina, native played even par during the second round and got off to a tough start during round three before finishing in masterful fashion. Goff was three-over through seven holes before things turned in his favor. He made par for three consecutive holes and then birdied three of four holes at the fifth, seventh and eighth. To finish the tournament in style, Goff birdied the 12th to move to 1-under for the round and into the top 15 on the leaderboard.
 
Hugo Archer shot even-par 71 during Tuesday's third round to move into a tie for 57th. Campbell Kremer had a 1-under 70 during the second round but shot a 78 to finish in a tie for 51st overall.
 
Jay Kirchdorfer had rounds of 71-73-75 and finished in a tie for 43rd, while Cooper Parks had 75-73-75 and tied for 60th as individuals.
 
For the latest on the Kentucky men's golf team, follow us on Twitter, Facebook, Instagram and on the web at UKathletics.com. 
 
AGATE
5 – Kentucky (284, 278, 282- 844, -8)
T9 – Jacob Cook (70, 70, 70 – 210, -3)
T9 – Garrett Wood (72, 67, 71 – 210, -3)
T14 – Alex Goff (70, 71, 70 – 211, -2)
T51 – Campbell Kremer (72, 70, 78 – 220, +7)
T57 – Hugo Archer (74, 76, 71 – 221, +8)
 
Individuals
T43 – Jay Kirchdorfer (71, 73, 75 – 219, +6)
T60 – Cooper Parks (75, 73, 75 – 223, +10)