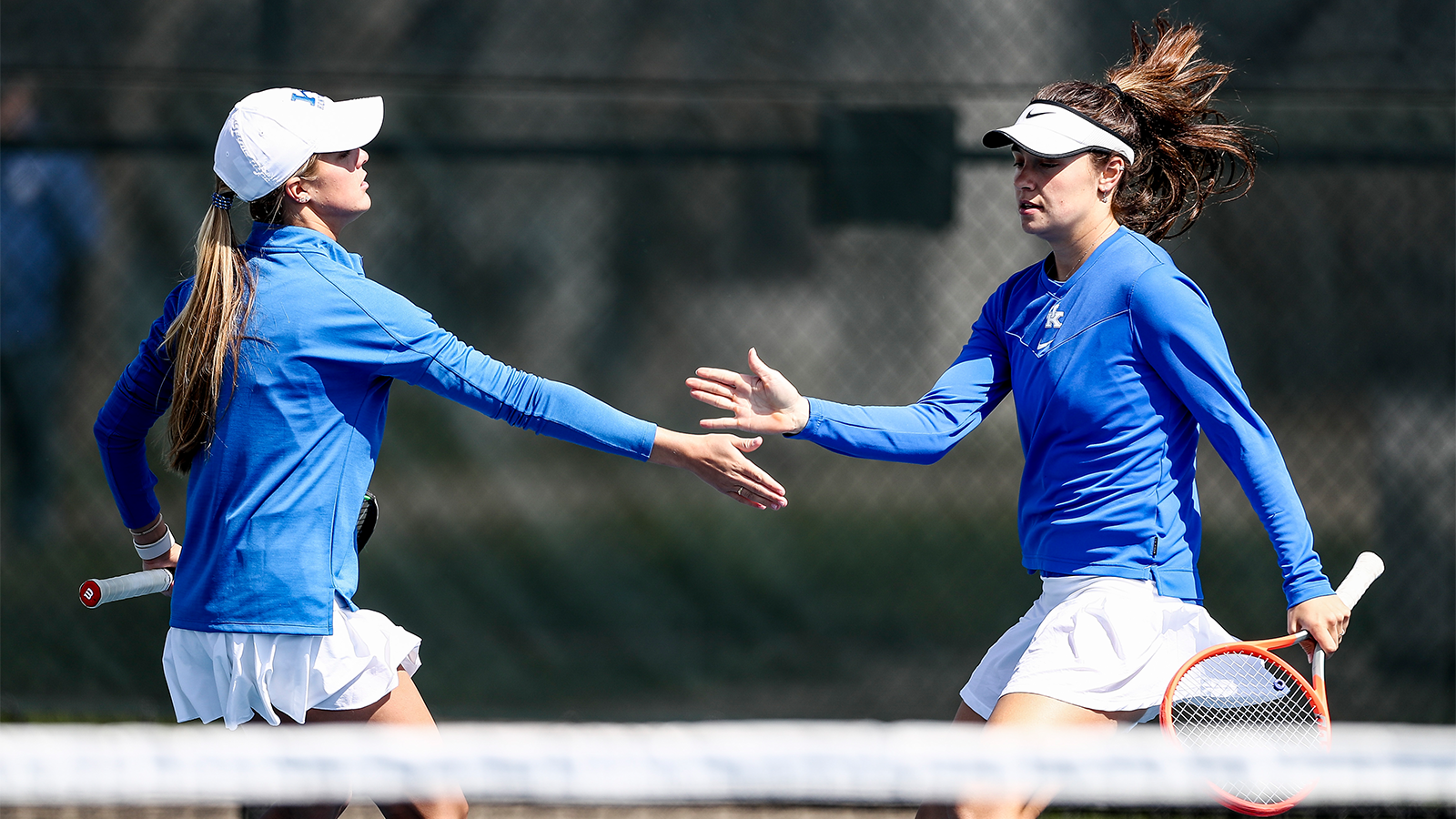 April 10, 2022 - 02:45 PM
Arrese, Eades Get Ranked Doubles Win in Loss at No. 29 Tennessee
KNOXVILLE, Tenn. – Fiona Arrese and Ellie Eades picked up a big doubles win over the country's 15th-ranked duo in Knoxville, but the No. 66 Kentucky women's tennis team dropped a 4-0 decision to No. 29 Tennessee at the Goodfriend Tennis Center on Sunday afternoon. The Wildcats are now 12-12 on the year with a 0-11 mark in Southeastern Conference play.
Although Tennessee ultimately claimed the opening point, Kentucky certainly put up a hard-fought effort throughout doubles play. The tandem of Rebeka Mertena and Esther Adeshina first defeated Carla Girbau and Lidia Gonzalez, 6-3, on court two before a big victory for the Wildcats at the first spot. 
Having only begun playing together since April 1, Arrese and Eades took down the 15th-ranked duo of Daria Kuczer and Tenika McGiffin in a convincing 6-3 outcome. Arrese and Eades, whose win marked their second top-40 doubles victory together, are now a perfect 3-0 as a pair.
Despite a battle on the third court, the home team clinched the doubles point when Elza Tomase and Kylie Duckworth posted a 6-4 win over Carlota Molina and Florencia Urrutia. The Lady Vols were able to carry their momentum into singles, winning the first three matches to improve to 12-7 overall and 6-5 in league action.
The Wildcats return to Lexington for the final two matches of the regular season next weekend, first hosting Ole Miss on Friday, April 15 before playing Mississippi State on April 17. First serve is set for 12 p.m. ET both days with Sunday serving as Senior Day for Girbau.
No. 29 Tennessee 4, No. 66 Kentucky 0
Singles
1. No. 30 Rebeka Mertena (UT) def. Florencia Urrutia (UK) 6-3, 6-4
2. No. 114 Carlota Molina (UK) vs. No. 55 Tenika McGiffin (UT) Unfinished
3. No. 106 Elza Tomase (UT) def. Carla Girbau (UK) 6-2, 6-3
4. Fiona Arrese (UK) vs. Esther Adeshina (UT) Unfinished
5. Lidia Gonzalez (UK) vs. Daria Kuczer (UT) Unfinished
6. Eleonora Molinaro (UT) def. Maialen Morante (UK) 6-3, 6-1
Order of finish: 3, 6, 1*
Doubles
1. Fiona Arrese/Ellie Eades (UK) def. No. 15 Daria Kuczer/Tenika McGiffin (UT) 6-3
2. Rebeka Mertena/Esther Adeshina (UT) def. Carla Girbau/Lidia Gonzalez (UK) 6-3
3. Elza Tomase/Kylie Duckworth (UT) def. Carlota Molina/Florencia Urrutia (UK) 6-4
Order of finish: 2, 1, 3*
For the latest on the Kentucky women's tennis program, follow @UKWomensTennis on Twitter and Instagram, on Facebook, and on the web at UKathletics.com.