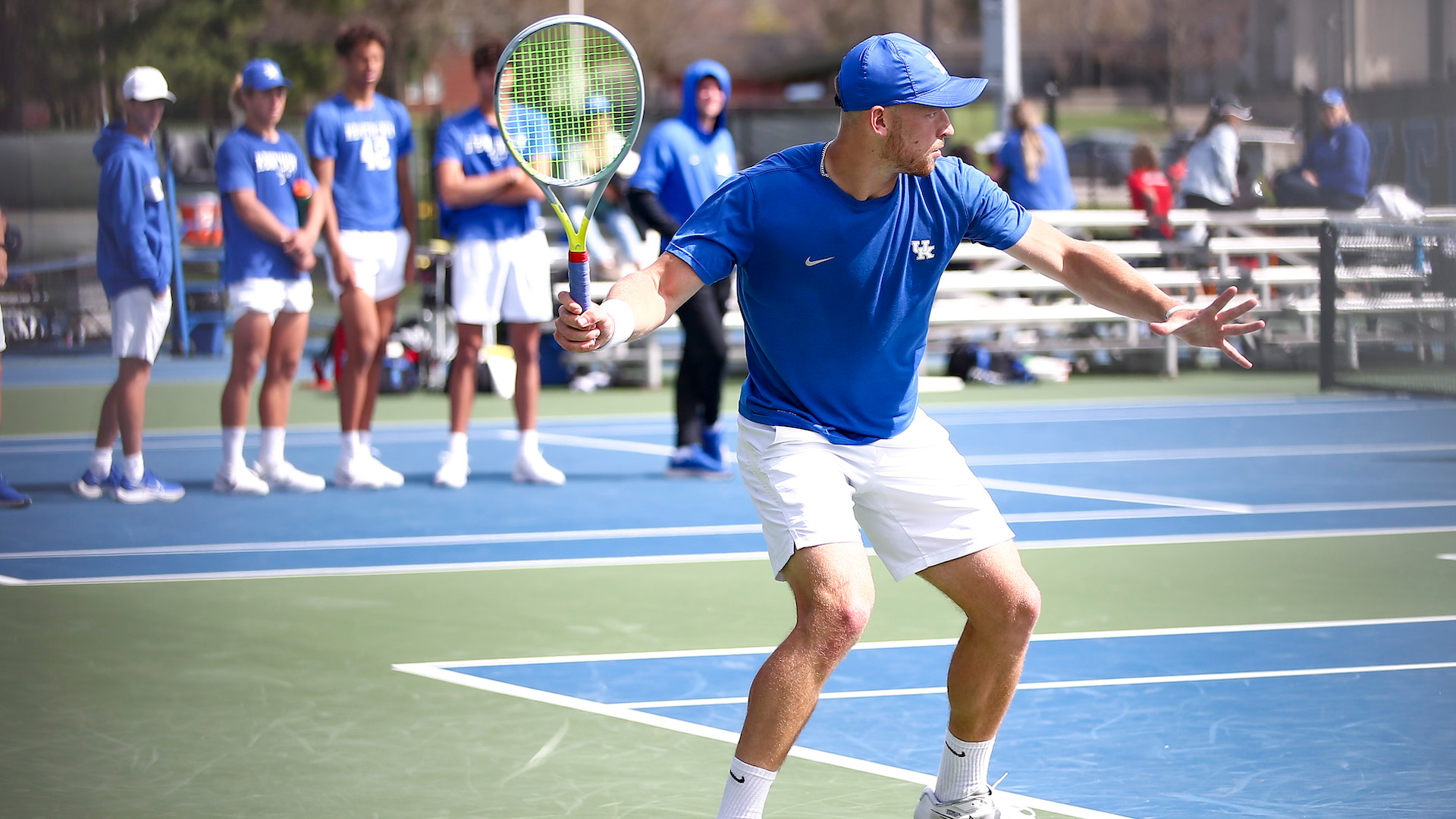 April 10, 2022 - 05:54 PM
No. 12 Kentucky Earns Second Straight Top-10 Win Against No. 10 Georgia
LEXINGTON, Ky. – The No. 12 Kentucky Wildcats picked up another big win on Sunday afternoon during its senior day, taking down the 10th-ranked Georgia Bulldogs in a 5-2 decision at the Hilary J. Boone Tennis Complex.
 
UK improved to 17-6 overall (8-2 Southeastern Conference) with the win, while UGA now stands at a 15-6 record and 7-3 in SEC matches.
 
The two seniors celebrated, captain Millen Hurrion and graduate student Francois Musitelli, ended their final regular season matches at the Boone Complex in storybook fashion. No. 95 Musitelli picked up the first win in singles competition over No. 97 Trent Bryde by a 6-2, 6-2 score, and Hurrion closed off the day with a 6-7(3-7), 6-4, 6-3 victory against No. 56 Tristan McCormick, looked on by his teammates and parents.
 
"Super special [win]," said Hurrion. "I'm first happy that the team got the win, and it's just the cherry on top for me to get the singles win as well in front of my family, my boys and everyone that turned out."
 
The Wildcats claimed the first point of the day in doubles competition after two wins against ranked competition. Liam Draxl and JJ Mercer first won against No. 90 Blake Croyder and Erik Grevelius, 6-2. Gabriel Diallo and Joshua Lapadat then clinched the doubles point by taking down the 14th-ranked doubles tandem in the country, Trent Bryde and Philip Henning, by a 6-4 result.
 
Kentucky's big day continued as the match went into singles competition, starting with Musitelli's victory to create a 2-0 lead as he notched his 23rd win of the year.
 
On court five, No. 84 Lapadat picked up his team-high 16th win of the spring by beating Croyder. The sophomore is now 12-1 from the five spot this season.
 
Georgia was able to start chipping away at the Kentucky lead, as No. 64 Henning managed to defeat No. 16 Diallo. The Montreal native dropped just his second match this season in a 6-4, 6-3 final. 
 
However, UK clinched the match win thanks to the reigning Intercollegiate Tennis Association Player of the Year, No. 30 Draxl. The junior took down the 11th-best singles athlete in the country in a lengthy 4-6, 6-3, 6-2 battle, putting the match at 4-1, Wildcats.
 
From there, Georgia was able to add one more point before ending the day. On court six, Miguel Perez Peña won against JJ Mercer in a 6-4, 3-6, 6-3 match. Hurrion then concluded the day with his big win against No. 56 McCormick, cheered on by the home crowd one last time in the regular season.
 
Kentucky will conclude conference play by embarking on a two-match road trip. The Wildcats will first head to No. 38 LSU for a Friday tilt set to begin at 6 p.m. ET, and then conclude the season at No. 30 Mississippi State on Sunday at 2 p.m. in the Rula Tennis Pavilion. UK previously defeated MSU in January at the Bulldogs' facility during the ITA Kickoff Weekend. 
 
#12 Kentucky 5, #10 Georgia 2
 
Singles competition
1. #30 Liam Draxl (UK) def. #11 Hamish Stewart (UGA) 4-6, 6-3, 6-2
2. #64 Philip Henning (UGA) def. #16 Gabriel Diallo (UK) 6-4, 6-3
3. Millen Hurrion (UK) def. #56 Tristan McCormick (UGA) 6-7 (3-7), 6-4, 6-3 
4. #95 Francois Musitelli (UK) def. #97 Trent Bryde (UGA) 6-2, 6-2
5. #84 Joshua Lapadat (UK) def. Blake Croyder (UGA) 6-3, 6-2
6. Miguel Perez Pena (UGA) def. JJ Mercer (UK) 6-4, 3-6, 6-3
Order of finish: 4, 5, 2, 1*, 6, 3
 
Doubles competition
1. #40 Tristan McCormick/Hamish Stewart (UGA) vs. Millen Hurrion/Francois Musitelli (UK) no result 
2. Gabriel Diallo/Joshua Lapadat (UK) def. #14 Trent Bryde/Philip Henning (UGA) 6-4
3. Liam Draxl/JJ Mercer (UK) def. #90 Blake Croyder/Erik Grevelius (UGA) 6-2
Order of finish: 3, 2*
 
For the latest on the Kentucky men's tennis team, follow @UKMensTennis on Twitter and Facebook, @kentuckymenstennis on Instagram, and on the web at UKAthletics.com.
 
– GO CATS –
For more information contact:
Ryan Cullinane (rrcu222@uky.edu) – (859) 257-8309