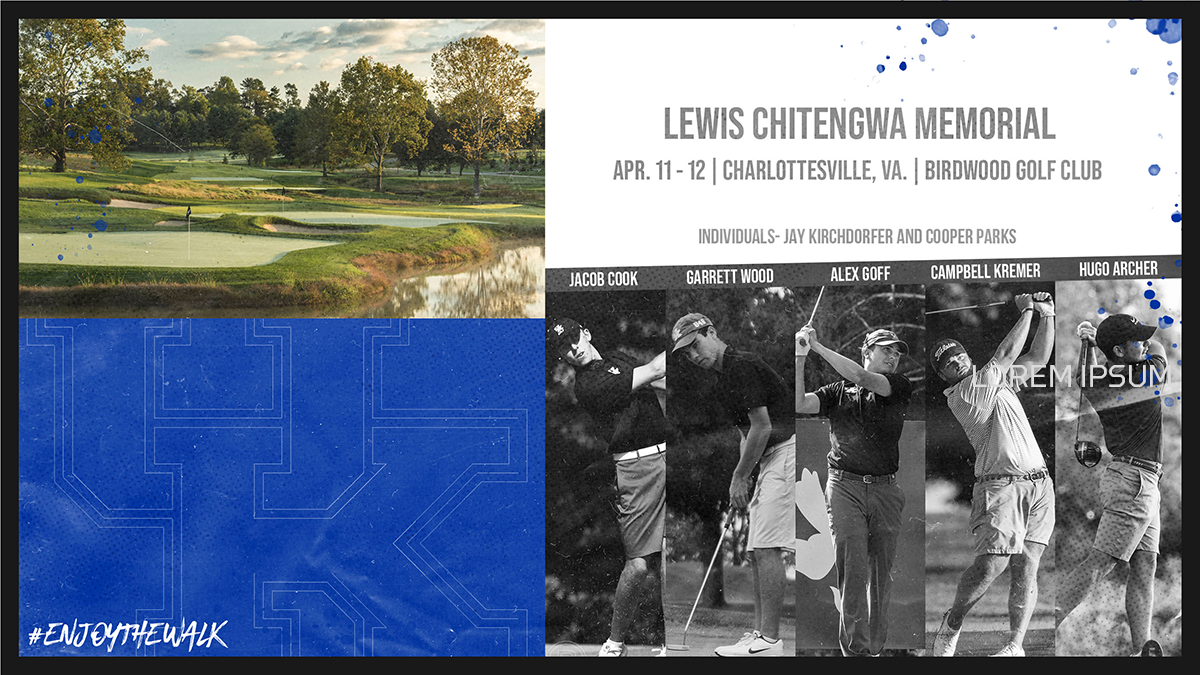 April 10, 2022 - 12:40 PM
Kentucky Concludes Regular Season at UVA
LEXINGTON, Ky. – The Kentucky men's golf team will conclude its regular season with a two-day, 54-hole event at the Lewis Chitengwa Memorial in Charlottesville, Virginia, beginning on Monday.
 
"This is our first trip to UVA to play a competition," UK head coach Brian Craig said. "They have invested heavily in their campus course and I hear it is fabulous. This team is beyond ready to break out and compete for a win. Regardless of what happens this week, I believe in this team and the outstanding young men who I have the privilege of coaching."
 
The Wildcats will utilize the same starting lineup as they did in the Hootie at Bulls Bay Intercollegiate. UK will field a starting five of Jacob Cook, Garrett Wood, Alex Goff, Campbell Kremer and Hugo Archer. Cooper Parks and Jay Kirchdorfer will compete as individuals.
 
The event will begin with a shotgun start for 36 continuous holes on Monday beginning at 8:45 a.m. ET. The teams will play from the No. 1 and No. 10 for the final 18 on Tuesday with opening tee times at 8:45 a.m.
NOTEWORTHY 
Tournament Field: Charlotte, Coastal Carolina, East Carolina, Kentucky, Liberty, Loyola (Md.), Maryland, North Florida, Saint Mary's, Tennessee, Texas State, Virginia and Virginia Tech comprise the 13-team field.
 
About Lewis Chitengwa: Lewis Chitengwa was a two-time All-American at Virginia (1995, 1996) and earned All-ACC honors in 1995 when he was named the league's rookie of the year. He finished seventh at the 1996 NCAA Championships, at the time the best finish by a UVA performer in 50 years. During his four-year career he won two tournaments and recorded 17 top-10 finishes. Chitengwa turned professional in 1998 and played on the Tear Drop, Buy.com and Canadian Tours in addition to competing at the PGA's St. Jude Memphis Classic. At the age of 26, he passed away as a result of meningitis. At the time, he was competing in the Canadian Tour's Edmonton Open. In 2015, he was recognized posthumously for his immense contribution to golf by being inducted into Mercedes-Benz Southern African Golf Hall of Fame. The tournament mark's UVA's first men's home event since the final Cavalier Classic was played at Birdwood in April of 2011.
 
About Birdwood Golf Course: Set against the backdrop of the Blue Ridge Mountains, Birdwood Golf Course originally opened in 1984 and was designed by Lindsay Ervin. In 2018 the course underwent a 20-month renovation led by legendary PGA Professional Davis Love III and Love Golf Design. When it reopened in July of 2020, only five holes remain relatively similar to the original course, sharing the same corridors, direction and par as their predecessors. The new course now extends into a previously unused 50 acres of the property. The redesigned Birdwood has drawn rave reviews. Golf Digest ranked it the No. 3 new course in 2021, Golf.com ranked it the No. 7 course in Virginia and GolfLink listed it as the ninth best college course.
 
The Lineup: Cook, Goff and Wood have started all seven stroke-events this season. Kremer is set to make his sixth start of the season, while Archer is making his four of the season. It is the first time all season the Wildcats will field the same starting five in consecutive events.
 
Sophomores Providing Spark: Kremer has provided the Wildcats a scoring round in 11 of 12 rounds this spring and has a 72.42 scoring average over those 12 rounds. Archer played even-over par over his final two rounds of the Hootie, which included a 2-under-par second round which was tied for the second-lowest round of his career.
 
Total career sub-70 Rounds:
Goff – 13
Wood – 10
Cook – 8
Archer – 1
Kremer – 1
Parks – 1
 
For the latest on the Kentucky men's golf team, follow us on Twitter, Facebook, Instagram and on the web at UKathletics.com.