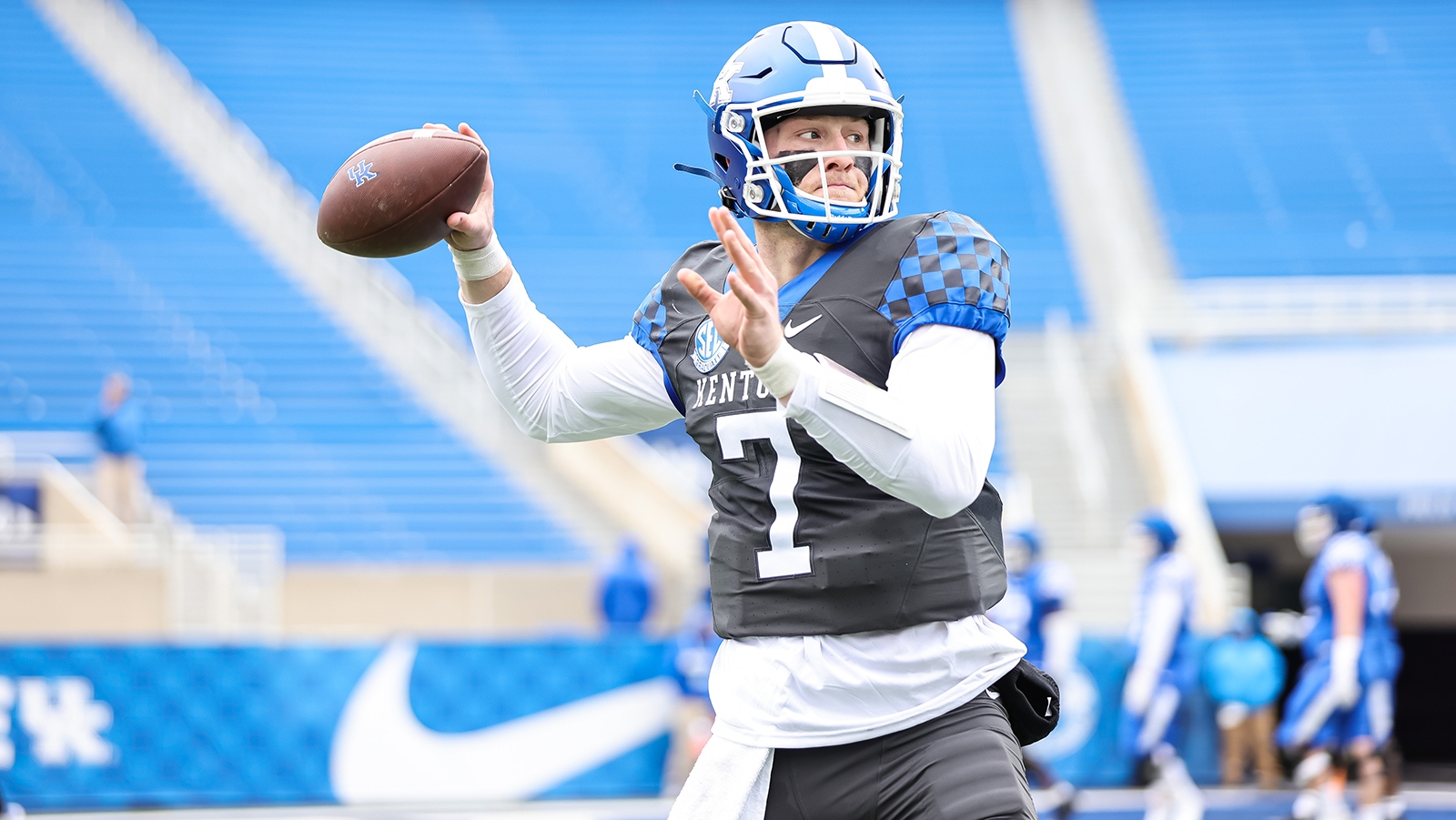 LEXINGTON, Ky. – Quarterback Will Levis connected on seven of eight through the air for 98 yards and a pair of touchdowns as the Blue team topped the White squad 32-0 in Kentucky's annual football spring game on Saturday at Kroger Field.
The Blue team, led by the UK first-team offense, got the ball first and put together an impressive drive. Levis was four-of-four on the possession for 41 yards, including a 13-yard scoring strike to Rodriguez, who also had also 11 yards rushing on two carries on the drive.
The second-team offense took the next possession, with Beau Allen at quarterback. After making one first down, the defense forced a possession change, and the first-teamers took over again.
Levis led the Blue team on another scoring drive with the ensuing possession. He hit on three of four passes on the drive for 57 yards, including a 22-yard scoring strike to freshman Dane Key, who made a juggling catch then dashed to the end zone for the score.
Iowa transfer Deuce Hogan was under center for the next offensive possession. That drive ended when kicker Matt Ruffolo narrowly missed a 52-yard field goal.
Allen was back under center on the offense's next drive. The Cats drove inside the five but were unable to score.
In the second half, quarterback Kaiya Sherron led the Cats on a scoring drive. The Somerset native completed three of five passes on the drive for 46 yards and the Cats scored on a six-yard touchdown rush by Michael Drennen II.
On the next possession, Allen led the offensive charge, including a 32-yard completion to Rahsaan Lewis. That was followed by a 16-yard rush from Smoke that got the Cats to the 20 yard line. Later in the drive, Drennen scored again, this time on a one-yard rush.
In the fourth quarter, Hogan hit Boyle County native Cole Lanter on a three-yard touchdown pass to complete the scoring.
Defensively, sophomore defensive back Jordan Lovett, a Radcliff, Kentucky, native, led all players with nine tackles and added two pass breakups, a quarterback hurry and a forced fumble.
Linebacker Luke Fulton had five tackles and defensive tackle Justin Rogers had the game's only sack.
Kentucky begins the regular season on Sept. 3 against Miami (Ohio) at Kroger Field.