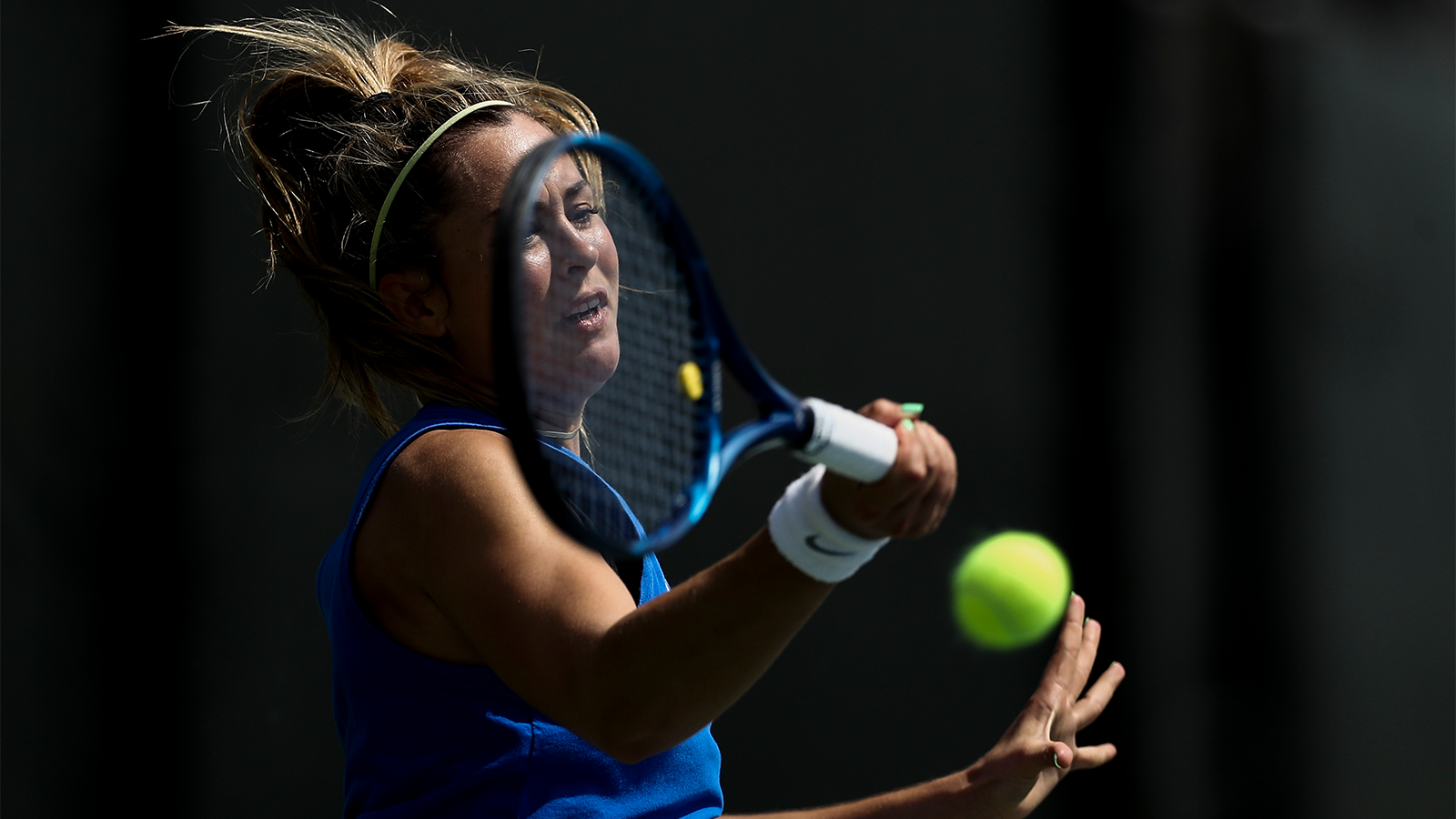 Kentucky Women's Tennis Topped by No. 11 Georgia
ATHENS, Ga. – No. 11 Georgia proved to be too much for the 66th-ranked Kentucky women's tennis team, which dropped a 4-0 decision on Friday at the Dan Magill Tennis Complex in Athens. The Wildcats are now 12-11 overall and 0-10 in Southeastern Conference play.
Georgia grabbed the first point of the match in doubles, as the 16th-ranked duo of Morgan Coppoc and Ania Hertel defeated Fiona Arrese and Ellie Eades, 6-1, on the first court. The tandem of Mell Reasco and Meg Kowalski then made it a clinch after their 6-4 victory over Carla Girbau and Lidia Gonzalez in the second spot.
The Bulldogs carried their momentum into singles, picking up the first two wins on courts two and one, respectively, before Guillermina Grant clinched the match for the home team in the sixth position. Following its sweep, Georgia improves to 14-3 on the season and 9-1 in league action.
The Wildcats now travel to Knoxville, Tennessee, to face the No. 29 Lady Vols for their final road test of the regular season. First serve is slated for 12 p.m. ET on Sunday, April 10 at the Goodfriend Tennis Center.
No. 11 Georgia 4, No. 66 Kentucky 0
Singles
1. No. 29 Lea Ma (UGA) def. Florencia Urrutia (UK) 6-1, 6-4
2. No. 58 Dasha Vidmanova (UGA) def. No. 114 Carlota Molina (UK) 6-0, 6-2
3. Carla Girbau (UK) vs. Morgan Coppoc (UGA) Unfinished 
4. Fiona Arrese (UK) vs. No. 83 Meg Kowalski (UGA) Unfinished
5. Lidia Gonzalez (UK) vs. No. 122 Ania Hertel (UGA) Unfinished
6. Guillermina Grant (UGA) def. Maialen Morante (UK) 6-3, 6-3
Order of finish: 2, 1, 6*
Doubles
1. No. 16 Morgan Coppoc/Ania Hertel (UGA) def. Fiona Arrese/Ellie Eades (UK) 6-1
2. Mell Reasco/Meg Kowalski (UGA) def. Carla Girbau/Lidia Gonzalez (UK) 6-4
3. Carlota Molina/Florencia Urrutia (UK) vs. Dasha Vidmanova/Mai Nirundorn (UGA) Unfinished
Order of finish: 1, 2*
For the latest on the Kentucky women's tennis program, follow @UKWomensTennis on Twitter and Instagram, on Facebook, and on the web at UKathletics.com.