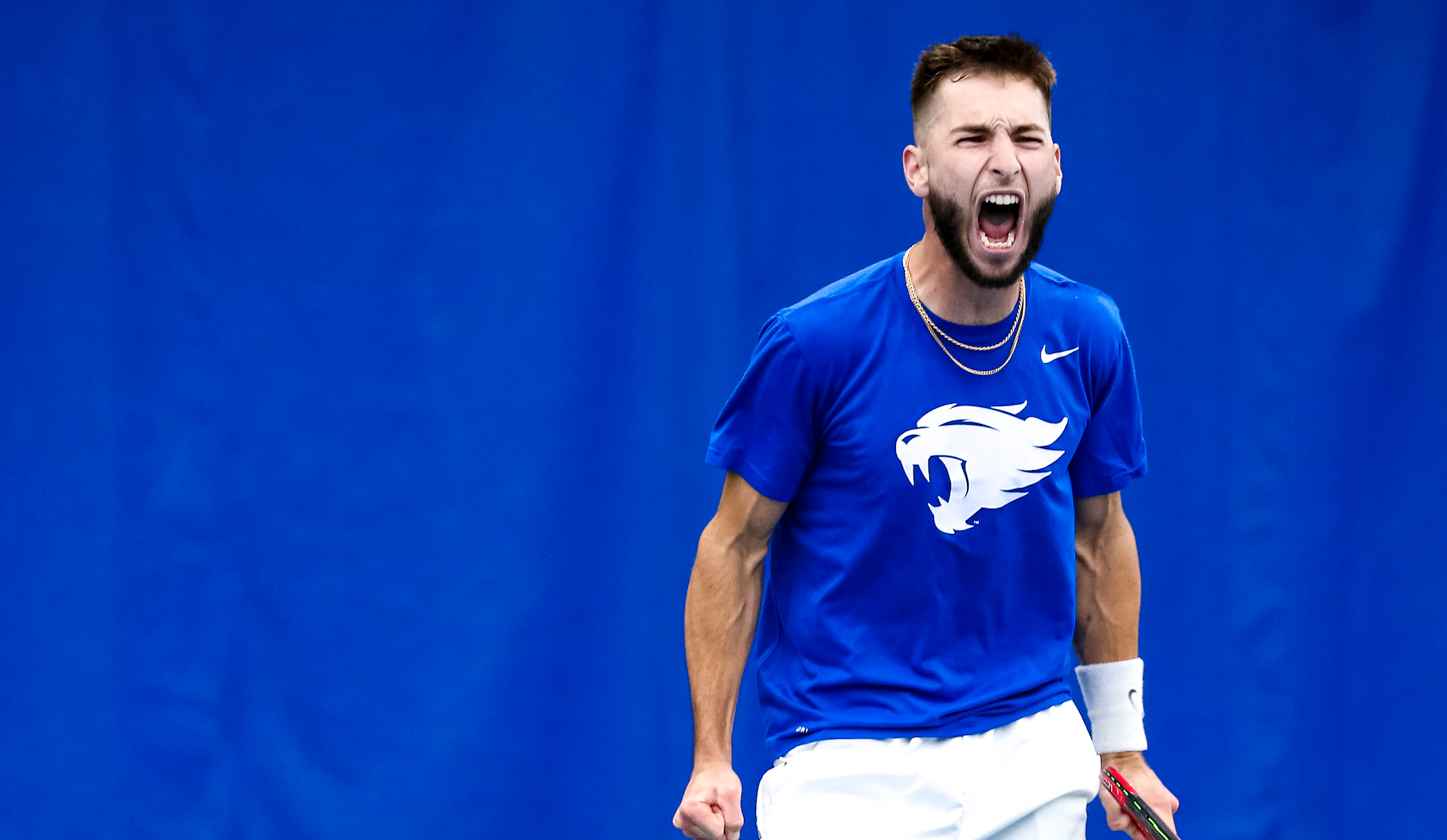 Joshua Lapadat Picks up Clinching Win in No. 12 UK's Home Victory Over No. 5 Tennessee
LEXINGTON, Ky. – The 12th-ranked Kentucky Wildcats shut down the No. 5 Tennessee Volunteers at the Hilary J. Boone Tennis Center Friday night, winning 4-3 and moving them to a 17-6 record (7-2 Southeastern Conference). 
 
Tennessee now stands at 17-6 overall and 5-4 in the SEC. Kentucky sits as the fourth-ranked team in the SEC standings. 
 
"We've played some very, very good teams the past five or six matches," sophomore Joshua Lapadat said. "Getting this win is a really good one, so hopefully we can stay strong in the future." 
 
Tennessee came out hot against Kentucky, starting the match by earning the doubles point. Liam Draxl and JJ Mercer were unable to take down UT's Mark Wallner and Johannus Monday, and Francois Musitelli and Millen Hurrion were defeated by No. 79 Pat Harper and Adam Walton in a hard-fought match 7-6(4). 
 
First to finish singles was No. 16 Gabriel Diallo, who had his highest-ranked win of the season over No. 5 Johannus Monday in dominant fashion, 6-0, 6-1. Diallo's win added Kentucky's first point of the night and tied the match at one. Diallo leads the team in singles wins with an overall 26-4 record. 
 
Following Diallo was Hurrion, who picked up his team-high fifth ranked win against No. 45 Emile Hudd, 7-6(7), 6-3, putting the Wildcats in the lead for the first time on the night. 
 
Court four was next to finish, which tied the match for the Volunteers. No. 95 Francois Musitelli was defeated by Shunsuke Mitsui 4-6, 6-3, 7-6(5). 
 
Tennessee was able to regain the lead, 3-2, after No. 30 Liam Draxl lost a close contest against No. 14 Adam Walton. The two-hour, 45-minute marathon match was close the whole way but finished in favor of Walton in a 7-6(1), 6-7 (6-8), 6-2 result. 
 
Following Draxl was JJ Mercer, who once again tied the match and earned his second-straight win. The Huntington, West Virginia, native Mercer defeated Conor Gannon in straight sets, 6-3, 6-2, moving to 9-5 on the year.
 
When Mercer's match was completed, No. 84 Lapadat had a 4-2 lead in the forced third set. Angel Diaz inched closer, closing the match to 5-4. However, Lapadat pushed a 40-15 lead in the final game and hit the serve where Diaz was unable to return it inbounds, clinching the win for the Wildcats and earning his 15th singles win in the spring season. The London, Ontario native took the win in a 4-6, 6-1, 6-4 result. 
 
The Wildcats will make their next appearance on the courts against No. 10 Georgia on Sunday for Senior day at 1 p.m. ET. The team will be honoring captain Hurrion and graduate student Musitelli. 
 
The day's festivities will begin five minutes prior to the match. Fans are invited to arrive around 12:45 p.m. to watch the ceremony. The Bulldogs will mark Kentucky's fourth-straight match against a top-10 opponent. 
 
#12 Kentucky 4, #5 Tennessee 3
 
Singles competition
1. #14 Adam Walton (UT) def. #30 Liam Draxl (UK) 7-6 (7-1), 6-7 (6-8), 6-2 
2. #16 Gabriel Diallo (UK) def. #5 Johannus Monday (UT) 6-0, 6-1
3. Millen Hurrion (UK) def. #45 Emile Hudd (UT) 7-6 (7-3), 6-3
4. Shunsuke Mitsui (UT) def. #95 Francois Musitelli (UK) 4-6, 6-3, 7-6 (7-5) 
5. #84 Joshua Lapadat (UK) def. Angel Diaz (UT) 4-6, 6-1, 6-4
6. JJ Mercer (UK) def. Conor Gannon (UT) 6-3, 6-2
Order of finish: 2, 3, 4, 1, 6, 5*
 
Doubles competition
1. #79 Pat Harper/Adam Walton (UT) def. Francois Musitelli/Millen Hurrion (UK) 7-6 (7-4)
2. Gabriel Diallo/Joshua Lapadat (UK) vs. #19 Emile Hudd/Shunsuke Mitsui (UT) 6-6 (2-0), unfinished 
3. Mark Wallner/Johannus Monday (UT) def. Liam Draxl/JJ Mercer (UK) 6-4
Order of finish: 3, 1*
 
For the latest on the Kentucky men's tennis team, follow @UKMensTennis on Twitter and Facebook, @kentuckymenstennis on Instagram, and on the web at UKAthletics.com.
 
– GO CATS –
For more information contact:
Ryan Cullinane (rrcu222@uky.edu) – (859) 257-8309