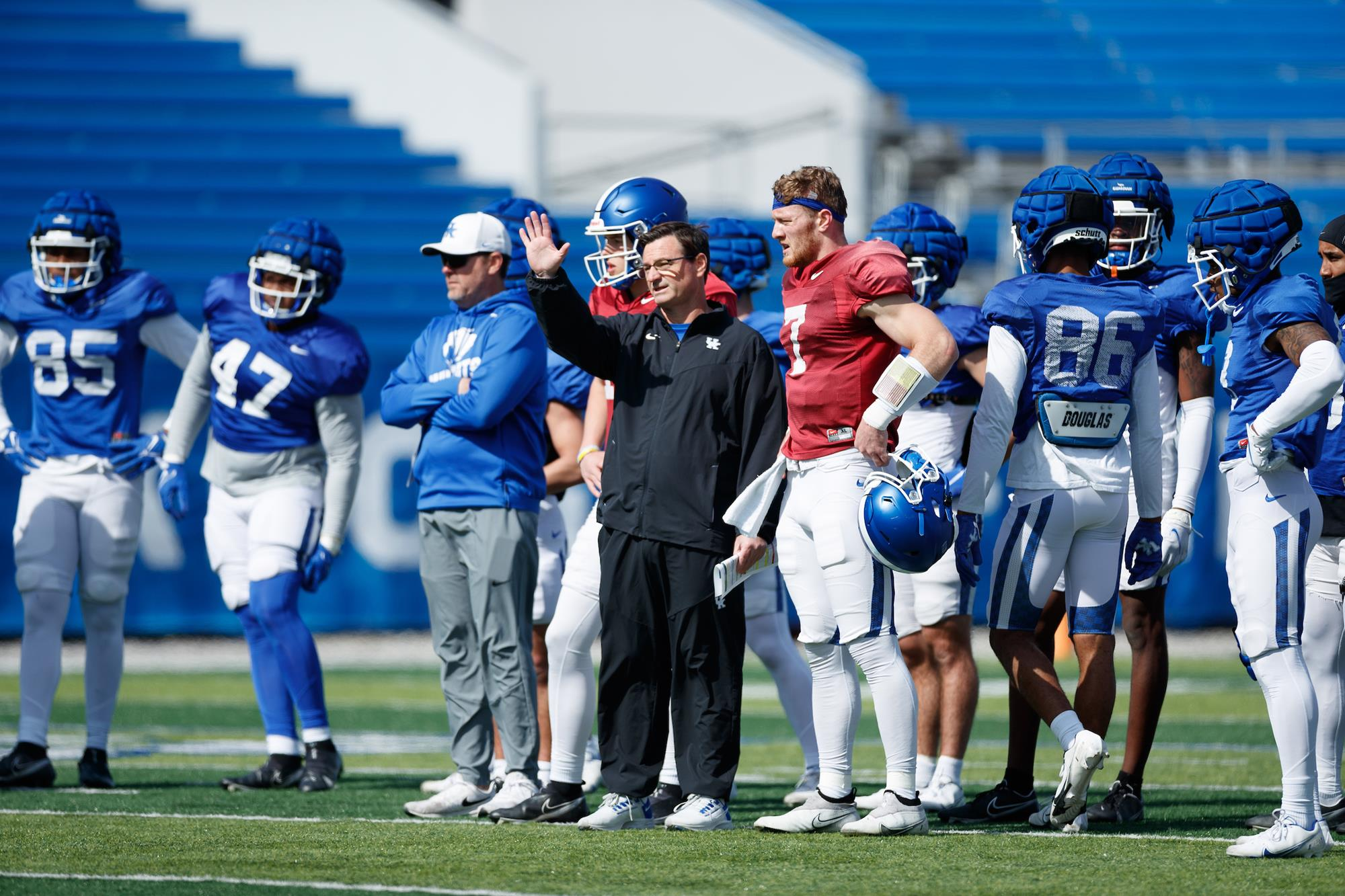 A prevailing narrative regarding Kentucky Football Head Coach Mark Stoops' addition of Rich Scangarello as offensive coordinator was that bringing in another hot commodity coordinator from a successful National Football League organization was a "home run" hire.
Scangarello is replacing Liam Coen, who departed after a stellar 2021 season running Kentucky's offense to take the same position with the Super Bowl Champion Los Angeles Rams. Coen joined UK from the NFL as well, implementing one of the NFL's most "in vogue" schemes here in Lexington.
Scangarello comes from the same Sean McVay and Mike and Kyle Shanahan coaching tree as his predecessor, having served as Quarterbacks Coach for Shanahan in San Francisco last year as the 49ers made a run to the NFC Championship Game against McVay's Rams.
Led by Scangarello, the Wildcats will maintain continuity in running a scheme that's effective at the highest level of football, an invaluable asset in college football's most competitive conference.
 
Mic'd up at spring practice with new offensive coordinator Rich Scangarello.#22OnMe x #ForTheTeam ???? pic.twitter.com/mlc1EwZ85t

— Kentucky Football (@UKFootball) April 4, 2022

The aggressive approach Scangarello brings to the table fits in well with the bold strategy Stoops brought to Kentucky nine years ago, a vision that is yielding sustained success, including two 10 win seasons in the last four years in addition to four consecutive bowl game victories.
 
"When the Rams hired Liam Coen, I knew I wanted to find a replacement that would continue what we've built here," Stoops said. "We just hired Zach Yenser from the 49ers to coach the offensive line and having both Rich and Zach, who come from the same Shanahan tree, McVay tree and Coen tree, not only bring a wealth of experience but they also help keep continuity. It's a seamless transition.
 
"Rich is inarguably one of the best quarterback coaches in the country," Stoops continued. "Rich is experienced, he's coached elite quarterbacks, he's called plays in the NFL and college, and the fact that he is interested in this job just shows the growth of our program. We have hired two coaches from one of the best organizations in all of sports. I couldn't be more excited about where our program is headed."
If recent Rams and 49ers offensive schemes or even the 2021 edition of the Wildcats are any indication, Kentucky's offense will employee a balanced approach relying on a tone-setting offensive line to set up chunk runs, in turn allowing for big passing plays.
"As far as the run game goes, I feel very strongly that we're on pace," Scangarello said. "It's complementing everything. For us, it is what we do. It is our identity.
 
"And it is important that we master it so yes we have emphasized it, and no, it won't go away during the year."
In Kentucky's returning personnel: talented quarterback Will Levis, All-SEC running back Chris Rodriguez Jr., plus the iconic "Big Blue Wall," as well as promising youngsters, Scangarello has the weapons he needs to mastermind an effective offense. That unit will look to build on the successes the Wildcats enjoyed running a pro scheme last season generating historic production.
"What I was looking for: you bring someone like Rich in and Will (Levis) knows he's going to get better," Stoops said. "He's out there every rep with the intention of being the absolute best."
Just like the 49ers, Scangarello wants his team to be able to run the ball whenever they want to set up the rest of the offense.
"At the core of the offense you're just trying to put defenders in conflict," Scangarello said about his play calling philosophy. "The whole goal is: can you make everything look the same, whether it's a run or a pass, a play action, a naked or the run? Can the formation look the same?
 
Can the pad level of your players look the same? Can the quarterback's ballhandling? We practice that way, we script that way, we game plan that way … if we're doing our job and we're doing it right, to the defense hopefully they can't tell when the line comes off the ball they can't tell whether it's a run or pass."
That O-line group will be asked to pave the way for big Rodriguez runs and to give Levis plenty of time to find receivers downfield.
"We're trying to score on every play," Scangarello said. "That's our mindset."
While Scangarello indicated the Wildcats will opt not to open the full playbook during Saturday's Blue-White Spring Game in Kroger Field, the aggressive mindset he espouses – tryig to score on every play – will be on display as the Big Blue Nation get a first look at the 2022 Kentucky Football team.