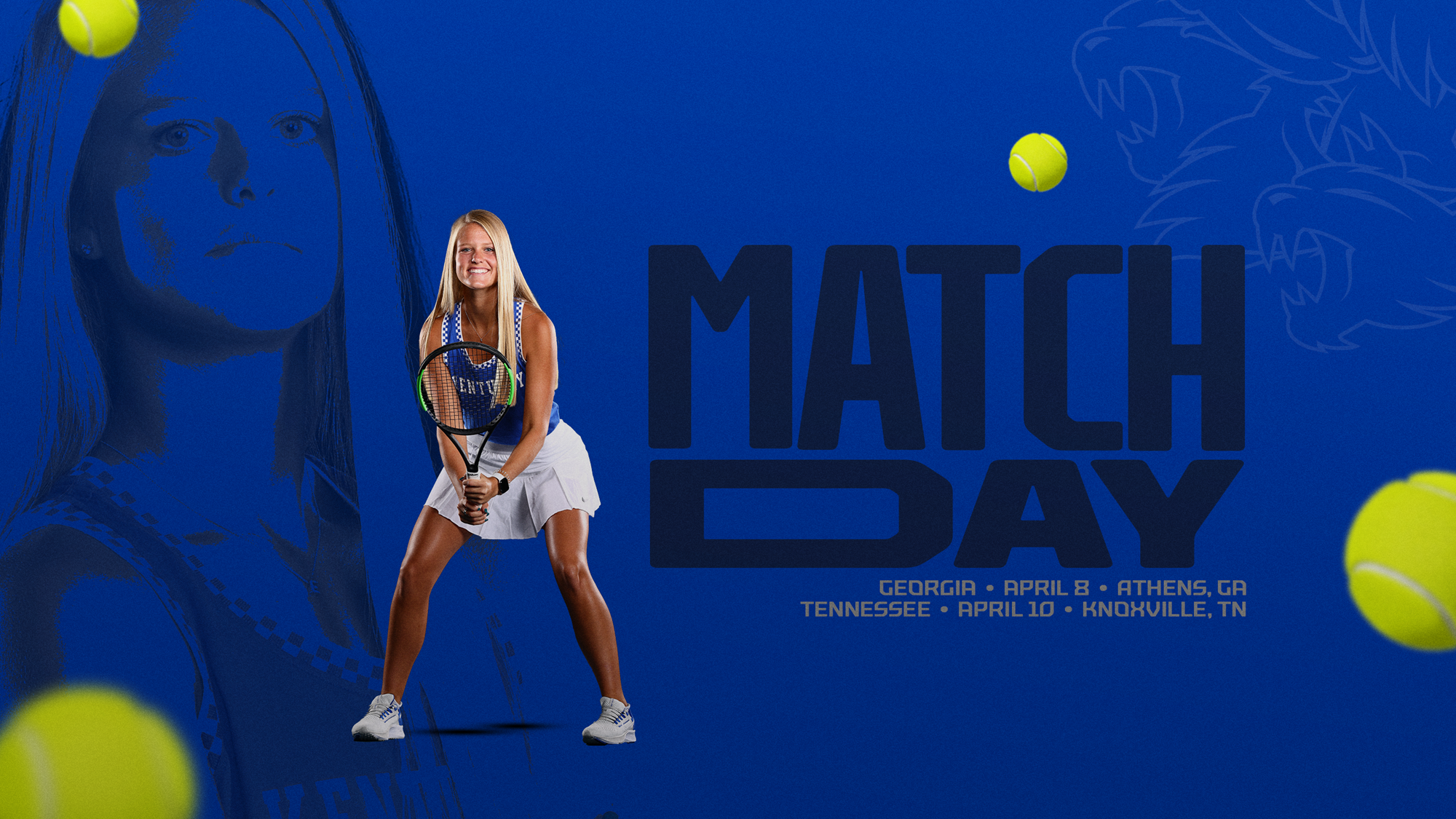 UK Women's Tennis Travels to No. 11 Georgia, No. 29 Tennessee
LEXINGTON, Ky. – The No. 66 Kentucky women's tennis team is set to hit the road for the final time of the 2022 regular season, first playing No. 11 Georgia on Friday, April 8 at 4 p.m. ET at the Dan Magill Tennis Complex in Athens. The Wildcats will then travel to the Goodfriend Tennis Center in Knoxville to face No. 29 Tennessee on Sunday, April 10 at noon.
The Wildcats, who own a 12-10 record on the season with a 0-9 mark in league play, are seeking their first Southeastern Conference win this week. Kentucky dropped a 4-2 decision to No. 34 South Carolina at home in its last outing with points coming from Maialen Morante and a clinch in doubles. 
In total, UK has won 15 out of the 22 opening points for a 33-19 ledger in doubles, highlighted by back-to-back doubles clinches last weekend versus No. 16 Florida and the 34th-ranked Gamecocks. The Wildcats also sport a 50-60 mark in singles as Florencia Urrutia paces the team with an individual 13-5 record.
Defending SEC champion Georgia, which boasts marks of 13-3 overall and 8-1 in the SEC, checked in at No. 11 in the most recent ITA poll. The Bulldogs have several players who are ranked: Mell Reasco (No. 25), Lea Ma (No. 29), Dasha Vidmanova (No. 58), Meg Kowalski (No. 83) and Ania Hertel (No. 122) as well as the duos of Morgan Coppoc/Hertel (No. 16) and Reasco/Vidmanova (No. 38). UGA leads the all-time series at 11-38 and swept UK during both the regular season and the SEC Tournament in 2021.
Twenty-ninth-ranked Tennessee enters the weekend with records of 11-6 and 5-4 overall and in the league, respectively. Ranked Lady Vols include Rebeka Mertena (No. 30), Tenika McGriffin (No. 55), Elza Tomase (No. 106), Daria Kuczer/McGriffin (No. 15) and Esther Adeshina/Tomase (No. 69). UK, which trails 21-24 in the all-time series, will look to add another tally to the win column after defeating them, 4-2, a season ago.
For the latest on the Kentucky women's tennis program, follow @UKWomensTennis on Twitter and Instagram, on Facebook, and on the web at UKathletics.com.