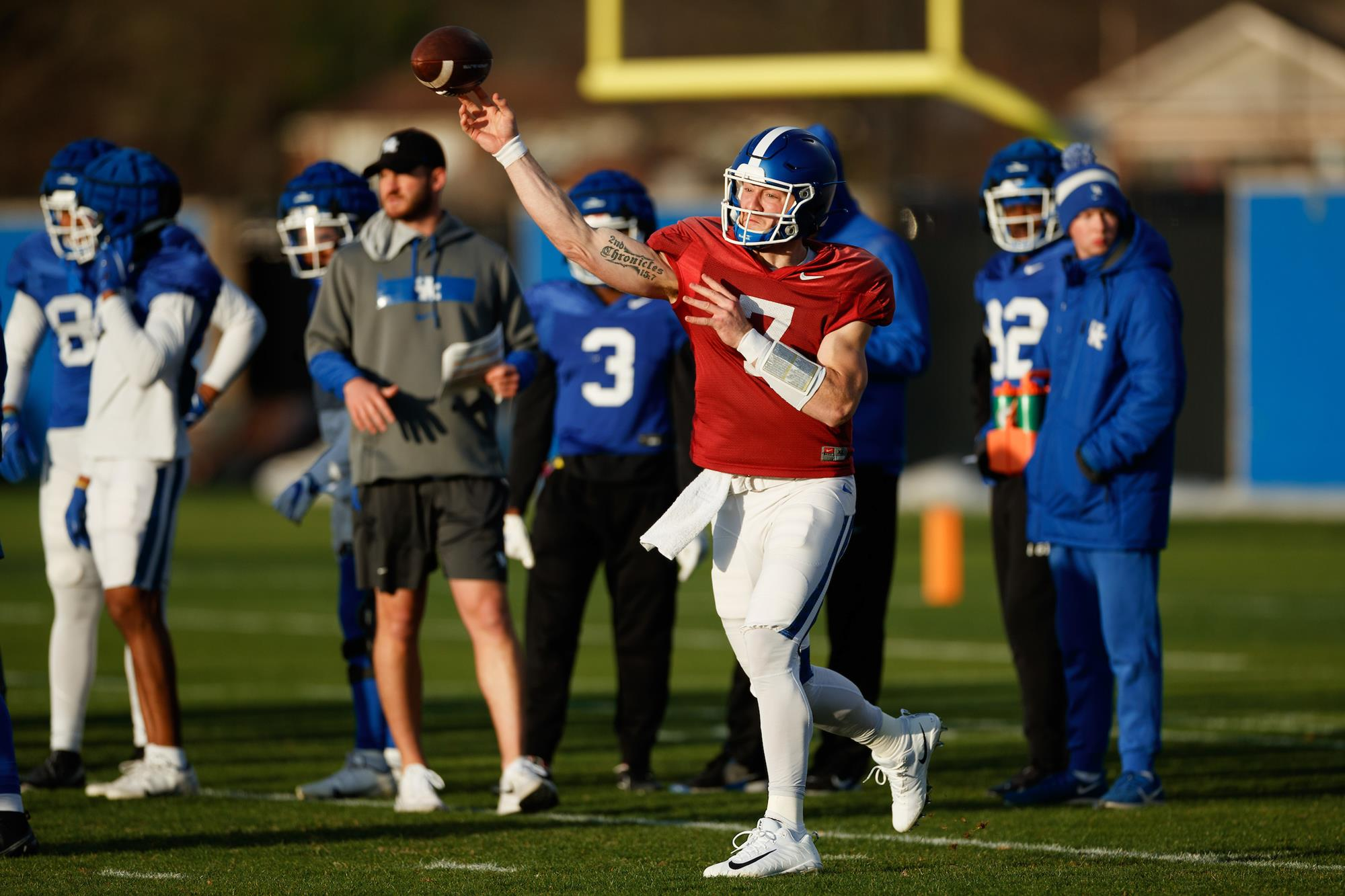 The talk and energy around Kentucky Football last week centered around "Pro Day," with the next generation of NFL Cats looking to impress scouts who were on hand in Lexington from teams across "the League."
Ten players from last year's team impressed representatives from all 32 NFL clubs. Still, one of the leaders of the 2022 edition of the Kentucky Football team, quarterback Will Levis, brings the type of skillset to his position that projects well at the next level.
Levis threw to some of his teammates preparing for the next level on Pro Day, showing an affinity for connecting with talented route-runners, elite arm talent and getting to witness first-hand how the likes of Wan'Dale Robinson audition for NFL scouts.
"He's got everything they're looking for to be a high pick," Stoops said. "To be a franchise quarterback. The sky's the limit for him there."
"But again you can't get ahead of yourself. He's here to get better. He has aspirations to do great things and he will, but it's one day at a time. I really love what I'm seeing out of him just trying to be better every day."
Levis' coach certainly knows his QB has the potential to succeed in the NFL, but the attitude Levis is bringing to his role while still here at the University of Kentucky is even more encouraging for Head Coach Mark Stoops.
"Just take it one day at a time," Levis said. "Even with the Spring Game, treat it as a day to get better even though there's all this hype and fans will be there. We just want to make the most of all the opportunities we have."
The UK signal caller enters 2022 poised to build on a productive and successful first season at UK. A year ago after transferring in, Levis helped lead the Wildcats to 10 wins, capped by earning "MVP" of the annual Governor's Cup rivalry game against Louisville before engineering a clutch drive to win the Vrbo Citrus Bowl on New Year's Day.
Having earned the respect of his team, and frankly much of the college football world, with a successful first season in Lexington, Levis will be tasked with even more responsibility with a season under his belt, plus a full offseason at Kentucky.
 
"The leadership qualities that he has, people are attracted to him, he has a genuine leadership ability, which is extremely important to be a franchise quarterback," Stoops said. "He's also very intelligent. He's intelligent in the classroom, but also on the football field, and he works at it. He wants to be great, and loves putting in the time, so he has all the intangibles."
 
Blessed with unlimited talent, expertly-honed intelligence and demonstrated performance against Southeastern Conference defenses while running pro-style offense, the Wildcats QB1 has energized the Big Blue Nation with the prospects of another exciting season in Kroger Field this fall, which if all goes to plan: could lead to an even longer pro career.
Having flourished under the direction of Liam Coen (now the offensive coordinator of the Super Bowl Champion LA Rams) in "Year One" at UK, Levis has spent the spring working with new offensive coordinator Rich Scangarello, who joined the staff from the San Francisco 49ers and is maintaining UK's "NFL-style" offense from the Sean McVay and Mike and Kyle Shanahan coaching tree.
The Wildcats new OC brings continuity in system and an expertise proven at the highest level of the sport to a QB who will be expect to take the next step in his development to show himself as an elite prospect.
 
For Levis, running the offense shared by many of the best teams who play on Sunday will prepare him well for what more and more experts are prophesizing could be a long NFL career.
And for Big Blue Nation, the 2022 Kentucky football team and it's quarterback all the same, the more successful Will Levis is, the better off everyone will be.