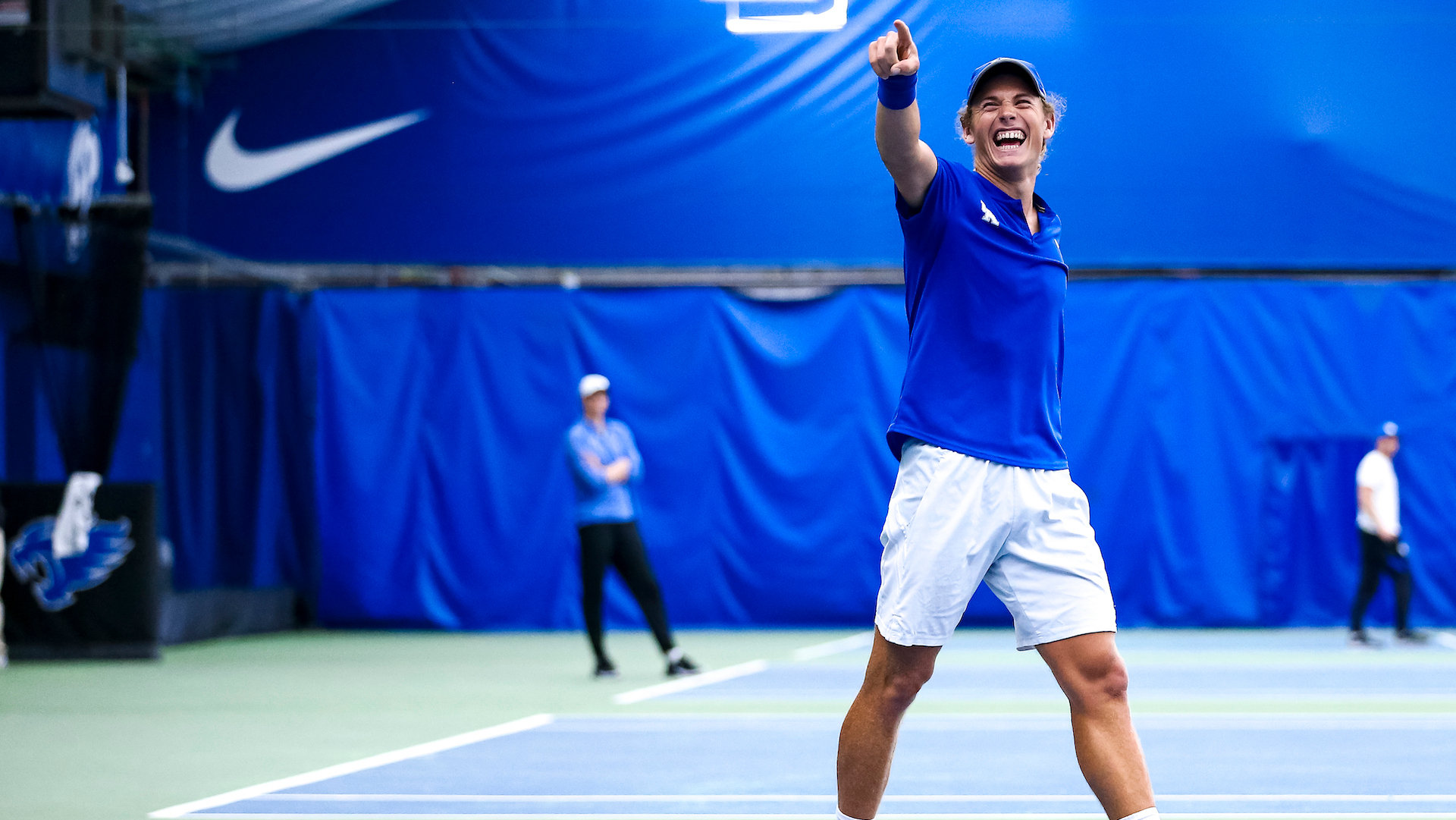 Draxl, Cats Continue to Build UK Tennis Culture
LEXINGTON, Ky. – The college decision process is difficult for high schoolers and Kentucky tennis standout Liam Draxl is no exception. Draxl had a hard time choosing to commit to UK to play tennis at a collegiate level.
The difference maker was the coaching staff at Kentucky.
"The assistant coach, Matt Gordon, he used to coach me at Saddlebrook Academy, in Florida during my high school years and he took the job here so that was a big part of it for sure. Having kind of my own coach already at a university was a big advantage for me," Draxl said. "So, the coaching staff was probably the biggest decision for me, I knew (UK head coach) Cedric (Kauffmann) was amazing, too, so I knew that coming here to Kentucky would probably really develop and grow my game to be a professional tennis player which is the ultimate goal."
Once Draxl came to Kentucky, other players followed suit.
"I was kind of the first recruit that was a pretty good recruit, so it was kind of a big leap for me to commit here," Draxl said. "But then, once I committed, a bunch of other people committed. I think we definitely improved the program here and it's just kind of taken off from there."
When Draxl began practicing in Lexington, he was not disappointed with the results.
"I came to Kentucky to improve my tennis, that's what I'm doing day in and day out here," Draxl said. "And that's what I think is special about Kentucky you get the chance to go and practice with some great coaches and get better at your craft."
Draxl said recruits should consider Kentucky for a number of reasons.
"I think the coaching staff stands out from a lot of other schools," Draxl said. "The practices are great, and you're in the SEC, it's strong competition and you're only going to improve here."
Draxl and the other tennis players have worked hard to build the tennis program at Kentucky.
"We work really hard, I don't know if a lot of other schools are working as hard as us," Draxl said. He feels the team has "created a strong culture" which is just continuing to grow.
Moving forward Draxl has high expectations for the program.
"We're on a really great track now that we're top 10 in the nation," Draxl said. "We're getting more respect from around the country."
As the impressive season continues and the championships are looming, Draxl said he's not the one to say win it all, but "that's what we're striving for and aiming for, for sure nothing less than that. So we're just going to work hard and take one match at a time and see where that takes us."
Draxl and the No. 12 Kentucky men's tennis team will play next on Friday against No. 5 Tennessee at 5 p.m. ET and on Sunday against No. 8 Georgia at 1 p.m.
For the latest on the Kentucky men's tennis team, follow @UKMensTennis on Twitter and Facebook, @kentuckymenstennis on Instagram, and on the web at UKAthletics.com.
– GO CATS –
For more information contact:
Ryan Cullinane (rrcu222@uky.edu) – (859) 257-8309