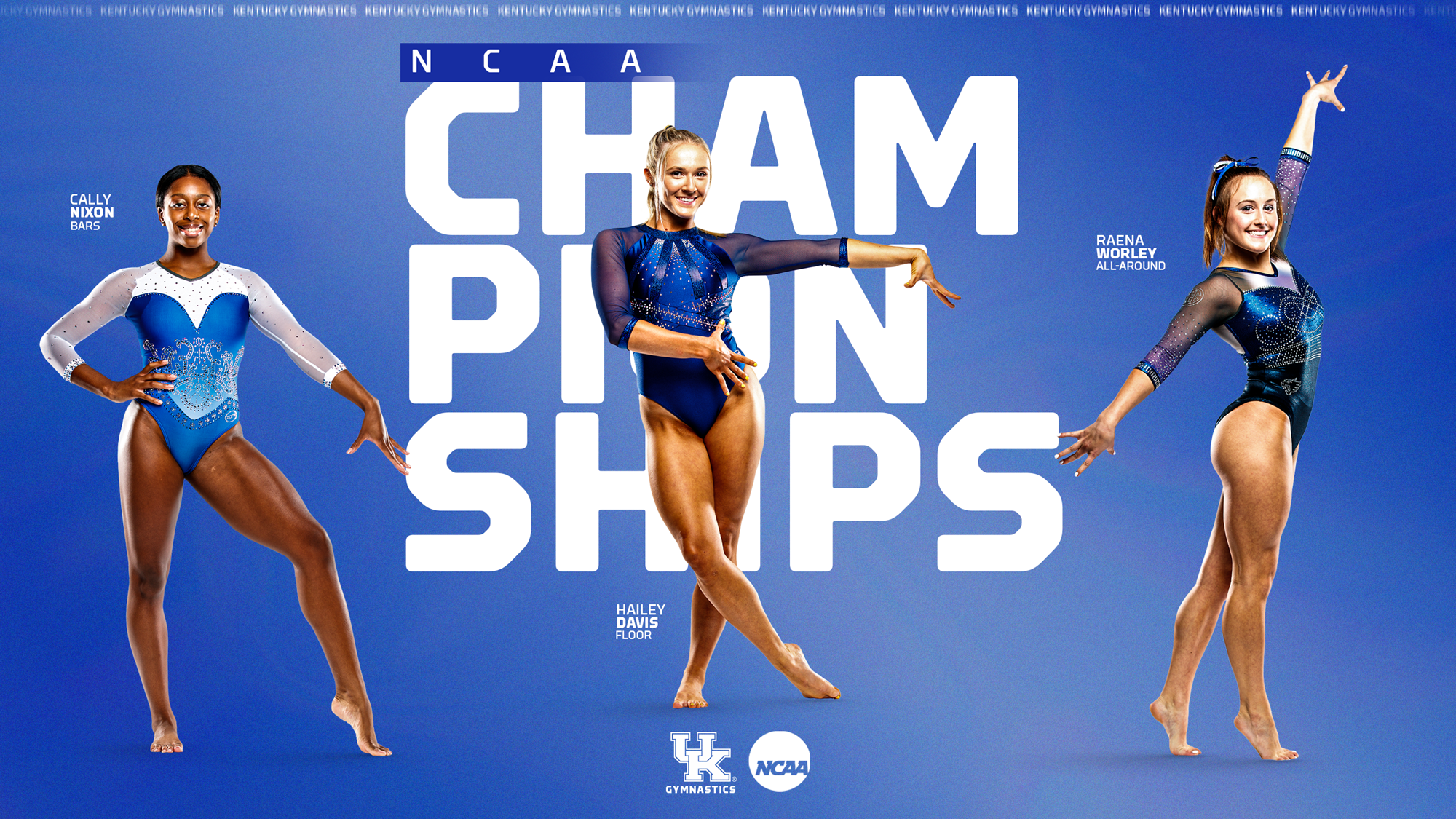 Three Kentucky Gymnasts to Compete at NCAA Championships
LEXINGTON, Ky. – Three Kentucky gymnasts have qualified for the 2022 NCAA Championships April 14-16 in Fort Worth. They will compete on behalf of the University of Kentucky as individuals at Dickies Arena.
Hailey Davis, Cally Nixon and Raena Worley all qualified for the championships in individual events. 
 
Worley will be competing for the all-around following her most recent win in the second round, first session of the NCAA Auburn Regional. She has won the award seven times throughout her 2022 junior season, winning 13 times overall throughout her college career. 
 
Her highest mark of 39.750, which she scored against Missouri and Michigan State, is the highest individual all-around performance for Kentucky in the regular season since 1996. The top-three all-around performance scores for the Wildcats are held by three-time NCAA Champion, Jenny Hansen (1993-96). Worley's 39.750 is the fourth-best all-around performance tally in program history. 
 
Throughout the season, Worley set numerous career and season records including a 9.925 on vault, 9.950 on bars and a 9.975 on the floor exercise. She tied both her top beam (9.950) and floor score at the regional final. Last year she competed on vault tying for 47th overall at the championships.
 
Nixon, who is a senior, has continuously demonstrated she larger-than-life dismount on the uneven parallel bars. She went two-for-two in sticking her routine on the weekend at the NCAA Regionals with a 9.950 on the event just shy of her career-high 9.975. The Miami-native has seen wins in the event four times with her career-high hit twice, one of which was in the quad-meet against Central Michigan, Illinois, and Georgia earlier this season. She last competed at the NCAA Championships on bars as a freshman.
 
Davis' floor routine has been nothing short of a crowd favorite throughout her sophomore season. Her high scores in the event have earned her a spot at her first national championships. Like Nixon, Davis also had back-to-back 9.950 marks on the floor exercise throughout the regional final. Tying her season and career high, she has won the event once against Ball State at the beginning of the season and has earned a 9.950 on the event four times.
The Kentucky Gymnastics team's postseason run came to an end on Saturday night at the NCAA Auburn Regional. The No. 10 Wildcats competed against No. 2 Florida, No. 7 Auburn, and No. 15 Denver with the Gators and Tigers advancing out of the regional.
 
The three Wildcats will head to Fort Worth later in the month to take on the NCAA Championships. For more information, click here.
Follow along with Kentucky Gymnastics on Twitter, Facebook and Instagram, and on the web at UKathletics.com.