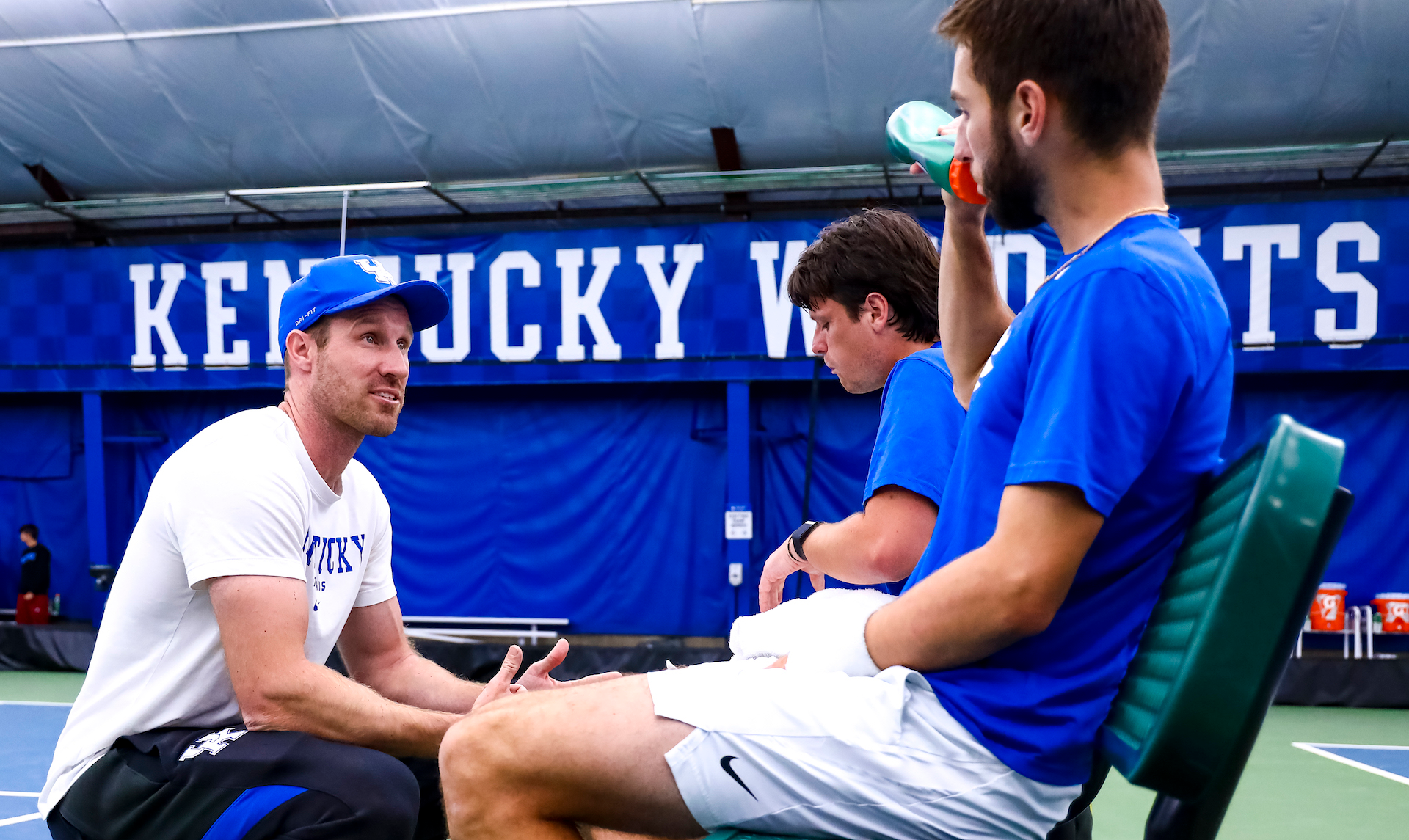 No. 12 Kentucky Falls on Road to No. 10 South Carolina
COLUMBIA, S.C. – The No. 12 Kentucky Wildcats fought hard but could not pick up the win, falling by a 4-3 score against the No. 10 South Carolina Gamecocks at the Carolina Tennis Center Sunday afternoon.
 
UK now moves to a 15-6 overall record, including 6-2 in Southeastern Conference contests, while SC improves to 18-5 (7-2 SEC).
 
Despite the loss, three Wildcats picked up wins in singles today to keep the match close. No. 9 Gabriel Diallo, No. 95 Joshua Lapadat and JJ Mercer all won to earn the three Kentucky points.  
 
In doubles play, UK just barely missed out on claiming the point. Lapadat and Mercer first fell on court two to Raphael Lambling and James Story, but both courts one and three were in tiebreakers to determine who would be on the board first. 
 
Millen Hurrion and Musitelli were in a battle on court one against No. 13 Daniel Rodrigues and Connor Thomson, tied at three each, but Liam Draxl and Alexandre Leblanc were unable to top Toby Samuel and Casey Hoole, falling 7-6(3) as the Gamecocks took an early lead. 
 
As the teams moved into singles play, Mercer came out strong and did not let up, beating Carter Morgan by a 6-1, 6-2 result. The redshirt sophomore picked up his fifth singles win of the year in impressive fashion, looking focused the whole time and tying the match at one point each. 
 
However, the Gamecocks managed to pull away by claiming wins on courts one, two and four.
 
No. 61 Musitelli was unable to prevail against Lambling, who won in straight sets 6-2, 6-2. The Dijon, France native moves to 12-5 in spring following the loss.
 
In a rematch from last year, No. 3 Rodrigues had the best when taking on No. 94 Draxl. The Kentucky junior fell 6-4, 6-1. No. 114 Hurrion was unable to find his fifth-ranked win of the season while up against No. 57 Samuel, who took the win by a 6-2, 4-6, 6-1 result, clinching the win for South Carolina.
 
The teams finished out the remaining matches on courts three and five, though. No. 95 Lapadat played a strong match against Story, who never let the UK sophomore pull away. In the end, the London, Ontario native prevailed in straight sets, winning 7-6(4), 7-6(10-8), picking up a team-high 14th singles win this spring.
 
Kentucky junior and Montreal native Diallo closed out the afternoon for UK, playing a third set against Thomson and winning 6-4, 3-6, 6-2. Currently the 9th-ranked player in the country, Diallo earned a team-best 25th win on the year Sunday afternoon, putting the final score at 4-3 in favor of South Carolina.
 
UK will return to the Hilary J. Boone Complex two more times this season, taking on No. 5 Tennessee on Friday at 5 p.m. ET and No. 9 Georgia at 1 p.m. on Sunday. This will round out four-straight against top-10 opponents for Kentucky and serves as two of the final four regular-season matches. 
 
#10 South Carolina 4, #12 Kentucky 3
 
Singles competition
1. #3 Daniel Rodrigues (SC) def. #94 Liam Draxl (UK) 6-4, 6-1
2. #57 Toby Samuel (SC) def. #114 Millen Hurrion (UK) 6-2, 4-6, 6-1
3. #9 Gabriel Diallo (UK) def. Connor Thomson (SC) 6-4, 3-6, 6-2
4. Raphael Lambling (SC) def. #61 Francois Musitelli 6-2, 6-2
5. #95 Joshua Lapadat (UK) def. James Story (SC) 7-6 (7-4), 7-6 (10-8)
6. JJ Mercer (UK) def. Carter Morgan (SC) 6-1, 6-2
Order of finish: 6, 4, 1, 2*, 5, 3
 
Doubles competition
1. #13 Daniel Rodrigues/Connor Thomson (SC) vs. Millen Hurrion/Francois Muistelli (UK) 6-6(3-3), unfinished
2. Raphael Lambling/James Story (SC) def. Joshua Lapadat/JJ Mercer (UK) 6-2
3. Toby Samuel/Casey Hoole (SC) def. Liam Draxl/Alexandre Leblanc (UK) 7-6(7-3)
Order of finish: 2, 3*
 
For the latest on the Kentucky men's tennis team, follow @UKMensTennis on Twitter and Facebook, @kentuckymenstennis on Instagram, and on the web at UKAthletics.com.
 
– GO CATS –
For more information contact:
Ryan Cullinane (rrcu222@uky.edu) – (859) 257-8309