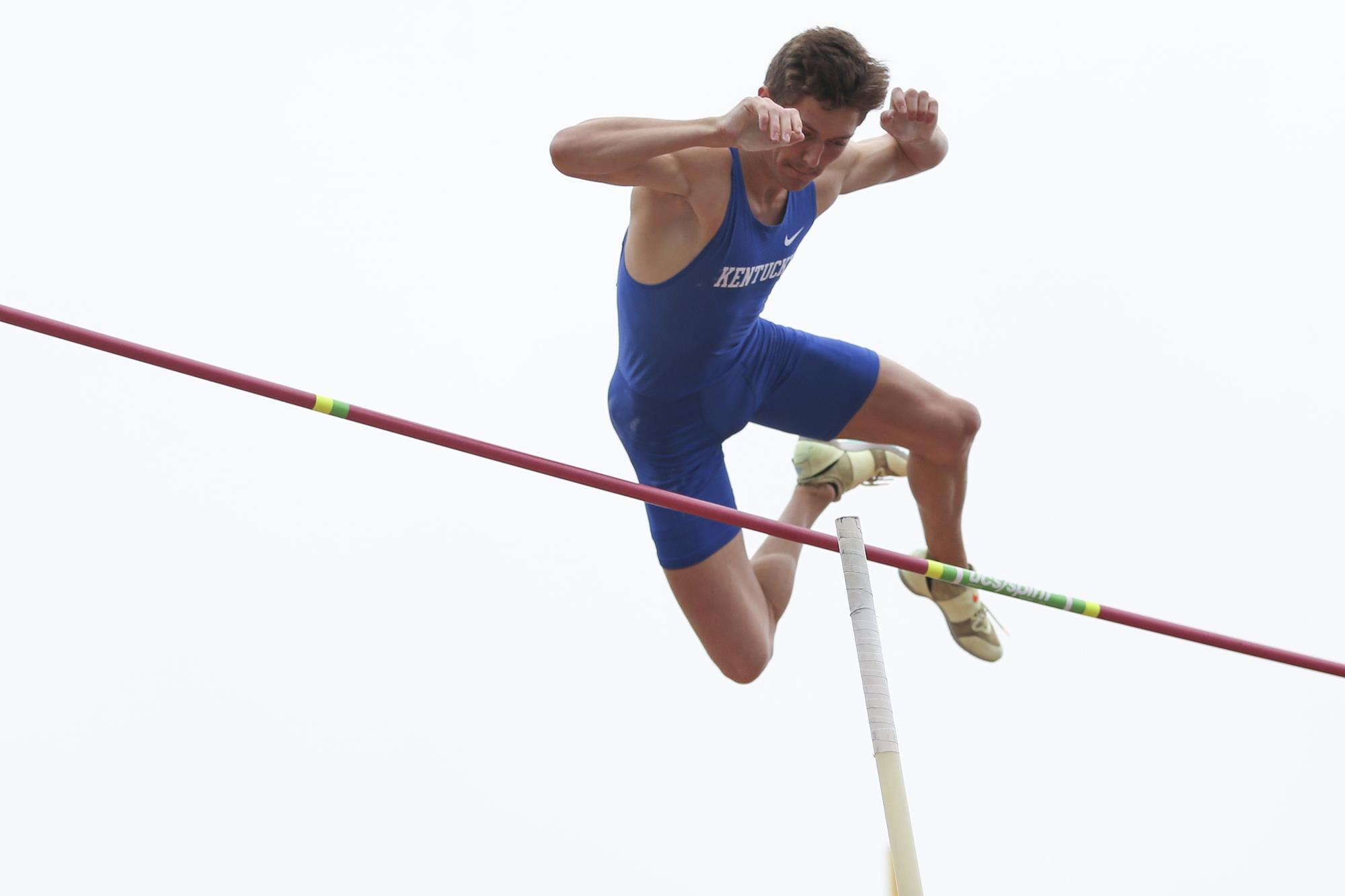 UKTF Wins Six Events on Final Day of Florida Relays
GAINESVILLE, Fla. – University of Kentucky track & field earned six event wins on day two, highlighted by nationally-ranked marks from the men's and women's 4x400m teams, Abby Steiner and Alexis Holmes at the annual Pepsi Florida Relays at the University of Florida in the James G. Pressley Stadium on the final of two days of collegiate competition.
The Wildcats finished the meet with seven event wins, 12 new times/marks on the UK all-time list, 35 top nine finishes, two program records and 22 personal bests. 
"I think we found our identity today and that in adverse times, that's when true champions are established, that's when championship teams are developed. I think the majority of the group stepped up today," Associate Head Coach Tim Hall said. 
"It was a true test of resolve today. These weren't the perfect conditions, but it was something we had to respond to. It sets the tone for meets to come," Hall said. 
Day Two 
The rain cleared up just in time for Abby Steiner to shine in the 100m, winning the race with a personal best time of 11.10. It was a personal best for the NCAA 200m Champion, the fourth fastest in the NCAA this season (all conditions) and the fastest in the NCAA this season without wind aid. It was also the fourth fastest time in UKTF history. 
Alexis Holmes cemented herself back on top in the 400-meters despite the rain with a win and NCAA leading time of 51.94. It was an outdoor personal best and cemented her as the fourth best for UK all-time in the event. 
The men's 4x400m ran a blazing 3:02.99 with anchor leg Brian Faust taking the lead in the last 150m to win the race with the third fastest time in the NCAA this outdoor season. Dwight St. Hillaire, Lance Lang, Kennedy Lightner and Brian Faust also ran the third fastest time in UKTF history. 
The women's 4x400m team of Karimah Davis, Steiner, Megan Moss and Holmes convincingly won the race with a time of 3:26.99, which is the fourth fastest in the NCAA this outdoor season and third fastest in UKTF history outdoors. 
Although the men's pole vault was not able to finish due to weather conditions, Keaton Daniel won the event with a height of 17'7″/5.36m. He cleared his first attempt at his winning height and was able to get in one attempt at 5.46m.  
Joshua Sobota won the men's shot put with a throw of 2'4″/19.00m. 
Masai Russell and Moss earned a pair of second place finishes with Russell finishing 13.18 in the 100m hurdles and Moss running 53.08 in the 400m. 
The men's 4x100m of Rodney Heath Jr., Dwight St. Hillaire, Jacob Smith and Lance Lang placed third with a time of 39.30. 
2022 SEC Indoor Championships silver medalist Matt Peare placed fourth in the pole vault (16'7.25/5.06m). 
Jenna Schwinghamer ran a personal best and the fifth fastest 800m in UKTF history with her 2:04.50 run for fifth place. 
Day One 
Russell, Davis, Molly Leppelmeier and Jenna Gearing had solid days for UKTF. 
Minor earned his best high jump in over two years in his event win in Gainesville, jumping 7'2.25″/2.19m. It was only .75 inches off his Kentucky personal best of 7'3″/2.21m from his 2020 SEC Indoor Championships bronze medal-winning performance and tied his outdoor personal best at Kentucky, which ranks fifth in program history outdoors. 
Russell ran a personal best 55.41 with a stellar finish for second place in the 400-meter hurdles, beating her previous personal best that she earned at 2021 NCAA Outdoor Championships. 
Leppelmeier broke her own school record in the hammer throw with a mark of 212'6″/64.79m, finishing third collegiately and fifth overall. 
Davis ran 22.97 in the 200m to finish second and earn an outdoor personal best in the event. Her performance earned her the ninth best spot in UKTF history outdoors. 
Sophomore Matt Duvall finished third in the final race of the night, the men's 5,000m, with a time of 14:27.91. 
Gearing ran a personal best in the 1,500m when she finished fourth (4:17.25), becoming fifth fastest for UK all-time in the event. 
Tori Herman came right behind Gearing in the 1,500m with a fifth-place finish (4:17.51). 
Lance Lang ran for sixth in the 200m (20.58) with teammate Dwight St. Hillaire close behind in eighth (20.59). Kennedy Lightner also ran an outdoor personal best in the event (20.90). 
Jade Gates placed fifth collegiately and seventh overall in the hammer throw (204'11″/63.76m). 
Kenroy Williams placed eighth in the 400m hurdles with a time of 50.92. 
Jake Allen finished ninth in the men's 1500m (3:46.18), only two seconds off his personal best. 
Logan Coles earned a freshman record in the hammer throw with a throw of 200'06″/61.12m in 11th place. It was also the sixth best for UK all-time. 
In the women's 5,000m, Kaylie Kenne led the Wildcats with a sixth-place finish (17:08.76), followed by Kelli Walsh in eighth (17:28.63). 
Oliver Nikoloff Invitational 
A few Wildcats also competed at the Oliver Nikoloff Invitational at the University of Cincinnati, highlighted by Kaylyn Heath's first place finish in the 200m (24.45) and second place finish in the 100m (12.18). 
Michael Browning won the hammer throw with a personal best 190'9″/58.16m, the eighth best for UK all-time. 
Myles Anders ran second in both the 100 and 200m with wind-legal times of 10.75 in the 100m and 21.45 in the 200m. 
Next Up 
The Wildcats will head to Baton Rouge, Louisiana for the Boots Garland Invitational on Saturday, April 9 while some distance runners will travel to Oxford, Mississippi and compete at Ole Miss on Friday, April 8 and Saturday, April 9. 
Follow Kentucky Track and Field and Cross Country on Facebook, Instagram, Twitter and at UKathletics.com. 
Florida Relays: Friday, April 1 

Women's Hammer Throw 

Prelim/Final 

5. Molly Leppelmeier – 212'06″/64.79m, 3rd collegiate finisher, school record, PB 

7. Jade Gates – 204'11″/63.76m, 5th collegiately 

Men's Hammer Throw 

Prelim/Final  

11. Logan Coles – 200'06″/61.12m, PB 

Women's Long Jump Open 

Prelim/Final  

15. Sophie Galloway – 18'0.5″/5.50m 

Men's Long Jump Open 

Prelim/Final  

10. Robbie Springfield III – 23'2.5″/7.07m 

Women's 1500m 

Final 

4. Jenna Gearing – 4:17.25, PB, 5th for UK all-time 

5. Tori Herman – 4:17.51 

13. Perri Bockrath – 4:24.78 

16. Rachel Boice – 4:27.93, PB 

28. Mollie Roden – 4:37.12 

Men's 1500m 

Final  

9. Jake Allen – 3:46.18 

13. Jacob Brizendine – 3:49.01, PB 

15. Harper Moore – 3:49.16, PB 

19. Dylan Allen – 3:51.07 

21. Jackson Watts – 3:52.27, PB 

Alex Justus – DNF 

Men's High Jump Invite 

Final 

1. Rahman Minor – 7'2.5″/2.19m, tied outdoor PB, 5th all-time for UK 

Women's 200m 

Final    

2. Karimah Davis – 22.97, outdoor PB, 9th all-time for UK 

18. Megan Moss – 23.57, PB 

25. Dajour Miles – 23.74 

Men's 200m 

Final  

6. Lance Lang – 20.58 

8. Dwight St. HIllaire – 20.59 

16. Kennedy Lightner – 20.90, outdoor PB 

38. Rodney Heath Jr. – 21.43 

Women's 400m Hurdles 

Final  

2. Masai Russell – 55.41, PB, 4th all-time for UK 

41. Darci Khan – 1:04.83, PB 

Men's 400m Hurdles 

Final  

8. Kenroy Williams – 50.92 

20. Beck O'Daniel – 52.53 

Women's Discus Invite 

Final  

7. Areti Filipidou – 167'00″/50.90m 

Men's 3000m Steeplechase 

Final  

9. McLean Griffin – 9:15.46, PB 

Women's 5000m 

Final  

6. Kaylie Kenne – 17:08.76, PB 

8. Kelli Walsh – 17:28.63 

Tori Herman – DNF 

Perri Bockrath – DNF 

Men's 5000m  

Final 

3. Matt Duvall – 14:27.91 

17. Trevor Warren – 15:12.45 

Dylan Allen – DNF 

Jake Allen – DNF 
Florida Relays: Saturday, April 2 

Men's Discus Invite 

Final  

9. Joshua Sobota – 169'8″/51.72m 

Women's 100m Hurdles 

Final 

2. Masai Russell – 13.18 

8. Shadajah Ballard – 13.93 

9. Darci Khan – 13.87 

20. Sophie Galloway – 14.75 

Men's Pole Vault 

Final 

Competition did not finish due to weather 

1. Keaton Daniel – 17'7″/5.36m 

4. Matt Peare – 16'7.25/5.06m 

11. Joseph Jardine – 16'1.25″/4.91m 

Jacob Sobota – NH 

Women's Triple Jump 

Final  

10. Kendall Jordan – 38'2.25″/11.64m 

Women's 4x100m Relay 

Final  

Miles, Steiner, Russell, Davis – DNF  

Men's 4x100m Relay 

Final  

3. Heath, St. Hillaire, Smith, Lang – 39.30 

Women's 800m 

Final 

5. Jenna Schwinghamer – 2:04.50, PB, 5th all-time for UK 

10. DeAnna Martin – 2:06.52, outdoor PB, tied for 8th all-time for UK 

11. Jenna Gearing – 2:07.27, PB, 10th all-time for UK 

13. Phoebe McCowan – 2:07.64, PB 

23. Bryanna Lucas – 2:10.26 

Women's High Jump 

Final  

10. Sophie Galloway – 5'3.25″/1.61m 

Men's Shot Put Invite 

Prelim/Final  

1. Joshua Sobota – 62'4″/19.00m 

Women's Shot Put 

Final  

7. Molly Leppelmeier – 50'4.5″/15.35m 

Men's 800m 

Final  

17. Alex Justus – 1:51.48 

27. Jacob Brizendine – 1:52.54 

Women's 400m 

Final 

1. Alexis Holmes – 51.94, outdoor PB, 4th all-time for UK 

2. Megan Moss – 53.08 

14. Dynasty McClennon – 55.38, PB 

Men's 400m 

Final 

6. Brian Faust – 46.76 

16. Jacob Smith – 49.02 

Women's 100m 

Final 

1. Abby Steiner – 11.10, PB, 4th in NCAA this season, 4th all-time for UK 

9. Shadajah Ballard – 11.82 

Men's 100m 

Final 

6. Rodney Heath Jr. – 10.51  

Women's 4x400m Relay 

Final 

1. Davis, Steiner, Moss, Holmes – 3:26.99, 3rd for UK all-time, 4th in NCAA outdoor season so far 

2. Lucas, Schwinghamer, Martin, McCowan – 3:48.62 

Men's 4x400m Relay 

Final 

1. St. Hillaire, Lang, Lightner, Faust – 3:02.99, 3rd for UK all-time, 3rd in the NCAA this season