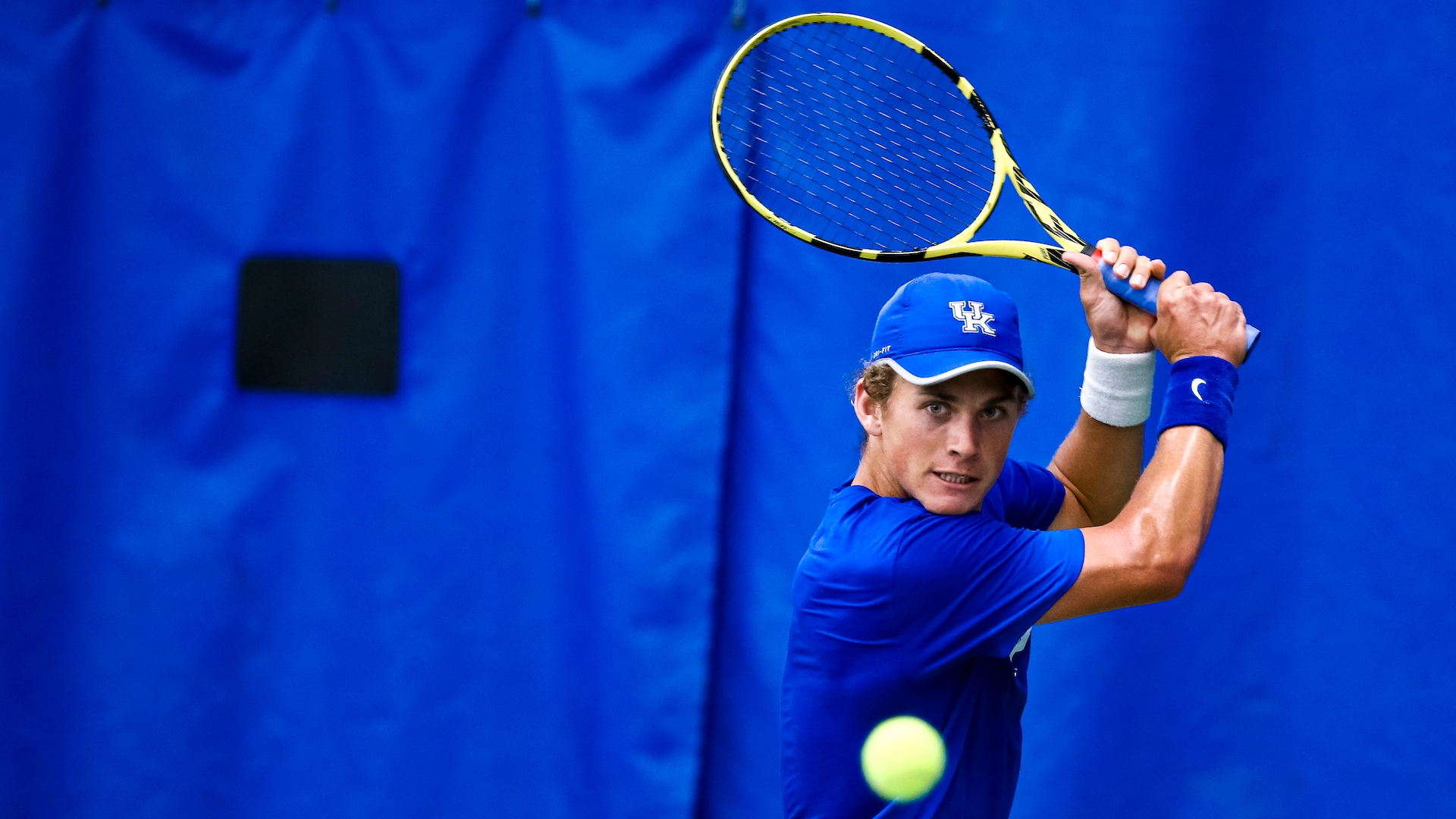 March 31, 2022 - 09:48 PM
Liam Draxl Picks Up Big Win as Kentucky Drops Home Match to Virginia
LEXINGTON, Ky. – The No. 12 Kentucky Wildcats could not overcome the No. 8 Virginia Cavaliers Thursday evening at the Hilary J. Boone Center, falling by a 4-2 decision. UK now sits at 15-5 on the season with the loss. 
 
Despite the loss, Wildcats' Liam Draxl won both his matches, as the No. 94 singles player picked up a victory over No. 29 Inaki Montes, claiming the win in a 2-6, 6-2, 7-5 decision. He and Alexandre Leblanc also clinched the doubles win for UK after a thrilling 7-6(10-8) finish. Draxl, the reigning Intercollegiate Tennis Association Singles Player of the Year, earned his 10th win of the spring season, now standing at 10-3.
 
The night started well for Kentucky, taking an early lead by picking up the doubles point. Joshua Lapadat and JJ Mercer finished first and were bested by No. 51 Chris Rodesch and Bar Botzer in a close result. Courts one and three were locked in tight contests as well, but both Millen Hurrion and Francois Musitelli as well as Draxl and Alexandre Leblanc prevailed to clinch the doubles point.
 
 
The match figured to be a narrow finish after all the first sets in singles were completed. Courts one, two and three all went to a third set, while on court four No. 61 Musitelli complete his match first and fell in straight sets to No. 75 Ryan Goetz, 6-4, 6-2.
 
After claiming the first singles point of the evening, the Cavaliers took two more right after. No. 114 Hurrion forced a tiebreaker set in the first and claimed the second, but No. 16 Rodesch managed to prevail in the third to win.
 
No. 9 Gabriel Diallo dropped his first match of the spring season to No. 59 Jeffrey von der Schulenburg. After a 3-6, 7-5, 6-4 result, the Montreal native moves to 10-1 in spring, 24-4 overall, and Virginia took a 3-1 lead. Draxl then took his fourth ranked win of the season to keep the match alive. 
 
A tough start for No. 95 Lapadat proved to be too much on court four, as the sophomore fell to Bar Botzer, ending his nine-match win streak. 
 
The Wildcats will regroup and head to Columbia, South Carolina, to take on the No. 10 South Carolina Gamecocks at the Carolina Tennis Center. The match is slated for a noon ET start time, and stands as the second of four-straight matches against top-10 teams for Kentucky. 
 
#8 Virginia 4, #12 Kentucky 2
 
Singles competition
1. #94 Liam Draxl (UK) def. #29 Inaki Montes (VA) 2-6, 6-2, 7-5
2. #16 Chris Rodesch (VA) def. #114 Millen Hurrion (UK) 7-6 (7-0), 3-6, 6-3 
3. #59 J vd Schulenburg (VA) def. #9 Gabriel Diallo (UK) 3-6, 7-5, 6-4
4. #75 Ryan Goetz (VA) def. #61 Francois Musitelli (UK) 6-4, 6-2
5. Bar Botzer (VA) def. #95 Joshua Lapadat (UK) 6-1, 6-4
6. JJ Mercer (UK) vs. Gianni Ross (VA) 1-6, 1-1, unfinished
Order of finish: 4, 2, 3, 1, 5*
 
Doubles competition
1. Millen Hurrion/Francois Musitelli (UK) def. Inaki Montes/Ryan Goetz (VA) 6-4
2. #51 Chris Rodesch/Bar Botzer (VA) def. Joshua Lapadat/JJ Mercer (UK) 6-3
3. Liam Draxl/Alexandre LeBlanc (UK) def. Gianni Ross/J vd Schulenburg (VA) 7-6 (10-8)
Order of finish: 2, 1, 3*
 
For the latest on the Kentucky men's tennis team, follow @UKMensTennis on Twitter and Facebook, @kentuckymenstennis on Instagram, and on the web at UKAthletics.com.
 
– GO CATS –
For more information contact:
Ryan Cullinane (rrcu222@uky.edu) – (859) 257-8309