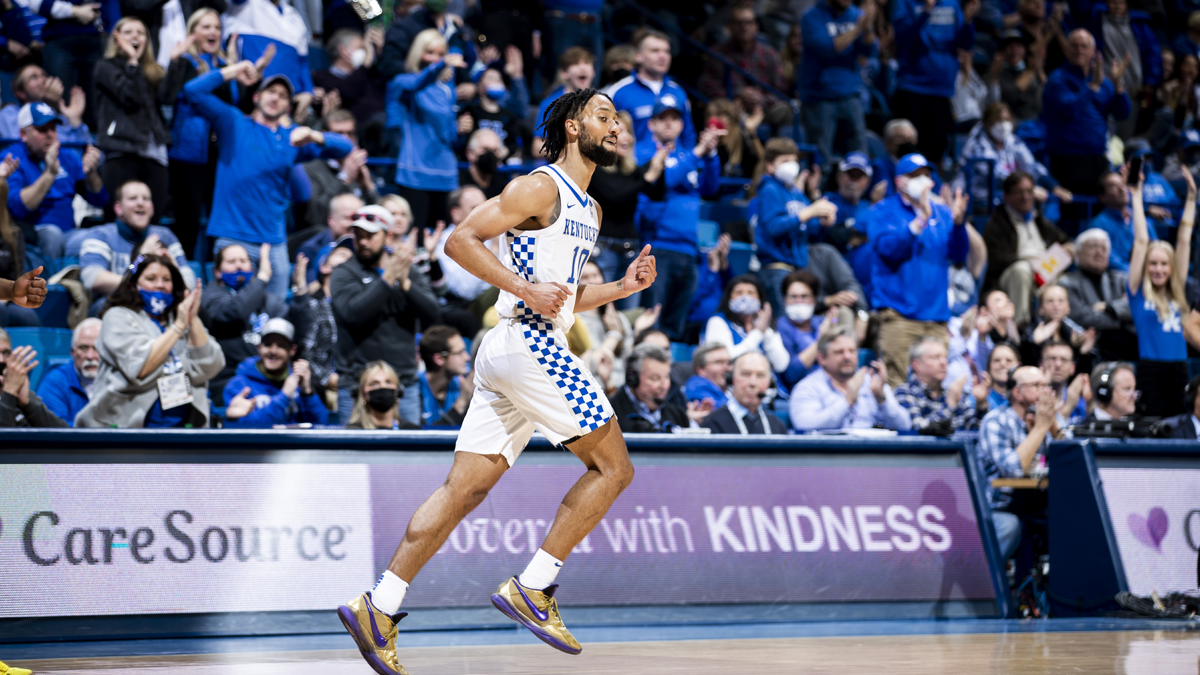 March 29, 2022 - 03:20 PM
Davion Mintz to Participate in Final Four Festivities
LEXINGTON, Ky. – Davion Mintz's college basketball career isn't over quite yet.
 
The Kentucky guard will participate in several Final Four festivities this week in New Orleans. Mintz is slated to take part in the 2022 State Farm 3-Point Championship on March 31 and then he will also suit up in the Reese's College All-Star Game on April 1.
 
The Reese's College All-Star Game, hosted by the National Association of Basketball Coaches, features the top seniors in college basketball and is one of the featured events leading up to the games at the Final Four. Attendance is free for all NABC Convention registrants and guests. The All-Star Game will take place on Friday at the Ceasars Superdome at 4:35 p.m. ET.
 
The event makes its return after a two-year hiatus. Mintz is the second UK player to participate in the event, joining Derek Willis who earned West Team MVP honors in 2017.
 
Up first for the Charlotte, North Carolina, native will be the 3-point contest at Xavier University of Louisiana's Convocation Center in New Orleans on Thursday. Mintz is one of eight players selected for the event that will air live on ESPN at 9 p.m. ET. The event has been a part of the Final Four festivities for more than 30 years.
 
Mintz is the fourth UK player to participate in the 3-point event dating back to its inception in 1989. He joins Gerald Fitch (2004), Scott Padgett (1999) and Travis Ford (1994) in the collegiate contest. Chuck Hayes (2005) is the only Kentucky player to participate in the dunk challenge portion of Thursday's events.
 
UK's graduate guard will not be the only Wildcat represented at the event on Thursday. Kentucky All-American Rhyne Howard is also slated to take part in the 3-Point Championship on the women's side.
 
Mintz concluded his career having played in 153 career games and made 106 starts between Creighton and Kentucky. He scored 1,188 points and sunk 171 3-pointers.
 
As a Wildcat, Mintz averaged 9.8 points per game over his two seasons in the Blue and White. He connected on 100 3-pointers and made them at a 36.1% rate. Mintz became the first player under John Calipari to return for a second year after leading the team in scoring the season before. He transformed into a Southeastern Conference Sixth Man of the Year candidate providing steady leadership and hard-nose defense for a veteran-laden Kentucky team in 2022.
 
Mintz was named a College Sports Information Directors of America Academic All-District selection this season. He is the first UK player to earn that distinction since Alex Poythress in 2016.
 
Prior to enrolling at Kentucky as a graduate student, Mintz earned a degree from Creighton University in marketing. He is now pursuing a master's degree in kinesiology and health promotion with an emphasis in sport leadership and will graduate in May. Mintz owns a 3.50 grade-point average as a graduate student.
 
For the latest on the Kentucky men's basketball team, follow @KentuckyMBB on Twitter, Facebook, Instagram and TikTok, and on the web at UKathletics.com.