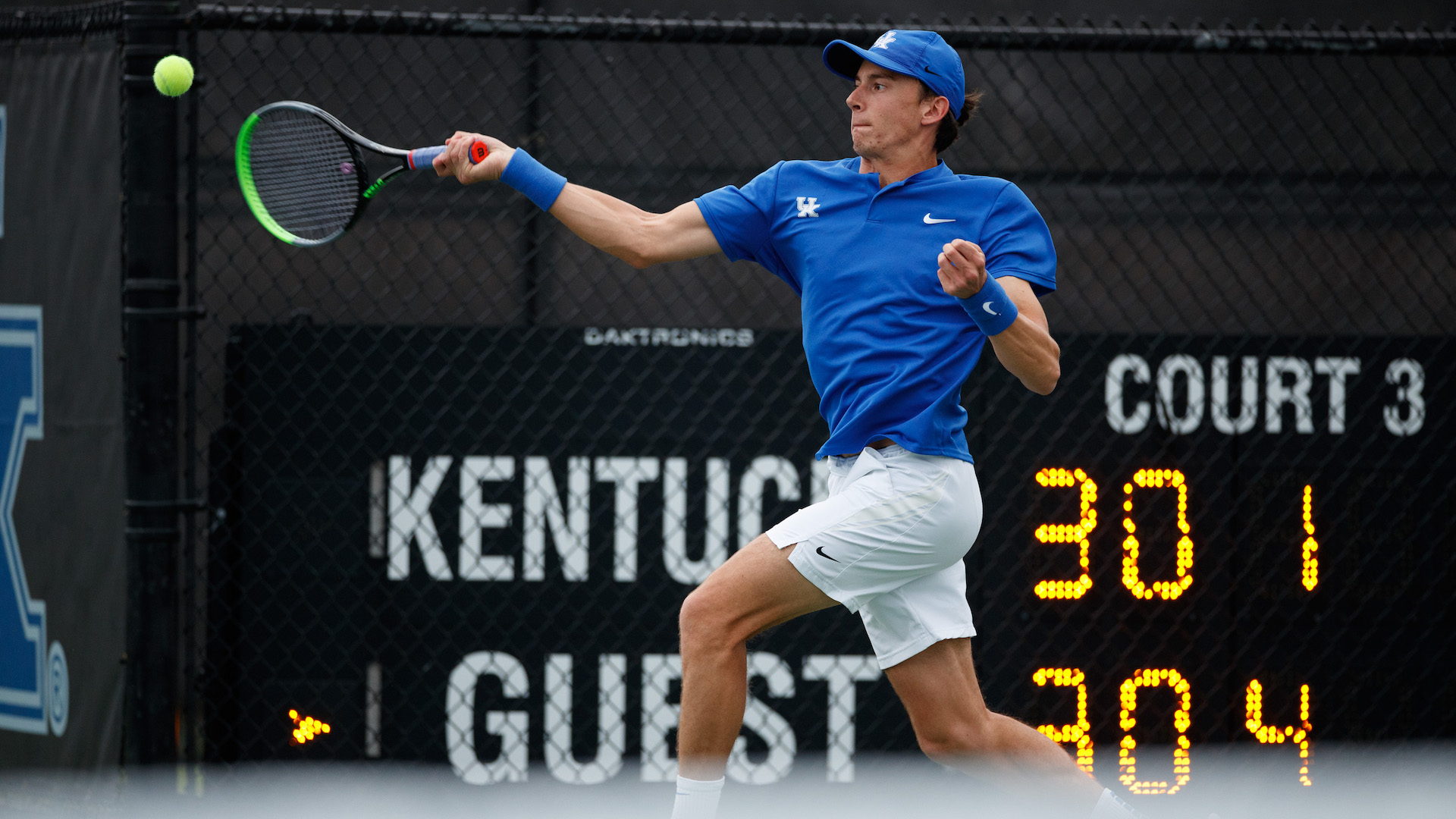 March 18, 2022 - 10:53 PM
Musitelli Picks Up 20th Singles Win of the Year, Kentucky Beats Auburn
LEXINGTON, Ky. – The match between the No. 13 Kentucky Wildcats and No. 39 Auburn Tigers went the distance Friday night, going three and a half hours before Francois Musitelli clinched a 4-3 victory in favor of UK at the Hilary J. Boone Tennis Complex. 
 
With the win over the Tigers, the Wildcats move to 12-4 overall and 3-1 in Southeastern Conference play. Auburn drops to 13-4 on the season and 2-2 against SEC competition.
 
Dijon, France, native and 60th-ranked singles player Musitelli racked up his 20th victory over Raul Dobai in a 5-7, 7-5, 6-2 decision. By improving to 20-7, he joins No. 10 Gabriel Diallo as the only two on the team with 20 singles wins between the fall and spring seasons. Musitelli picked up the second match-clinching win of his Kentucky career over Dobai.
 
"It was not necessarily pretty, but I found my way," said Musitelli. "Especially being the third [spot], I am just so happy to share that with the boys and all the people that help us on a daily basis."
 
The Wildcats opened the match by dropping the doubles point in tough contests on each court. While Millen Hurrion and Musitelli dropped their match to Tad Maclean and Finn Murgett, 6-3, Liam Draxl and Alexandre Leblanc tied up doubles competition in their first match together, winning 6-4 on court three. 
 
It came down on Joshua Lapadat and JJ Mercer to steal the point away from Auburn. The tandem managed to tie the match at five games apiece and split the next two against Jan Galk and Tyler Stice, 6-6, and sent it into a tiebreaker. 
 
The tiebreaker was just as tight, with the score locked at 3-3 through the first six points. However, Galk and Stice took control from there and clinched the doubles point, winning 7-6(7-3). 
 
Slow starts caused Kentucky to falter in the beginning of singles competition. Both Hurrion and Musitelli trailed in the first set, by a 4-1 and 5-1 score, respectively. While Musitelli pulled all the way back 5-5 before dropping the set 7-5, team captain Hurrion managed to pick it off, 6-4. 
 
The tough beginning proved to be too much to overcome for others, though. After Yasha Zemel lost to Murgett 6-1, 6-4, UK fell behind in the match 2-0. JJ Mercer fell to Will Nolan later in the match after a forcing a tiebreaker in the first set as well, by a 7-6(7-5), 6-2 final score.
 
No. 37 Lapadat has been as solid as they come, and Friday was no different. The London, Ontario, native improved to 10-1 on the spring season with a dominant 6-1, 6-1 win over No. 110 Maclean, putting the Wildcats on the board. Lapadat became one of three Wildcats with 10 wins in singles competition during the spring season with his victory.
 
Draxl, the reigning Intercollegiate Tennis Association Player of the Year, carried momentum from his win on Sunday and picked up another against No. 83 Tyler Stice, 6-4, 6-1. The junior capped off an impressive second set with a monstrous hit to put the affair at match point, and eventually picked up his second win over ranked competition this season and tied the match at two. 
 
After a strong first-set comeback, Hurrion fell behind No. 124 Galka in the second, 4-3. The captain then rattled off three-straight games to also earn his second ranked victory of the year in straight sets, 6-4, 6-4. With Hurrion's win followed by Mercer's loss, the match was once again tied at three, with the clinching point getting tight on court three.
 
Musitelli picked up the second set, 7-5, forcing a third to decide the match against Dobai. After splitting the first two games, Musitelli took control to win the match, 5-7, 7-5, 6-2. 
 
Kentucky's next match will come just 40 hours after beating Auburn. The Wildcats play another match at home on Sunday afternoon at 1 p.m. ET against the No. 22 Texas A&M Aggies at the Boone Complex. 
 
#13 Kentucky 4, #39 Auburn 3
 
Singles competition
1. Liam Draxl (UK) def. #83 Tyler Stice (AUB) 6-4, 6-1
2. Millen Hurrion (UK) def. #124 Jan Galka (AUB) 6-4, 6-4
3. #60 Francois Musitelli (UK) def. Raul Dobai (AUB) 5-7, 7-5, 6-2 
4. #37 Joshua Lapadat (UK) def. #110 Tad Maclean (AUB) 6-1, 6-1 
5. Will Nolan (AUB) def. JJ Mercer (UK) 7-6 (7-5), 6-2
6. Finn Murgett (AUB) def. Yasha Zemel (UK) 6-1, 6-4
Order of finish: 6, 4, 1, 2, 5, 3*
 
Doubles competition
1. Tad Maclean/Finn Murgett (AUB) def. Francois Musitelli/Millen Hurrion (UK) 6-3 
2. Tyler Stice/Jan Galka (AUB) def. Joshua Lapadat/JJ Mercer (UK) 7-6 (7-3)
3. Liam Draxl/Alexandre LeBlanc (UK) def. Raul Dobai/Josh Raab (AUB) 6-4
Order of finish: 1, 3, 2*
 
For the latest on the Kentucky men's tennis team, follow @UKMensTennis on Twitter and Facebook, @kentuckymenstennis on Instagram, and on the web at UKAthletics.com.
 
– GO CATS –
For more information contact:
Ryan Cullinane (rrcu222@uky.edu) – (859) 257-8309