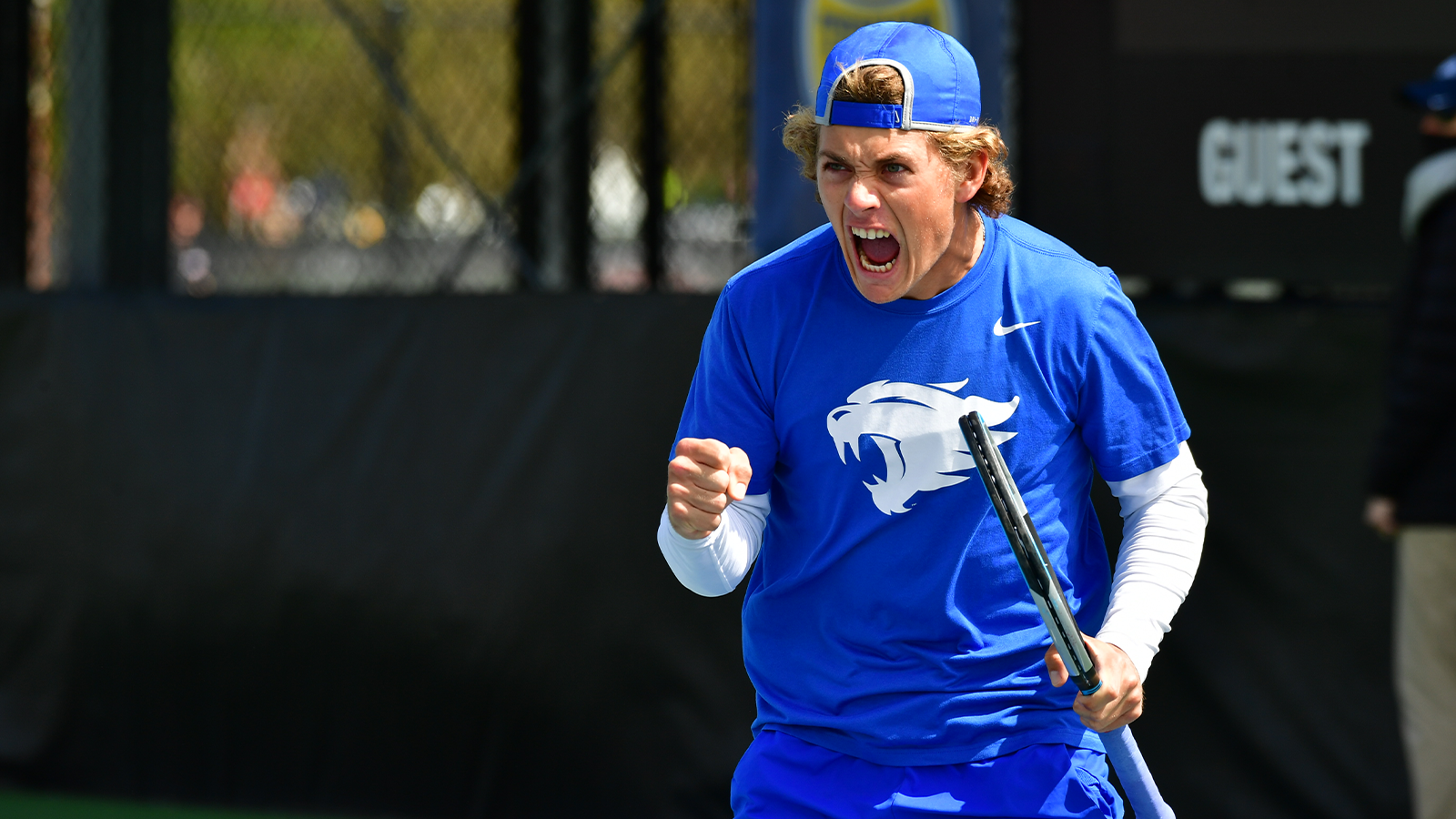 March 13, 2022 - 05:45 PM
No. 12 Kentucky Hangs On to Top Arkansas
FAYETTEVILLE, Ark. – In a match that came down to the wire, the 12th-ranked Kentucky men's tennis team prevailed in a hard-fought 4-3 win at No. 56 Arkansas on Sunday at the Billingsley Tennis Center. Following the victory in their first conference road test, the Wildcats improve to 11-4 overall and 2-1 in Southeastern Conference play while the Razorbacks fall to 10-7 and 1-3.
Arkansas began the match by claiming the doubles point, as the tandem of Melvin Manuel and Adrien Burdet defeated JJ Mercer and Liam Draxl in a 6-3 decision on the second court. The home team then made it a clinch after Alex Reco and Nico Rousett took down Francois Musitelli and Millen Hurrion, 7-5, on court one.
The Razorbacks quickly extended their lead after No. 47 Aleksa Bucan posted a 6-2, 6-1 victory over Yasha Zemel on the sixth court. 
However, the Wildcats soon tied the match up at two apiece with back-to-back wins. Playing in the second position, Hurrion took care of business by topping Rousett, 6-3, 6-1. Musitelli then fired off two consecutive 6-4 sets to handle Oscar Pinto Sansano on court three.
In a match that proved to be back-and-forth between the two SEC foes, the Razorbacks soon regained a one-point advantage when Manuel bested Mercer, 6-1, 5-7, 6-1, in the fifth spot. Their lead didn't last long, as No. 37 Joshua Lapadat stormed back for a 4-6, 6-1, 6-3 win on court four over Burdet to tie it once again.
Draxl, the reigning Intercollegiate Tennis Association Player of the Year, proved dominant on Sunday afternoon in Fayetteville. The junior knocked off No. 95 Reco in a 6-2, 5-7, 6-4 outcome to earn the clinch for the Wildcats.
Kentucky returns to Lexington for a two-match home stretch next weekend at the Hilary J. Boone Tennis Center. The Wildcats will first take on Auburn on Friday, March 18 at 5 p.m. ET before facing Texas A&M on Sunday, March 20 for a 1 p.m. match.
Kentucky 4, Arkansas 3
Singles
1. Liam Draxl (UK) def. #95 Alex Reco (ARK) 6-2, 5-7, 6-4
2. Millen Hurrion (UK) def. Nico Rousset (ARK) 6-3, 6-1
3. #60 Francois Musitelli (UK) def. Oscar Pinto Sansano (ARK) 6-4, 6-4
4. #37 Joshua Lapadat (UK) def. Adrien Burdet (ARK) 4-6, 6-1, 6-3
5. Melvin Manuel (ARK) def. JJ Mercer (UK) 6-1, 5-7, 6-1
6. #47 Aleksa Bucan (ARK) def. Yasha Zemel (UK) 6-2, 6-1
Order of finish: 6, 2, 3, 5, 4, 1*
Doubles
1. Alex Reco/Nico Rousett (ARK) def. Francois Musitelli/Millen Hurrion (UK) 7-5
2. Melvin Manuel/Adrien Burdet (ARK) def. JJ Mercer/Liam Draxl (UK) 6-3
3. Joshua Lapadat/Alexandre LeBlanc (UK) vs. Jacob Sweeney/Hunter Harrison (ARK) 4-5, unfinished
Order of finish: 2, 1*
For the latest on the Kentucky men's tennis team, follow @UKMensTennis on Twitter and Facebook, @kentuckymenstennis on Instagram, and on the web at UKAthletics.com.
– GO CATS –
For more information contact:
Ryan Cullinane (rrcu222@uky.edu) – (859) 257-8309