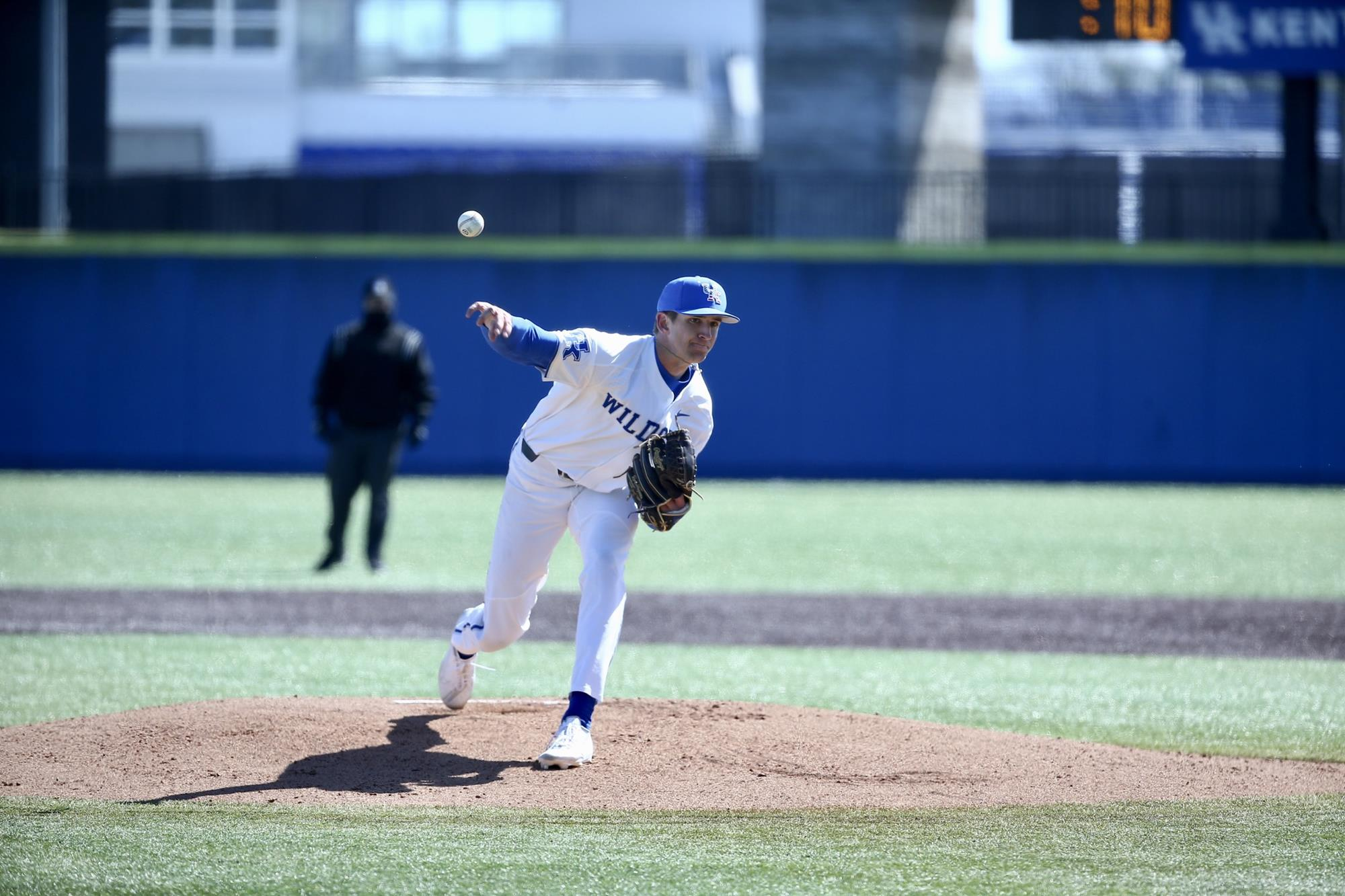 Winter breeze, makes Kentucky feel fine.
 
Kentucky scored two runs in the ninth inning for its third traditional walk-off victory of the season, defeating High Point 4-3 and earning the three-game sweep. At 14-3, UK is off to its best start since the 2018 club went 14-2.
 
The Wildcats were aided by a howling wind that made every baseball in the air an adventure. Consecutive popups that fell in the seventh turned into a run and the game-winner was scored in the form of pinch runner Michael Dallas racing home when the second baseman failed to corral a soft popup. Previously, pinch hitter Devin Burkes laid down a perfect sacrifice bunt that was thrown away, followed by Daniel Harris IV putting down a perfect safety squeeze to tie the game when Nolan McCarthy slid under the tag attempt at the plate.
 
UK pitchers struck out 15 hitters in the game and Sean Harney earned his third win with 3.2 scoreless innings. Sophomore Ryan Hagenow drew the start and struck out six in 3.0 innings, tying his career-high.
 
NOTES
Kentucky now is 105-33 vs. non-conference opponents during coach Nick Mingione's tenure, including 82-16 at home and 91-13 vs. non-Power Five opponents.
The UK pitchers have struck out 189 in 17 games.
Junior IF Chase Estep went 2-for-4 with a run.

He has a career-long and team-best 15-game hit streak.
He has a 16-game reached base safely streak.
He has nine multi-hit games this season and 20 for his career.
Junior IF Jase Felker had his first multi-hit game of the season.
Senior IF Jacob Plastiak had an RBI double.

He has reached base safely in 20 straight games.

Senior IF Daniel Harris IV has a 15-game reached base safely streak.
Sophomore RHP Ryan Hagenow started and tied his career-high with six strikeouts in 3.0 innings.
Senior RHP Daniel Harper made his 82nd career appearance.

He is now tied for fifth on UK's career list with Jon Hooker (1998-2001).
 
ON DECK
Kentucky travels to Indiana on Tuesday. First pitch is at 5 p.m. ET. The radio call will be on the UK Sports Network (98.5 FM).