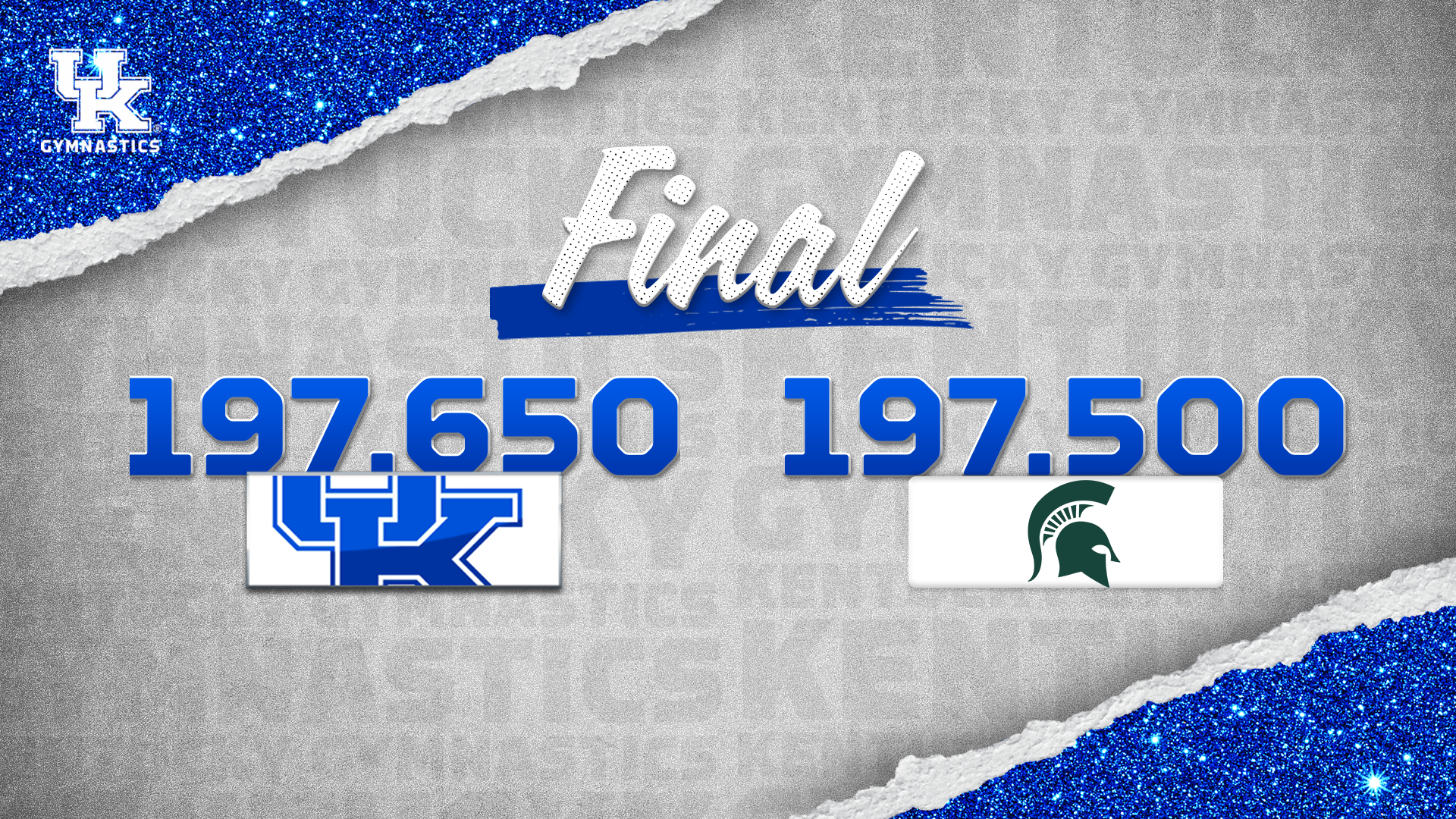 March 11, 2022 - 10:41 AM
Wildcats Send Seniors Off with Record-Breaking Night
LEXINGTON, Ky. – The No. 9-ranked Kentucky Gymnastics program honored its senior class on Friday at Memorial Coliseum against No. 12 Michigan State. 
 
The Wildcats celebrated accordingly as they sent their seniors off with a new overall all-time program best, ending the night with a 197.650. The Cats also set a new all-time high on bars scoring 49.757 on the event. 
 
"Proud of the fight in the team tonight," stated Head Coach Tim Garrison. "We had some missteps, but each time we struggled, the next competitor answered with a big score when we needed it. It's that kind of demonstrated toughness that creates confidence – team confidence. That's huge!"
 
UK's four seniors did not disappoint with outstanding performances from all.
Josie Angeny showed an impressive performance on bars posting a new season and career high scoring 9.950 on the event. Angeny completed her Senior Night rotation on beam earning a 9.800.
 
Cally Nixon received top marks on bars as well receiving a 10 from one of the judges for an averaged 9.950. Her giant bars routine followed her first rotation of the night where she notched a 9.750 on vault. 
 
Anna Haigis showed a big smile following an even bigger floor performance. Receiving a 10 from one of the judges, the gymnast's averaged score of 9.975 hit a new high for the season and her career.
 
Arianna Patterson knew what she was doing when she stepped up for her three rotations of the night. Starting off with vault, Patterson hit a mark of 9.875. She was awarded a 9.175 on beam following an unfortunate fall during her routine. However, she stepped onto the floor exercise ready to roll notching a new season and career high of 9.850 to finish out her night.
 
"Closing our home slate with a program record score and celebrating our seniors on the same night! That was special," expressed Garrison.
 
The four seniors were not the only Wildcats enjoying a successful evening. All-around winner, Raena Worley earned her 12th career award with a 39.750 on the night. She has achieved the all-around title six times in the 2022 season ranking her third in the nation behind Olympians Jade Carey and Suni Lee. Worley finished the competition on Friday with 9.950 on both floor and bars with a 9.925 on beam and vault.
 
Freshman Jillian Procasky hit a new top mark earning her a season and career best of 9.900 on beam. Sophomore Isabella Magnelli also found herself on beam notching a score of 9.900 with a beautiful routine, also earning her a new season and career best.
 
Junior Shealyn Luksik rallied in the middle of the second rotation scoring a 9.900 on bars to keep the momentum rolling for Kentucky. Later in the night, sophomore Hailey Davis showed an incredible floor performance tying her season and career high of 9.950. She first earned the high score two weeks ago at Auburn. 
 
"Tonight was great preparation for what is to come," said Garrison. "It was a close meet start to finish and is what we can expect at the conference championship next week and in the postseason."
 
The Wildcats completed their final regular-season meet with tonight's battle against Michigan State. Kentucky will now set its sights on the SEC Championships held in Birmingham next week.
Follow along with the Wildcats on Twitter, Facebook and Instagram, and on the web at UKathletics.com.