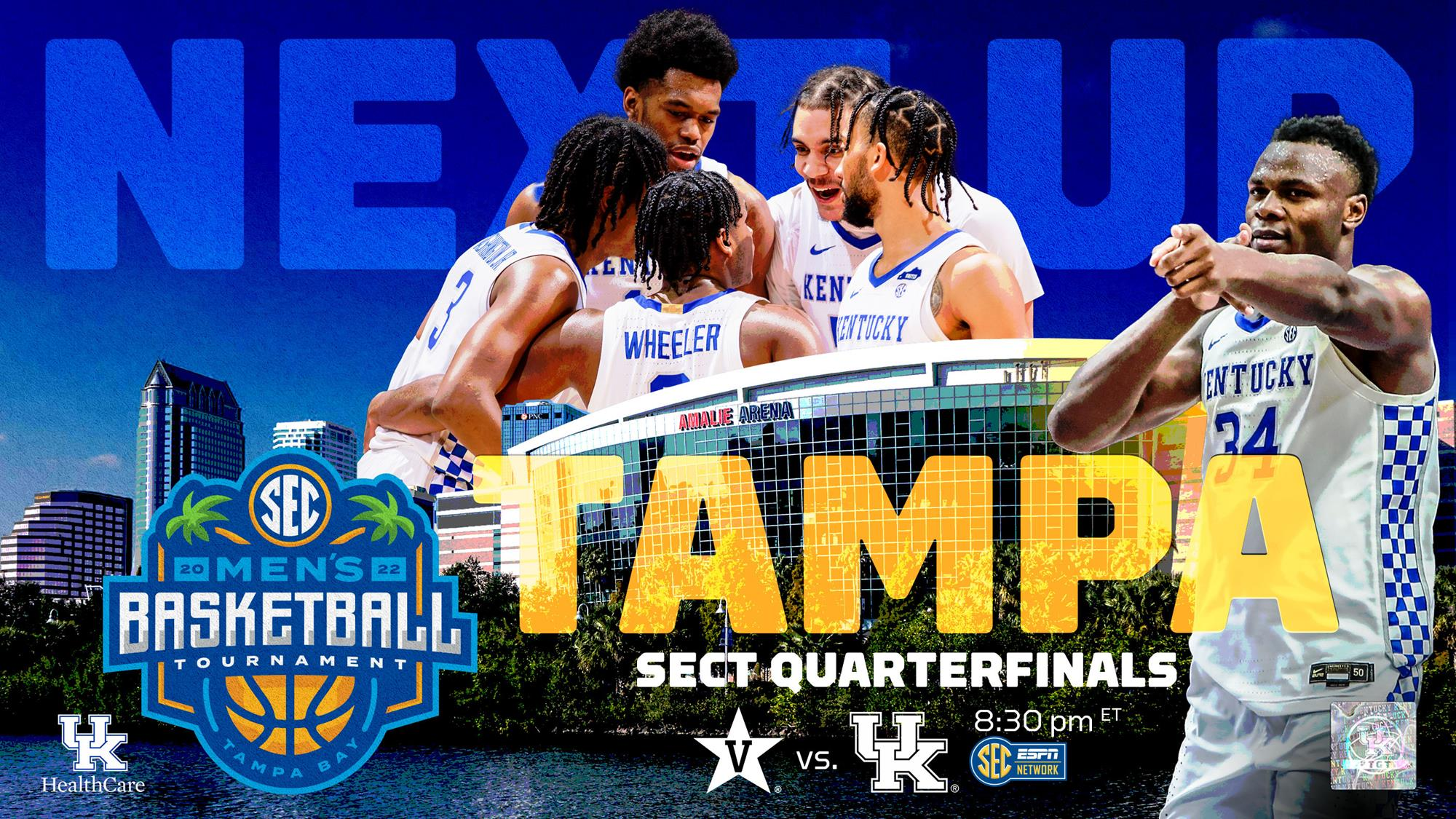 March 10, 2022 - 11:32 PM
Kentucky, Vanderbilt Set to Meet in SEC Quarterfinals
Kentucky will open play in the 2022 SEC Men's Basketball Tournament on Friday at approximately 8:30 p.m. ET. And when they do, the Cats will see a familiar opponent on the other side of the floor.
For the third time this season, Kentucky will take on Vanderbilt. The Commodores beat Alabama 82-76 on Thursday night in the second round of the tournament. Vandy got 26 points from Scotty Pippen Jr and 18 from Myles Stute in the victory, their second in two days in Tampa.
The Cats faced the Commodores in Nashville on Jan. 11 and it was Oscar Tshiebwe who had a huge game. The SEC Player of the Year had 30 points and 13 rebounds as UK won 78-66 in a game that was not as close as the final score would indicate. Vandy actually scored the final 16 points of the game as the Cats went scoreless over the last six minutes, after building a 28-point lead.
The rematch came on Feb. 2 at Rupp Arena, a game that Kentucky won 77-70. The second game was much closer than the first contest throughout. Davion Mintz led Kentucky with 21 points in the game, while Keion Brooks Jr. had 20 and Kellan Grady added 12. Tshiebwe had 11 points and 17 rebounds. Pippen led all scorers with 33 points.
 
Kentucky vs. Vanderbilt

Fri., March 11 – 8:30 p.m. ET
Amalie Arena
Tampa, Fla.
Game Notes: UK | VU
UK Athletics App

Coverage

TV: SEC Network
Radio: UK Sports Network
Watch
Listen
Live Stats

UK
Stats
VU
25-6
Record
17-15
80.1
PPG
70.0
65.7
Opp PPG
66.9
.489
FG%
.425
.410
Opp FG%
.421
40.3
RPG
34.2
.355
3PT FG%
.339
.297
Opp 3PT FG%
.299
16.2
APG
11.7
7.0
SPG
7.5
4.0
BPG
3.3
Now, the Cats and the Commodores will meet for a third time, this time with a spot in the SEC semifinals on the line. UK head coach John Calipari knows that beating a team three times in one season is tough. Why is that?
"The other team we've played is more inspired," Calipari said. "My thing is, I'm not worried about that. How many times I've been in this position, I can't even tell you. Probably lost some, probably won some. My thing is, I'm not worried about that. It's, how do we get to where we're in the mental space we need to be in. That we're a machine. Here we come."
Calipari knows that, when the Commodores are hot, they can beat anyone in the country.
"They're playing well. They're playing good," Calipari said. "They've won three or four in a row now. It's going to be a hard game for us. They've got everybody healthy. They're dangerous and playing as well as anyone in our league right now."
Kentucky has won its last two games, and four of its last five, heading into this tournament. Tshiebwe was named SEC Player of the Year and has also been named National Player of the Year by some outlets. His averages of 17.3 points and 15.3 rebounds per game have earned him those accolades.
On Friday, it's the Cats and the Commodores for a third time this season.
Calipari Chasing Another Milestone
Entering this week's Southeastern Conference Tournament, UK head coach John Calipari has amssed a 23-5 all-time record as coach of the Wildcats in the league's tournament. The 23 wins currently rank as the fourth-most by any head coach in league history in the event. Billy Donovan is first with 27 wins, Wimp Anderson amassed 25. Former Wildcat head coach Tubby Smith is third with 24 victories.
Calipari has led the Wildcats to the championship game in eight of the possible 11 tournaments his team has appeared thus far and has captured the crown on six occassions (2010, 2011, 2015, 2016, 2017, 2018).
Last Time Out: Tshiebwe Shines at Florida
When Florida scored the first five points of the second half, Kentucky coach John Calipari immediately called timeout. He had one message for his seventh-ranked Wildcats: throw Oscar Tshiebwe the ball.
They listened better than even Calipari could have imagined.
Tshiebwe finished with 27 points and 15 rebounds – his 13th consecutive double-double and 25th of the season – and Kentucky beat Florida 71-63 on Saturday to secure the No. 3 seed in next week's Southeastern Conference Tournament.
"You be the star the next game," Calipari told his guys.
This one belonged to Tshiebwe, who scored Kentucky's next 11 points after Calipari called that timeout and took over. He helped the Wildcats (25-6, 14-4 SEC) end a two-game road skid in league play and win their fourth straight in Gainesville.
They never trailed thanks mostly to Tshiebwe. The 6-foot-9, 255-pound forward and National Player of the Year candidate scored 17 of Kentucky's 19 points over a 7 1/2-minute stretch spanning halftime. He responded with a dunk in the first half after Florida cut a 16-point lead to six and was at his best after the break.
The junior scored the team's first 11 points of the second half – all in the paint while almost single-handily building a double-digit lead for the Wildcats.
And when the Gators (19-12, 9-9) made another run late, Tshiebwe answered with a layup to make it a 10-point game with about three minutes to play.
Long before then, he already had locked up another double-double, actually doing so in the first half. His 25th leaves him one shy of the school record set by Dan Issel in the 1969-70 season.
"The things that he's doing haven't been done in 50 years," Calipari said, repeating the line for effect.
Tshiebwe made 11 of 16 shots and was perfect in five trips to the free-throw line. He added two blocks and three steals, including one that led to a three-point play.
"Sometimes I can't believe what I'm doing," Tshiebwe said. "How? This is impossible. I'm in college and everybody can play. … The confidence right now is at a different level."
Sahvir Wheeler added 13 points for the visitors, and Kellan Grady chipped in 11.
Colin Castleton led the Gators with 23 points and 11 rebounds. Anthony Duriji added 10 points in his return from an ankle injury that sidelined him two games.
The Gators had hoped a sold-out home finale and Senior Day would provide extra motivation against one of the nation's top teams. But not even Keyontae Johnson's somewhat return to the court helped.
 
Johnson, who collapsed during a game in December 2020 and hasn't practiced or played since, got a ceremonial start. Johnson was on the floor for the first of two opening tips and left to a standing ovation after kissing the floor.
Calipari was among the thousands clapping and even hugged Johnson as he checked out of the game. Johnson changed back into street clothes and assumed his usual spot on the bench.
MORE GAME NOTES
• Kentucky held Florida to 63 points. UK is 202-9 (95.7%) under Calipari when limiting the opponent to 63 or less, including 14-0 this season.
• Kentucky won the rebounding 35-33. UK is 22-3 this season when leading the rebounding.
• Kentucky shot 50.9 percent from the field (28 of 55). UK is 14-1 this season when making at least 50 percent from the field.
• Kentucky led by as many as 16 points. UK is 310-13 (96.0%) under Coach Calipari when leading by 10 or more points during the contest.