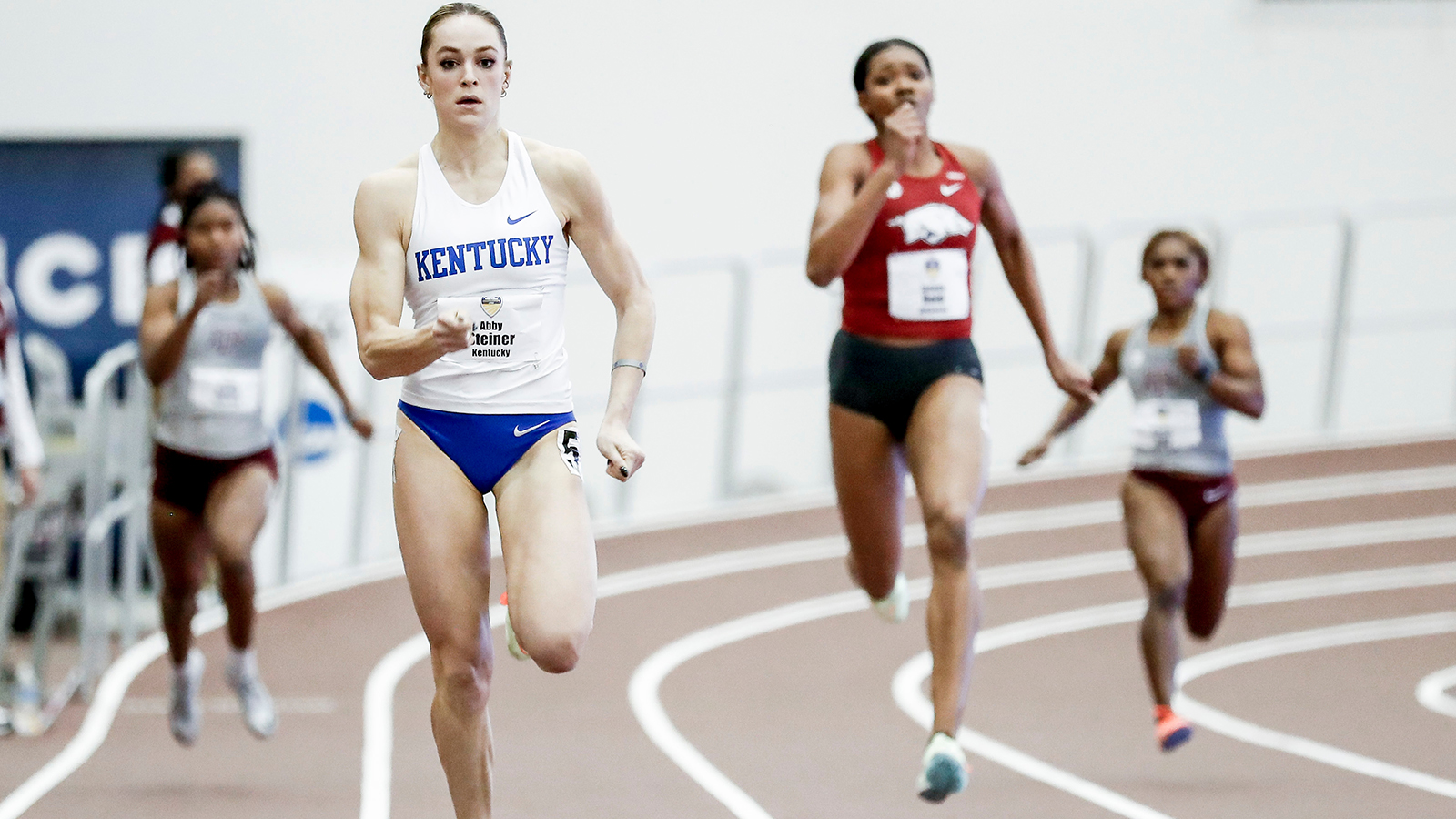 Goal-Oriented Steiner Continues Record-Breaking Career
Kentucky track and field standout Abby Steiner is making strides in the record books. While her main goal for her final season was to have fun and stay healthy, she has been blowing away the competition from the very first meet.
Her progression has led her to breaking collegiate, SEC, and Kentucky records all season long with her most recent record set at the SEC Championships two weekends ago in the women's 200-meter dash, with a time of 22.09.
While having great training from assistant track Coach Tim Hall has contributed to Steiner's success, it's not the full picture.
Steiner has written out her goals for the season since she ran track at Dublin Coffman High School in Dublin, Ohio. She would write her goals down on a piece of paper and keep them with her in her gym bag. Since coming to UK, she has continued the practice of writing down her goals.
"I have a whiteboard in my room directly across from my bed," Steiner said. "I write my goals, but they're kind of like affirmations. So, I wake up every morning and see them and kind of speak them. It's something that I still like to do, just so I can kind of see it every single day and I'm thinking about it."
Throughout the season, Steiner has already been able to accomplish some of those goals.
"I've gotten to erase some of them and then add some new ones," she says. "I have four main ones for indoor season and then kind of add some and take some away depending on the meet, but it's fun getting to cross some of those off for sure."
While Steiner has been focused on those goals, a different set of goals were on her mind when she committed to Kentucky. Steiner was originally recruited to play soccer for Kentucky. She played soccer for over half of her life and was on a scholarship her freshman year.
"I didn't start running track until eighth grade, so I was pretty fresh into the sport when I actually committed for soccer," Steiner said. "Then, things progressed through high school and I really kind of fell in love with track, but I always knew that I would regret it if I didn't do both at the collegiate level because that had always been a dream of mine all throughout high school."
Her soccer career at UK didn't last long and she knew track was where her passion lied.
"I just knew within the first few weeks of practicing with this team that this is what I was meant to be doing," she said. "I could just feel it on my heart that this is what I was supposed to be doing. So, after that, I went to Coach Hall and told him that I just want to do track and we took it from there. I love soccer and miss it sometimes, but I've never regretted my decision."
And it seems like she made the right decision. This year alone, she has had many accomplishments including:
Breaking her own collegiate record, SEC record, school record, meet record and facility record
In addition to her SEC 200-meter gold, Steiner also won bronze in the 60 meters with a time of 7.19 and was a member of the bronze medal-winning 4×400-meter relay (3:25.89) that ran under the previous collegiate record
Was SEC Female Runner of the Week twice this season and was recently named the SEC Indoor Track & Field Scholar-Athlete of the Year.
Was named National Women's Athlete of the Week by the United States Track & Field and Cross Country Coaches Association three times this season
Has been on The Bowerman Watch List for seven weeks
Steiner is now preparing to defend her 2021 national title in the 200 meters at the 2022 NCAA Indoor Track & Field Championships. The meet will begin on Friday, March 11 and run through Saturday, March 12 in Birmingham, Alabama.