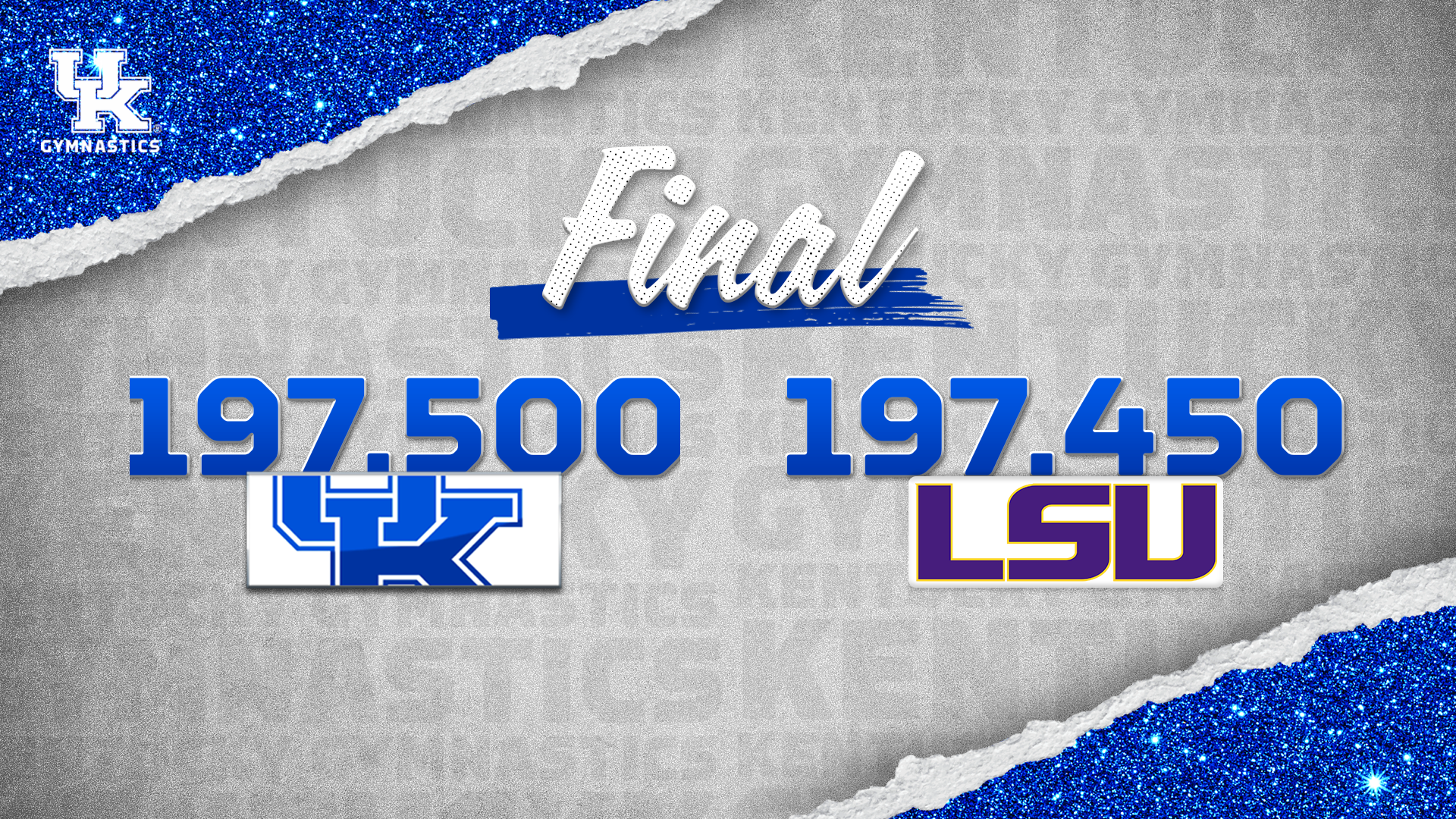 Kentucky Pulls Big Upset in Baton Rouge
BATON ROUGE, La. – The No.10 nationally-ranked Kentucky Gymnastics team defeated No. 5 LSU for an upset in Baton Rouge at the Pete Maravich Assembly Center on Friday.
 
The Wildcats defeated the Tigers 197.500- 197.450. Kentucky's 197.500 ties the program's fourth highest overall score.
 
However, the Cats set the bar high with the first event of the night – the uneven bars. Scoring a combined 49.500, Kentucky broke a program record surpassing the previous top score of 49.475. 
 
At the top of the bars' leaderboard were seniors Raena Worley with a 9.950 and Cally Nixon with a 9.925. Freshman Jillian Procasky's 9.900 on the event tied her all-time best both in her career and the 2022 season. 
 
Kentucky's impressive start continued through the following three rotations. On vault, the Cats were short of breaking into its top-10 records by tying its 11th highest score in program history with a 49.325. Both Worley and Procasky were on top of the event with matching 9.900 scores. Worley's 9.900 tied her high career and season record scores.
 
Repeating a similar theme of the previous event, Kentucky tied its 12th highest program score on the floor exercise. Once again coming within mere tenths of a point to break into the top-10 of the record book. Topping the leaderboard was Worley with a 9.925. Three Wildcats, Isabella Magnelli, who tied her personal career best, Anna Haigis and Haley Davis, hit 9.875 on the floor. With her score of 9.850, Procasky set a new career and season high.
 
To close out the evening and secure the win, Kentucky headed to the beam for its fourth and final rotation. Arianna Patterson performed a strong routine scoring a 9.925, setting a new career and season best. Josie Angeny, Shealyn Luksik and Worley scored 9.825 with Magnelli hitting a mark of 9.875. 
 
Kentucky will return home for a home meet next Friday at Memorial Coliseum in Lexington. The Wildcats will take on the Spartans of Michigan State for its final regular season scheduled meet while honoring the 2022 senior class. 
 
Follow along with the Wildcats on Twitter, Facebook and Instagram, and on the web at UKathletics.com.