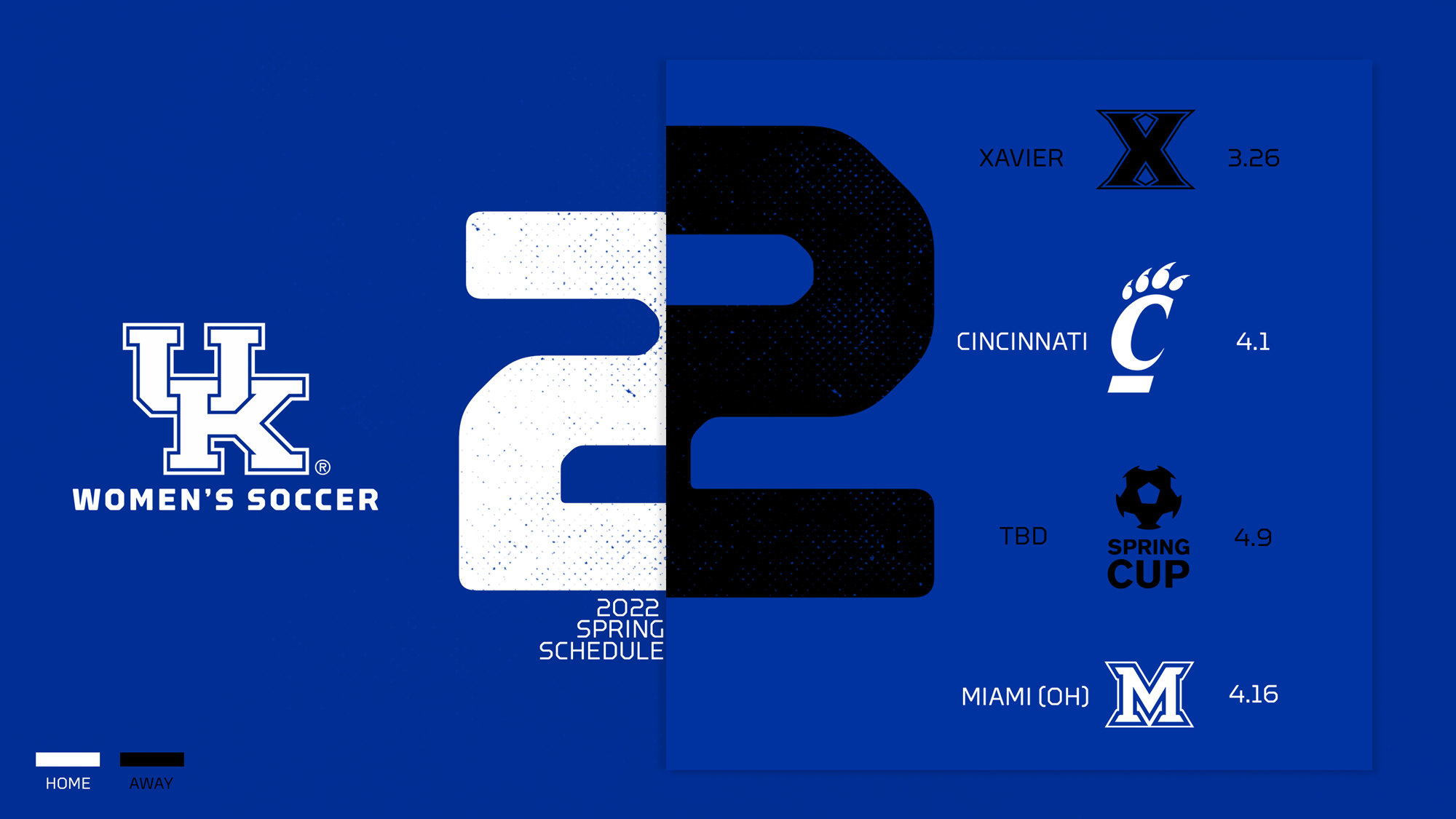 Kentucky Women's Soccer Releases 2022 Spring Schedule
LEXINGTON, Ky. – Head coach Troy Fabiano has announced that the Kentucky women's soccer team will play four matches during the spring season, including three games as part of the inaugural Spring Cup.
The first-ever Spring Cup is a unique opportunity featuring six of the top Division I programs in the Midwest region. Teams will play against one another in a pod format before advancing to the final round. Ball State, Dayton and Louisville compose pod one while Kentucky is joined by Cincinnati and Xavier in pod two.
The Wildcats kick off the spring season at Xavier on Saturday, March 26. The match, which is UK's first contest of the Spring Cup, is set for 1 p.m. ET at Corcoran Field in Cincinnati, Ohio. Kentucky then returns to Lexington on Friday, April 1 to host Cincinnati. The match with the Bearcats will not be open to the public.
Based on the results of Kentucky's first two matches in the Spring Cup, the Wildcats will face off against the corresponding seeded team from pod one in either Ball State, Dayton or Louisville. The Spring Cup finals will be held on Saturday, April 9 at Racing Louisville FC's training facility in Louisville, Kentucky. Kickoff time will be dependent on UK's seed.
Kentucky concludes its spring season on Saturday, April 16 when Miami Ohio pays a visit to the Wendell and Vickie Bell Soccer Complex for a 1 p.m. match. Spectators will be permitted to attend.
The spring season will mark Fabiano's first games at the helm of the program after being named head coach on Nov. 30, 2021. He previously spent seven years at Milwaukee where he compiled an impressive overall record of 101-16-13 (.827) with a 58-2-4 (.938) mark in Horizon League play. Milwaukee also punched its ticket to the NCAA Tournament for the fourth consecutive year in 2021 under Fabiano's direction.
Fabiano named Michele Dalton and Steve Golas assistant coaches back in January.
For the latest on the Kentucky women's soccer program, follow @UKWomensSoccer on Twitter and on Instagram, on Facebook and on the web at UKathletics.com.