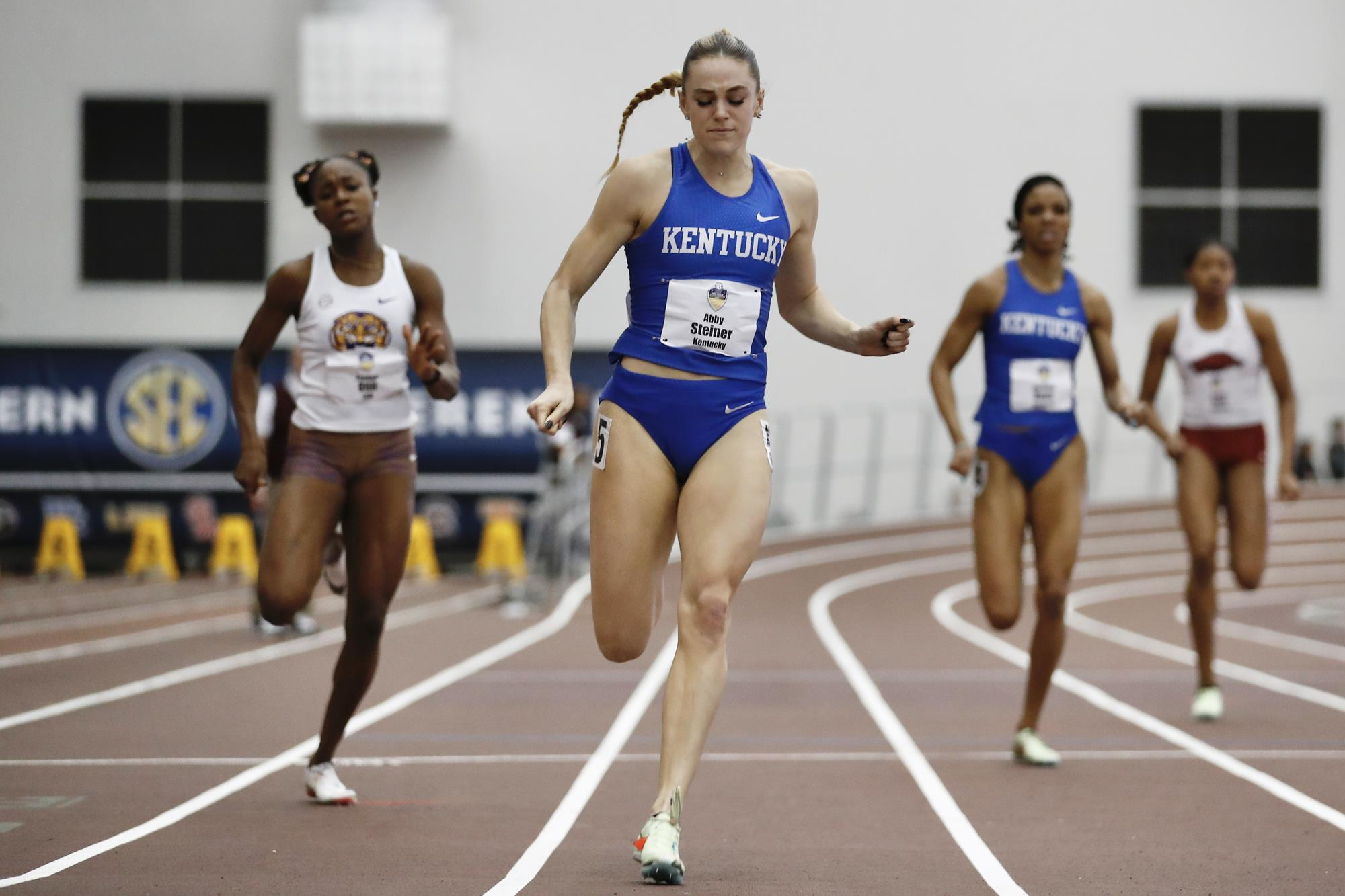 February 27, 2022 - 12:03 AM
Abby Steiner Breaks U.S. 200m Record, UKTF Women Third at SEC Indoors
BRYAN-COLLEGE STATION, Texas — Kentucky track and field senior Abby Steiner shattered the American indoor 200-meter record en route to her third Southeastern Conference gold in a row in the event. Alexis Holmes defended the 400m crown she won in 2020, and Lance Lang gave the Kentucky track and field program a men's and women's 200m sweep on Saturday at the SEC Championships inside Gilliam Indoor Stadium. 
The women's team finished third with 79 points, equaling the best finish in program history most recently accomplished by the 2017 and 2018 team, and scoring the program's most points at the SEC Indoor Championships since 1989 when the team finished third with 92 points. The women's team placed fifth with 57 points last season. 
The men's team finished fourth with 64 points, improving their place by three spots and 17 points from a year ago. The men's team earned its best SEC Indoor finish since placing third in 1995 and 1996. 
"I'm just happy with the way Kentucky is performing. We are setting this thing up to make a good push, a good run to represent Big Blue Nation in a huge way at the national championship," Head Coach Lonnie Greene said. 
The meet featured nine ranked teams on the women's side and nine on the men's side per the United States Track & Field and Cross Country Coaches Association top 25 rankings. Kentucky women's track & field is currently ranked No. 5 and fourth among SEC teams while the men's team is ranked No. 9 and fourth among SEC teams. The Kentucky women beat out higher ranked LSU for third place. 
"This meet is the national championships, pre the national championships," Greene said. 
Steiner scored 10 points for winning the 200m, to go along with six for her 60m bronze. She ran 7.19 in the dash final 65 minutes before nearly breaking 22 seconds in an indoor 200m. 
Steiner's time made her the second fastest in the indoor 200m ever, just behind Jamaican Merlene Ottey's 21.87 indoor world record.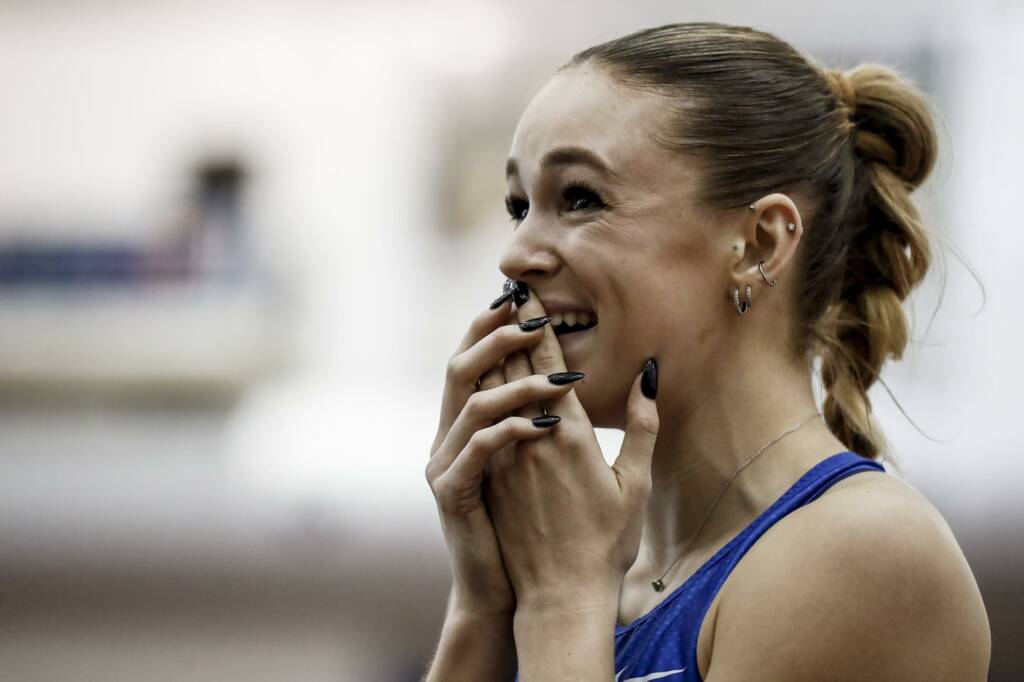 "She was the star. She was in the Cinderella story, she was Cinderella. She was the lady of the ball. Cinderella was the woman who took the ball by storm."
"When this all settles and people understand what Abby accomplished today, you have to understand that that American record stood, it was set before I was in college," Greene said. 
Holmes maintained her 100-percent SEC 400m record winning with a personal best 50.77, which leads the NCAA this year. Holmes won the SEC 400m in 2020, the only other time she competed at the nation's best conference track and field championship, and missed the competition in 2021. 
The star quarter-miler lowered her No. 2 mark on the UK all-time performers' list. 
Lang ran 20.32 to win his first individual SEC gold in the men's 200m, confirming Kentucky's dominance in the indoor single-lap sprint as Steiner had just claimed the women's 200m crown. Kennedy Lightner earned bronze with a time of 20.60.  
Lang broke Lightner's school record, which was recorded at Clemson earlier this season. 
Karimah Davis ran 22.79 to join Abby Steiner with a bronze medal on the women's 200m podium. Her time moved her to No. 4 on the UK all-time list. 
More Day-Two Medal Winners 
Sophomore Tori Herman continued her meteoric rise with a silver medal in the 3k, running a PB 9:00.60 to score eight points and move to No. 2 on the UK all-time list, within a second of Cally Macumber's 2013 school record. 
UK's men's and women's 4x400m relays each claimed bronze medals.  
The women's team of Megan Moss, Steiner, Davis and Holmes ran 3:25.89, a new school record by nearly two seconds, to claim bronze in a race where each of the top three (Arkansas, first and Texas A&M, second) ran faster than the previous collegiate record.  
The UK men's 4×4 of Brian Faust, Lang, Dwight St. Hillaire and Kennedy Lightner ran 3:04.04 to place third and score six points. Their time was a season-best and ranks No. 2 on the UK all-time list. 
Masai Russell ran 7.95 to earn bronze and score six points in the women's 60m hurdles. 
 
Day One Medal Winners 
Matt Peare took silver in the men's pole vault with a height of 17'3″/5.26m, earning his third SEC medal in three years. 
Peare won gold in back-to-back SEC Indoor Championships in 2020 and 2021. 
The women's DMR of Jenna Gearing, Megan Moss, Bryanna Lucas and Tori Herman ran the second fastest time in UKTF history with their bronze medal-winning time of 11:00.18. 
Fourth Place Finishers 
Myles Anders narrowly missed out on a medal with a 6.68 run in the 60m final with only .001 between him and teammate Lance Lang who won bronze.
Luke Brown scored five points with a fourth-place triple jump: 53'1.5″/16.19m.  
Fifth Place Finishers 
Rahman Minor, the 2020 SEC high jump bronze medalist, placed fifth in the same event with a height of 6'11″/2.11m for his final SEC Indoor competition. 
Siobhan Szerencsits scored four points with a 13'10″/4.22m pole vault. 
On day one, Joseph Jardine's earned fifth in the pole vault with a personal best height of 16'10.75″/5.15m. 
Sixth Place Finishers 
Molly Leppelmeier was sixth with a PB shot put of 52'10.25″/16.11m to score three points and move to No. 6 on the UK all-time list. 
Jenna Schwinghamer scored three points with a 2:06.01 half-mile. 
Seventh Place Finishers 
Josh Sobota's shot put of 62'1″/18.92m earned two points. 
The 5000m duo of Perri Bockrath and Ethan Kern both placed seventh in their respective races and both earned PRs. Bockrath's time was 16:13.94, the third fastest for UK all-time and Kern's was 14:10.02, the seventh fastest for UK all-time. 
The men's DMR of Jacob Brizendine, Jacob Smith, Alex Justus and Dylan Allen earned two points for Kentucky by finishing seventh (9:49.04). 
Heptathlon 
Graduate student Jacob Sobota earned seventh in the heptathlon with _ total points. 
His top finishes came in the long jump and shot put. 
Sobota started the day off with a seventh-place finish in the 60m (7.08), followed by sixth in the long jump (22'5.25″/6.84m). 
He also earned sixth in the shot put with a personal best throw of 42'11″/13.08m to collect 672 points. 
Pentathlon 
Annika Williams finished sixth in the pentathlon with 4,072 total points.  
She started near the bottom with her 60m hurdles performance but her third place in the high jump and win in the shot put put her back in the game but concluded with a ninth-place finish in the 800m to place sixth. 
Her top finish came in the shot put, where she won the event with a personal best put of 43'1″/13.13m, which brought her up to third place. 
Her next best mark was her third-place finish in the high jump with mark of 5'9.25″/1.76m, which is only two inches off her personal best from 2021 NCAA Indoor Championships. 
She began the pentathlon with a 13th place finish in the 60m hurdles (8.91) alongside an eighth-place finish in the long jump (18'8.5″/5.70m). 
Follow Kentucky Track and Field and Cross Country on Facebook, Instagram, Twitter and at UKathletics.com. 
SEC Championships: Saturday, February 26  

Men's High Jump  

Final  

5. Rahman Minor: 6'11″/2.11m – four points  

  

Men's Shot Put  

Prelim/Final  

7. Josh Sobota: 62'1″/18.92m – two points  

  

Women's Pole Vault  

Final  

5. Siobhan Szerencsits: 13'10″/4.22m – four points  

15. Payton Phillips: 12'10.25″/3.92m  

  

Women's Mile  

Final  

10. Jenna Gearing: 4:50.32  

  

Men's Mile  

Final  

10. Dylan Allen: 4:00.24  

  

Women's Shot Put  

Prelim/Final  

6. Molly Leppelmeier: 52'10.25″/16.11m – three points | PB, 6th for UK all-time  

  

Men's Triple Jump  

Final  

4. Luke Brown: 53'1.5″/16.19m – five points  

  

Women's 60m  

Final    

3. Abby Steiner: 7.19 – six points  

  

Men's 60m  

Final  

3. Lance Lang: 6.69 (6.681)  

4. Myles Anders: 6.69 (6.682)  

  

Women's 400m  

Final  

1. Alexis Holmes: 50.77 – 10 points | Improves No. 2 mark on UK all-time list  

  

Men's 400m  

Final  

4.Dwight St. Hillaire: 46.10 – three points  

  

Women's 800m  

Final  

6. Jenna Schwinghamer: 2:06.01 – three points  

  

Women's 60m Hurdles  

Final  

3. Masai Russell: 7.95 – six points  

  

Women's 200m  

Final  

1.Abby Steiner: 22.09 – 10 points| U.S., collegiate and school record, No. 2 on world indoor all-time list  

3. Karimah Davis: 22.79 – 6 points | No. 4 on UK all-time list  

  

Men's 200m  

Final  

1. Lance Lang: 20.32 – 10 points | School record  

3. Kennedy Lightner: 20.60 – six points  

  

Women's 3000m  

Final  

2. Tori Herman: 9:00.60 – eight points | No. 2 on UK all-time list  

10. Perri Bockrath: 9:20.35  

  

Men's 3000m  

Final  

16. Ethan Kern: 8:12.21  

36. Dylan Allen: 8:32.01  

  

Women's 4x400m Relay  

Final  

3. UK (Moss, Steiner, Davis, Holmes): 3:25.89 – six points | School record, No. 3 on NCAA all-time list  

  

Men's 4x400m Relay  

Final  

3. UK (Faust, Lang, St. Hillaire, Lightner): 3:04.04 – six points | No. 2 UK all-time list  

  
SEC Championships Heptathlon  

60m  

Final  

7. Jacob Sobota: 7.08, 854 points  

Long Jump  

Final  

6. Sobota: 22'5.25″/6.84m, 776 points, 1630 total points, sixth overall  

Shot Put  

Final  

6. Sobota: 42'11″/13.08m, PB, 672 points, 2,302 total points, eighth place overall  

High Jump  

Final  

11. Sobota: 6'0.5″/1.84m, 661 points, 2,963 total points, eighth overall  

60m Hurdles  

Final  

7. Sobota: 8.45, SB, 872 points, 3,835 total points, eighth overall  

Pole Vault  

Final  

5. Sobota: 15'3″/4.65m, 804 points, 4,639 total points, seventh overall  

1000m  

Final  

10. Sobota: 2:49.43, 772 points  

Men's Heptathlon  

Final Score  

7. Jacob Sobota: 5,411 points – two points 

SEC Championships Pentathlon  

60m Hurdles  

Final  

13. Annika Williams: 8.81, 929 points  

High Jump  

Final  

3. Williams: 5'9.25″/1.76m, 928 points, 1,857 total points, sixth place  overall  

Shot Put  

Final  

1. Williams: 43'1″/13.13m, PB, 736 points, 2,593 total points, third overall  

Long Jump  

Final  

8. Williams: 18'8.5″/5.70m, 759 points, 3,352 total points, fourth overall  

800m  

Final  

9. Williams: 2:27.88, 720 points  

Women's Pentathlon  

Final Score  

6. Annika Williams: 4072 – three points 
SEC Championships: Friday, February 25   

  

Women's Weight Throw  

Final  

6. Jade Gates: 67'1.24″/20.45m – three points 

7. Molly Leppelmeier: 66'10.75″/20.39m – two points 

13. Simisola Akinrinsola: 60'8″/18.49m  

20. Leah Moore: 51'4.25″/15.65m  

  

Men's Long Jump  

Prelim/Final  

11. Luke Brown: 24'2.25″/7.37m  

12. Robbie Springfield III: 24'0.25″/7.32m  

  

Men's Pole Vault  

Final  

2. Matt Peare: 17'3″/5.26m – eight points 

5. Joseph Jardine: 16'10.75″/5.15m, PB, 5th in UKTF history – four points 

11. Dalton Shepler: 16'4.75″/5.00m  

13. Jacob Sobota: 15'11″/4.85m  

  

Women's Mile  

Prelim  

9. Jenna Gearing: 4:43.10 q  

14. Rachel Boice: 4:50.10  

Men's Mile  

Prelim/Final  

9. Dylan Allen: 4:03.84 q  

17. Jake Allen: 4:07.15, PB  

Women's 60m  

Prelim   

1. Abby Steiner: 7.17 Q  

14. Kaylyn Heath: 7.45  

15. Shadajah Ballard: 7.45  

Men's 60m  

Prelim  

4. Lance Lang: 6.65 Q  

5. Myles Anders: 6.68 q, tied PB,  

17. Langston Jackson: 6.81  

Women's 400m  

Prelim  

3. Alexis Holmes: 51.89Q  

12. Megan Moss: 53.19  

Men's 400m  

Prelim  

7. Dwight St. Hillaire: 46.50q  

9. Brian Faust: 46.61, SB, 4th for UK all-time  

12. Jacob Smith: 46.75, SB  

Women's 800m  

Prelim  

7. Jenna Schwinghamer: 2:05.51Q, PB  

10. DeAnna Martin: 2:06.50  

14. Phoebe McCowan: 2:09.57  

Men's Weight Throw  

Prelim/Final  

11. Michael Browning: 62'10.5″/19.16m  

Logan Coles – foul  

Women's 60m Hurdles  

Prelim  

4. Masai Russell: 8.03q  

14. Darci Khan: 8.35, SB  

15. Amaya Chadwick: 8.41  

16. Shadajah Ballard: 8.43  

Men's 60m Hurdles  

Prelim  

10.Tai Brown: 7.91  

Women's 5000m  

Final  

7. Perri Bockrath: 16:13.94, PB, 3rd fastest for UK all-time – two points 

11. Kaitlyn Lacy: 16:37.07, PB, 10th for UK all-time  

Women's 200m  

Prelim  

1. Abby Steiner: 22.44q  

5. Karimah Davis:  23.11q, PB, 6th fastest for UK all-time  

23. Dajour Miles: 24.14  

Kaylyn Heath – DQ  

Men's 5000m  

Final  

7. Ethan Kern: 14:10.02, PB, 7th fastest in UKTF history  

Men's 200m  

Prelim  

2. Lance Lang: 20.65q  

6. Kennedy Lightner: 20.92q  

11. Myles Anders: 21.01, PB  

19. Tai Brown: 21.31  

28. Langston Jackson: 21.63  

Women's DMR  

Final  

3. Jenna Gearing, Megan Moss, Bryanna Lucas, Tori Herman: 11:00.18, 2nd fastest for UK all-time – six points 

Men's DMR  

Final  

7. Jacob Brizendine, Jacob Smith, Alex Justus, Dylan Allen:  9:49.04