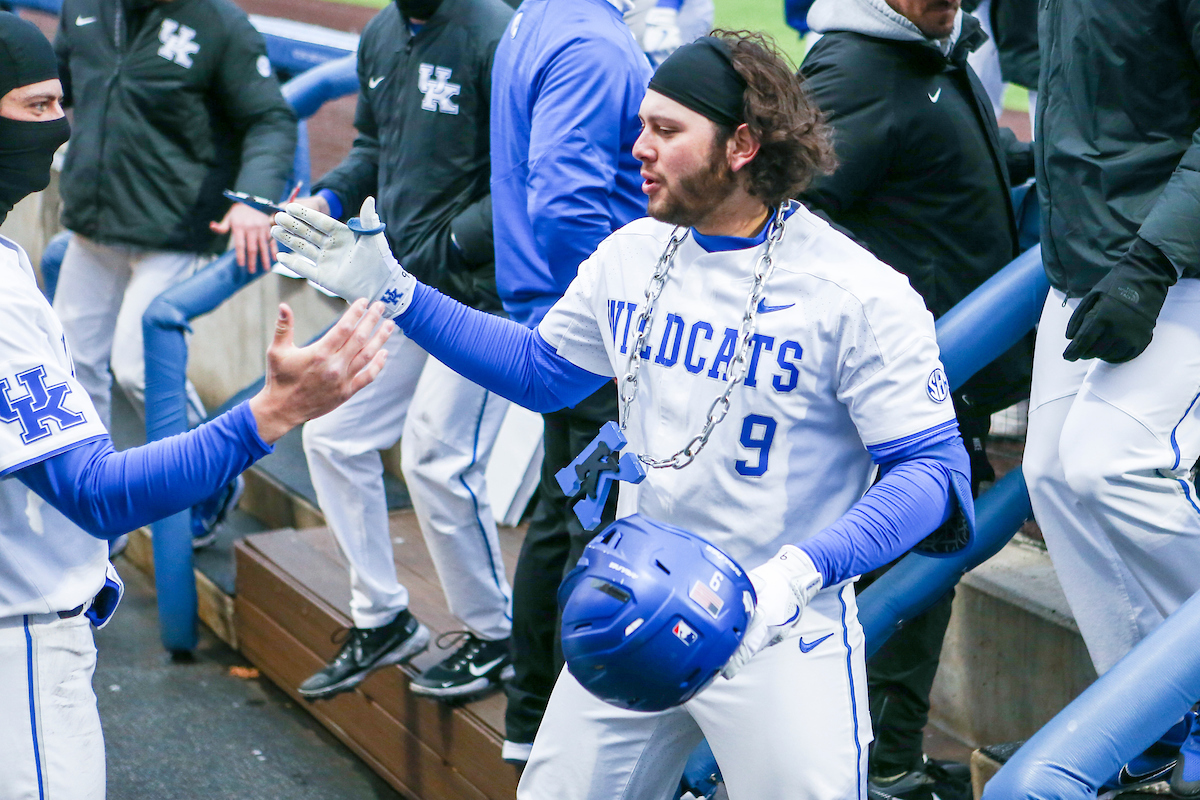 Kentucky's series-opening 14-3 victory over Western Michigan on Friday at Kentucky Proud Park was Zo good.
 
Alonzo Rubalcaba smashed his first home run as a Wildcat and Ryan Ritter and Chase Estep each had multiple RBI in the blowout victory. Rubalcaba deposited his first UK home run then pointed toward the UK dugout as his teammates went wild.
 
Ritter, a preseason Third-Team All-American, stole three bases, laced an RBI double, drew a pair of walks and scored twice, while the Cats (5-0) rapped out nine extra-base hits and scored all 14 runs in the first five innings before substituting liberally.
 
NOTES
Kentucky now is 84-11 vs. non-conference Power Five opponents during coach Nick Mingione's tenure.
The UK pitchers struck out 66 in five games.
Freshman pitchers struck out seven batters amongst nine outs.
The UK bullpen posted 18.1 consecutive scoreless innings before yielding a solo home run.
Oraj Anu, Daniel Harris IV, Jacob Plastiak and Ryan Ritter each have a hit in every game this season.
Freshmen IF Michael Dallas, RHP Colby Frieda, RHP Mason Moore and LHP Jackson Nove made their collegiate debuts.
Senior IF Jacob Plastiak went 1-for-3 with two runs, a RBI, a double, a walk and a hit by pitch.
Junior IF Ryan Ritter went 1-1 with two runs, three RBI, three steals, two walks, a double and a sacrifice fly.
Junior IF Chase Estep went 2-for-3 with two runs, two RBI, a triple and a hit by pitch.
Senior OF John Thrasher went 1-for-1 with two runs, an RBI, a double, two walks, a HBP and a steal.
Senior IF Daniel Harris IV went three-for-three with two runs, a double, a walk and a steal.
Junior RHP Cole Stupp pitched 5.0 innings and struck out nine.
  
ON DECK
Kentucky hosts Western Michigan on Saturday. First pitch is scheduled for 1 p.m. ET. The game will be aired on SECN+. The radio call will be on the UK Sports Network (98.5 FM).