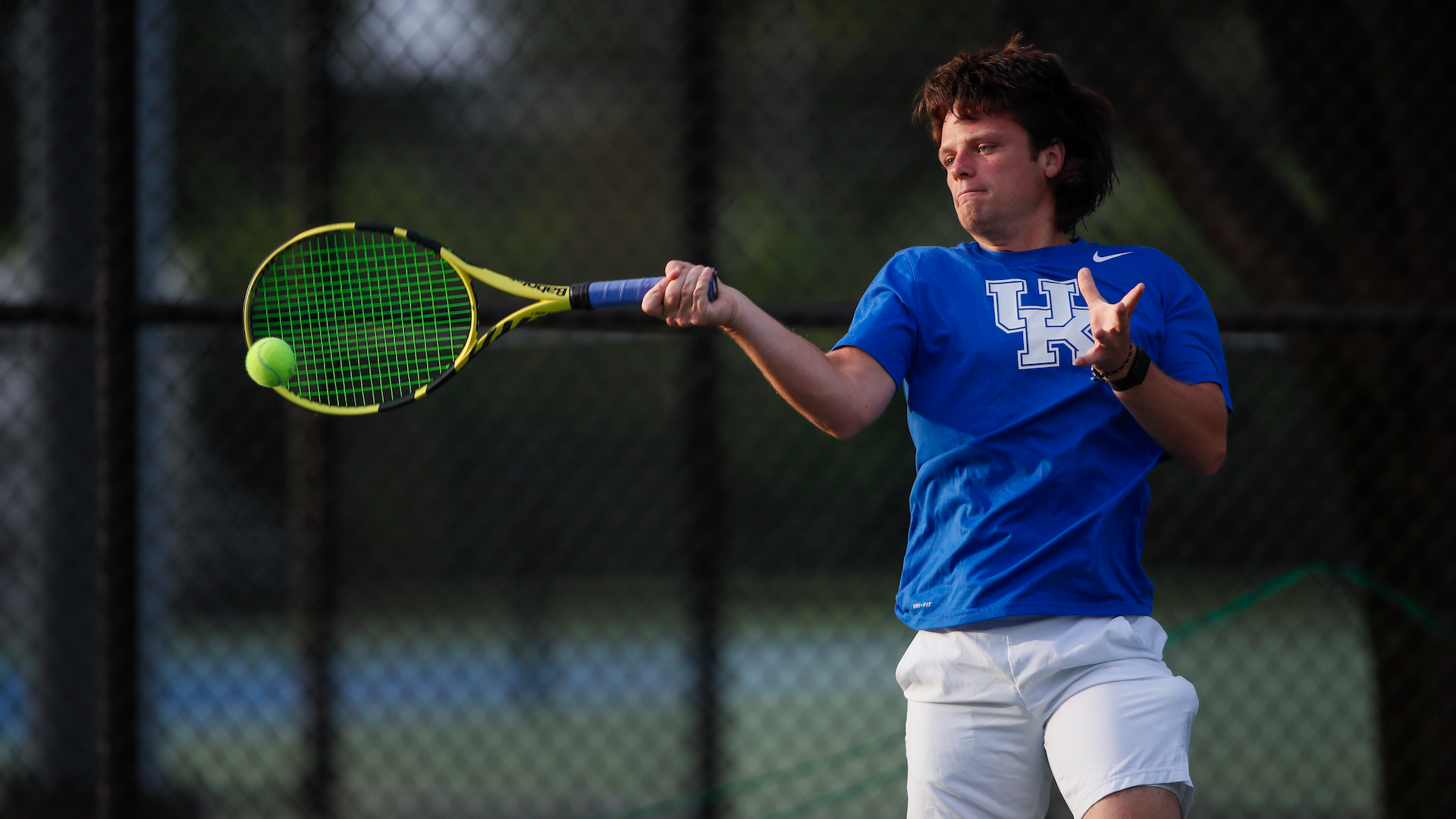 February 21, 2022 - 01:45 AM
Mercer Impresses as Wildcats Finish ITA Indoor Championship Weekend
SEATTLE – JJ Mercer picked up a big win on Saturday night, but No. 10 Kentucky (9-3) fell to No. 13 South Carolina (11-2) 4-1, closing out their weekend at the Seattle Tennis Club.
 
Redshirt sophomore Mercer was the lone Wildcat to pick up a win in its consolation draw match, taking down James Story in straight sets by a 6-4, 6-4 score. The Huntington, West Virginia native improves to 4-2 on the season in singles. 
 
The Gamecocks started the match strong and picked up the doubles point to take an early lead. Gabriel Diallo and Millen Hurrion put up a fight against the No. 7 doubles tandem in the nation in South Carolina's Daniel Rodrigues and Connor Thomson, falling 6-1. 
 
In their debut together, Francois Musitelli and Alex Leblanc played solid but were unable to pick up a win, losing 6-3 as South Carolina clinched the point. 
 
14th-ranked Rodrigues went on to earn the first point in singles competition, as Hurrion dropped his last match of the weekend 6-2, 6-1. However, Mercer followed behind and put the lone UK point on the board for the evening. 
 
After Musitelli battled but lost against No. 97 Connor Thompson, the Gamecocks took a 3-1 lead with the clinch in sight. 
 
Kentucky kept battling, though, with their remaining three matches going into a third set, giving the Wildcats a chance. Although Alex Leblanc won his first set in his season debut, he was unable to hold on as Jake Beasley clinched his first career match, winning 5-7, 6-3, 6-1.
 
In its first ITA Indoor Championship since 2013, UK took down No. 11 Southern California and just barely fell to No. 3 Baylor. 
 
South Carolina 4, UK 1
 
Singles 
1. No. 14 Daniel Rodrigues (SC) def. Millen Hurrion (UK) 6-2, 6-1
2. No. 5 Gabriel Diallo (UK) vs. Toby Samuel (SC) 3-6. 7-5, 4-3, unfinished
3. No. 99 Connor Thompson (SC) def. Francois Musitelli (UK) 6-4, 6-3
4. No. 37 Joshua Lapadat (UK) vs. Raphael Lambling (SC) 6-4, 1-6, 3-3, unfinished
5. JJ Mercer (UK) def. James Story (SC) 6-4, 6-4
6. Jake Beasley (SC) def. Alexandre Leblanc (UK) 5-7, 6-3, 6-1
Order of finish: 1, 5, 3, 6*
 
Doubles
1. No. 7 Daniel Rodrigues/Connor Thompson (SC) def. Gabriel Diallo/Millen Hurrion (UK) 6-1
2. No. 55 Jake Beasley/Toby Samuel (SC) vs. No. 22 Joshua Lapadat/JJ Mercer 5-3 (UK), unfinished
3. James Story/Raphael Lambling (SC) def. Alex Leblanc/Francois Musitelli (UK) 6-3
 
For the latest on the Kentucky men's tennis team, follow @UKMensTennis on Twitter and Facebook, @kentuckymenstennis on Instagram, and on the web at UKAthletics.com.
 
– GO CATS –
For more information contact:
Ryan Cullinane (rrcu222@uky.edu) – (859) 257-8309