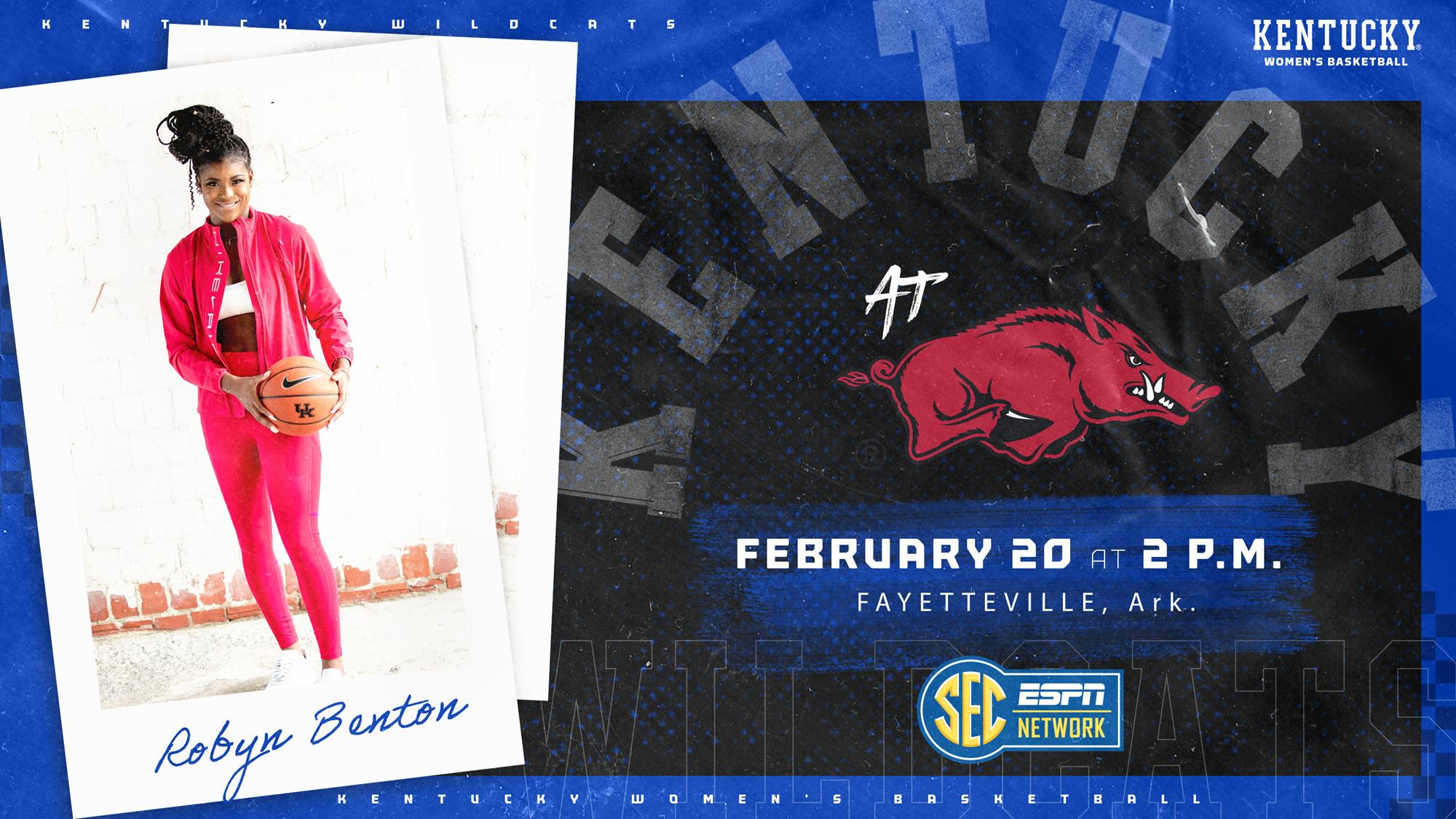 February 19, 2022 - 09:05 AM
Kentucky Puts Winning Streak on the Line Sunday in Fayetteville
LEXINGTON, Ky. – The University of Kentucky women's basketball team will put its three-game winning streak on the line Sunday at 2 p.m. ET as it travels for a tough Southeastern Conference road test at Arkansas inside Bud Walton Arena.
 
Sunday's game will be broadcast live on SEC Network with Alex Loeb and Aja Ellison on the call. Darren Headrick will have the call on the UK Sports Network (630AM in Lexington). Live stats and free live audio will be available online at UKathletics.com.
 
Kentucky (12-11, 5-8 SEC) has been led this season by senior guard Rhyne Howard, who is averaging 19.6 points per game with 7.7 rebounds per game. Howard has hit a team-best 44 3-pointers and has 77 assists with 61 steals and 30 blocks. Redshirt junior forward Dre'una Edwards has scored 15.8 points per game with 7.6 rebounds per game. Edwards has scored 20+ for Kentucky in each of UK's last three games and the Wildcats are 7-0 this season when she scores 20 or more points. Freshman guard Jada Walker is the lone other Wildcat scoring in double figures, averaging 10.4 points per game. Walker has hit three or more 3s in each of her last two games.
 
Kentucky defeated Vanderbilt 69-65 on Thursday to go on a three-game winning streak for the first time in league action. It is also the first three-game winning streak in league play for Kentucky in the two-year tenure of Kyra Elzy. A few things stand out from the winning streak, including that Kentucky has trailed in each win. UK was down seven to Vanderbilt in the first half, including six in the second half before rallying for a win. Against Mississippi State, Kentucky trailed by 15 with just over 7 minutes to go before its win. Then at Alabama, Kentucky trailed by nine in the first quarter before rallying back to earn the win.
 
Kentucky has recorded 20 or more assists in each of the last two games for the first time in conference play, while it has also hit seven or more 3-pointers in back-to-back games for the first time in league play. In Kentucky's first 10 league games, the Wildcats were averaging 60.9 points per game, 10.5 assists per game and 35.3 rebounds per game. But during the current winning streak, UK is nearly 12 more points per game, 10 more assists per game and five more rebounds per game.
 
Sunday will be the 40th all-time meeting between Kentucky and Arkansas in women's basketball with the Wildcats leading the series 25-14. Arkansas leads the series in games played in Fayetteville, 10-7. Kentucky has won 19 of the last 21 meetings with both losses during that stretch coming in Fayetteville. UK lost the last meeting in Bud Walton Arena on Feb, 9, 2020, 103-85. Last season, UK earned a 75-64 victory over the Hogs inside Memorial Coliseum.
 
For more information on the Kentucky women's basketball team, visit UKathletics.com or follow @KentuckyWBB on Twitter, Instagram, Facebook and TikTok.