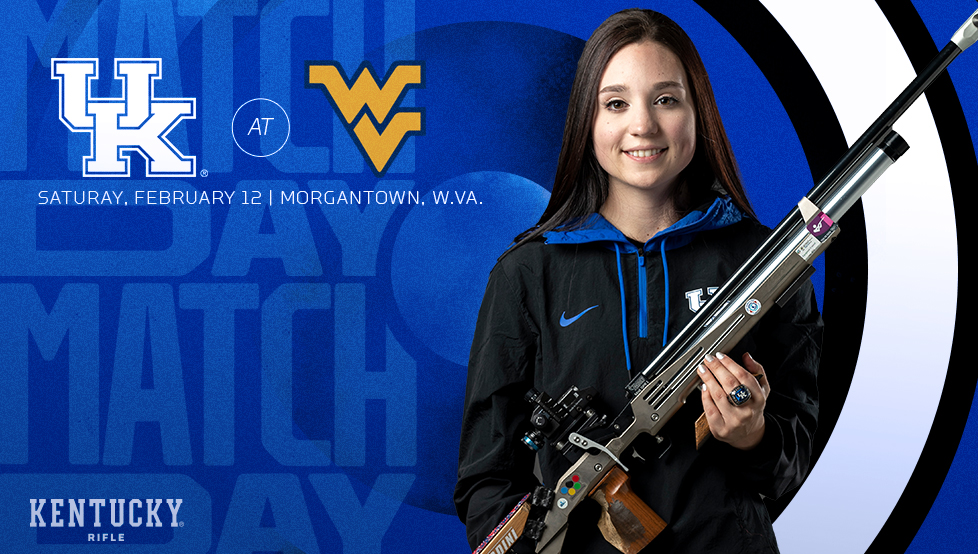 LEXINGTON, Ky. – After several weeks off from competition to focus in on training and improving for the final stretch of the season, the No. 2 University of Kentucky rifle team is back in action this weekend for a dual match Saturday at No. 4 West Virginia.  
 
The match Saturday will get underway at 9 a.m. ET inside the WVU Rifle Range. Live results and live targets will be available online at UKathletics.com.
 
"The last few weeks have been good for us to roll up our sleeves in training and work on things we need to get better at in the range," UK head coach Harry Mullins said. "I have been pleased with how the team has performed so far since the winter break. We have had strong performances from top to bottom and I look forward to seeing how we perform on the road this weekend. WVU always has a great team and this will be a great test for us before next weekend's NCAA Qualifier."  
 
Saturday's match will be the last Great America Rifle Conference match of the season for Kentucky. With a win Saturday, the Wildcats would claim a share of the GARC Regular-Season Championship for the third straight season. Ole Miss and WVU are also eying the regular-season title. Ole Miss has one loss in league action, while the Mountaineers are undefeated in GARC competition this season.
 
Kentucky is ranked No. 2 in the latest Collegiate Rifle Coaches Association Top 20. The Wildcats are averaging a 2344.33 team smallbore score, 2376.89 team air rifle score and 4721.22 team aggregate score this season. Earlier this season, Kentucky scored a NCAA record 4752 team aggregate score, which has since been matched by two teams in the nation – Alaska-Fairbanks and TCU. The Wildcats are the only team in the nation to score a 2390 or higher in air rifle this season.
 
Junior Mary Tucker is leading the Wildcats this season with a 1188.286 aggregate average with a 590.143 in smallbore and 598.143 in air rifle. Senior Will Shaner is leading the team in smallbore average at 590.429 with a 596.714 in air rifle and 1187.143 aggregate average. Seniors Richard Clark and Mitchell Nelson are having great seasons with Clark averaging a 1179.000 aggregate, while Nelson is averaging a 1173.777. Sophomore Jaden Thompson, Emmie Sellers and Mason Hamilton are also having good seasons. Thompson is averaging 1169.715 with Sellers at 1166.042 and Hamilton at 1164.069. UK's three newcomers have had strong rookie campaigns. Allison Buesseler is averaging a 1161.625, while Tori Kopelen is earning a 1160.357 and Kayla Kalenza a 1152.5.
 
WVU is averaging a 2347.33 in smallbore and 2378.22 in air rifle for an aggregate average of 4725.56. Molly McGhin leads the way with a 586 smallbore average and 595.143 air rifle average for an aggregate average of 1181.143. Akihito Shimizu is earning 586.111 in smallbore, 594.556 in air rifle and 1180.667 overall.
 
For more information on the Kentucky rifle team, visit UKathletics.com or follow UKRifle on Twitter, Instagram and Facebook.