February 7, 2022 - 07:50 PM
Rikke Svejgård Nielsen Cards Career Low on Day Two of UCF Challenge
ORLANDO, Fla. – After carding the best round in school history on the opening day of the UCF Challenge in Orlando, Florida, the Kentucky women's golf team posted yet another solid performance on the second day behind a career best from Rikke Svejgård Nielsen.
Svejgård Nielsen, who recorded her second-best score as a Wildcat in the first round at the Eagle Creek Golf Club (par 72, 6,349 yards) on Sunday, continued to impress on day two. She fired a 6-under-par 66 for not only a new career best but one of the best rounds in school history.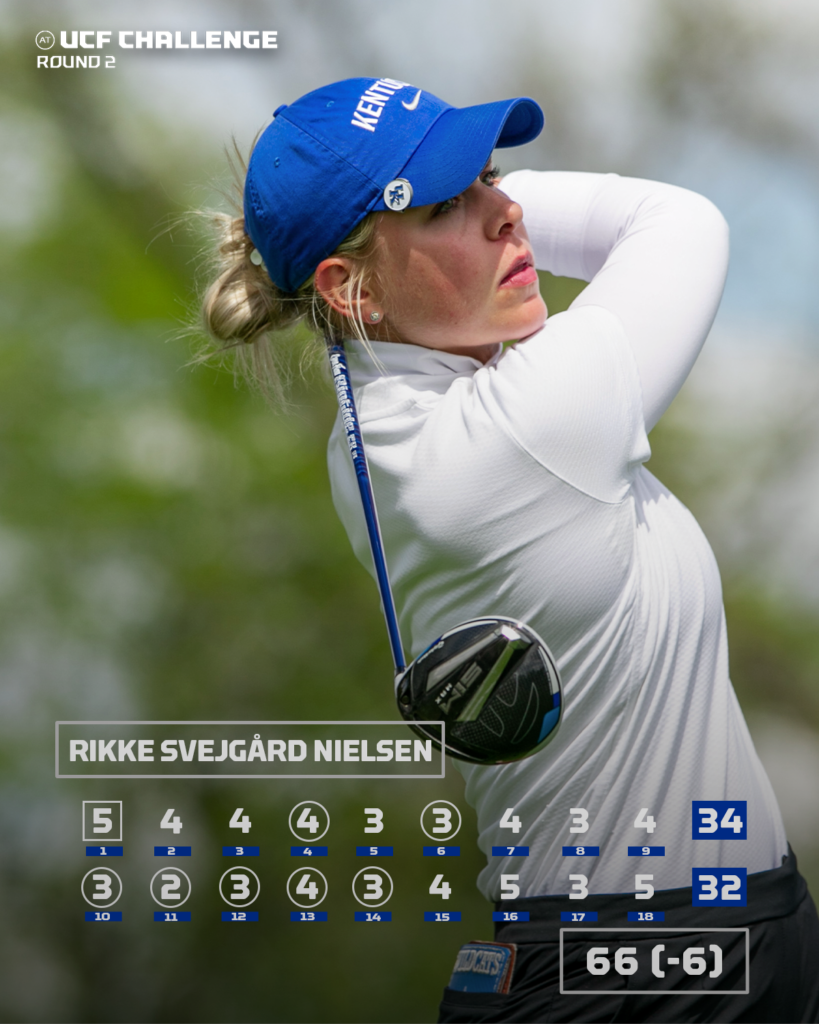 The fifth-year also rolled in an impressive five straight birdies at the beginning of the back nine en route to carding her best-ever round. Prior to today, her lowest score was 68 set back in 2018 at the Bettie Lou Evans Invitational. 
Collectively, Kentucky only took three more strokes than their tournament-opening and record-setting score of 276, but a strong second round from No. 6 Wake Forest pushed them into first place with 18 holes remaining. The Wildcats now trail the Demon Deacons by nine shots but remain ahead of No. 12 Auburn by two and No. 7 Virginia by eight.
"Another solid round by our team today. We held our own and competed hard! They're playing aggressively and doing a great job of creating opportunities and taking advantage of them," said head coach Golda Borst. "This is a total group effort and it's great to see different players go low. We have such a strong team and they are all capable of going low, and it's just a matter of time before everyone does it on the same day."
Fueled by her career performance, Svejgård Nielsen jumped from sitting in ninth place to now being tied for second in the individual standings. Joining Nielsen in the No. 2 position is junior Jensen Castle, who carded a 3-under-par 69 on Monday.   
Castle, the 2021 U.S. Women's Amateur champion, was slightly off her career-matching 66 from the first day of the UCF Challenge. She recorded six birdies for the second day in the row, but three bogeys prevented her from besting her 18-hole low once again. 
Three consecutive birdies in the back nine led Laney Frye to a score of 70 (2-under par). The sophomore, who is currently tied for eighth, matched her career best 4-under-par 68 yesterday.
María Villanueva Aperribay had the same score as yesterday at 2-over-par 74, while Marissa Wenzler carded a 3-over-par 75. Both players head into the third and final day tied for 69th. 
After posting one of the best rounds of her Wildcat career yesterday at 1-under-par 71, Ryan Bender was unable to find that same rhythm on day two. Playing as an individual, the redshirt junior carded a 6-over-par 78 to enter the tournament finale tied for 76th.
Kentucky is on pace to have one of its best finishes at the UCF Challenge in program history. The Wildcats' 2022 showing marks their eighth appearance in the tournament since 2011. Kentucky has finished in the top 10 on five occasions during that span, including three times placing in the top five.
Due to inclement weather expected in Orlando tomorrow, tournament officials extended play Monday for players to begin the third round. The Wildcats will return to Eagle Creek at 8:45 a.m. ET to finish the remaining holes on Tuesday.
Live scoring will continue to be available at Golfstat.com.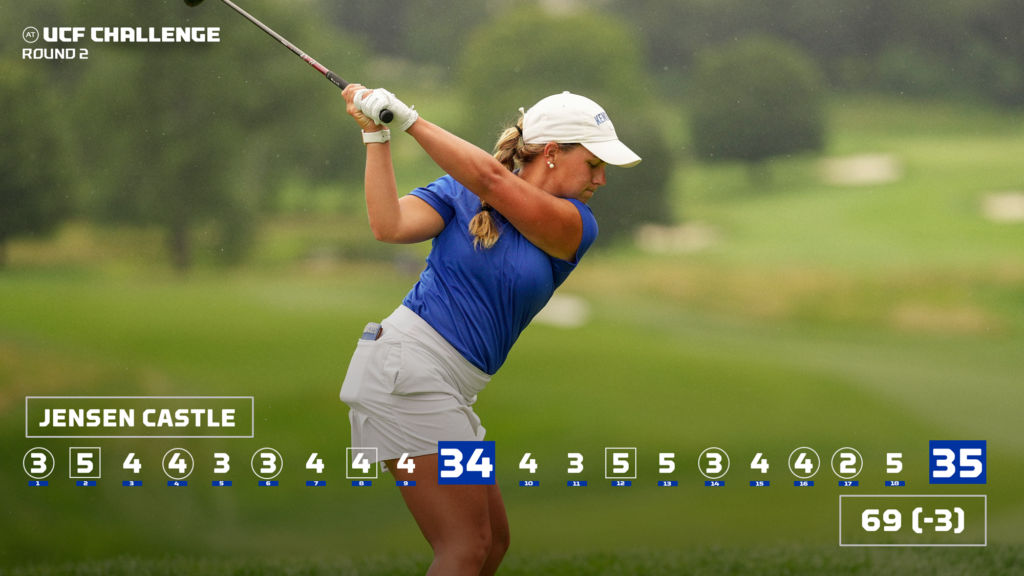 For the latest on the Kentucky women's golf team, follow the team on Twitter, Facebook and Instagram, as well as on the web at UKathletics.com.