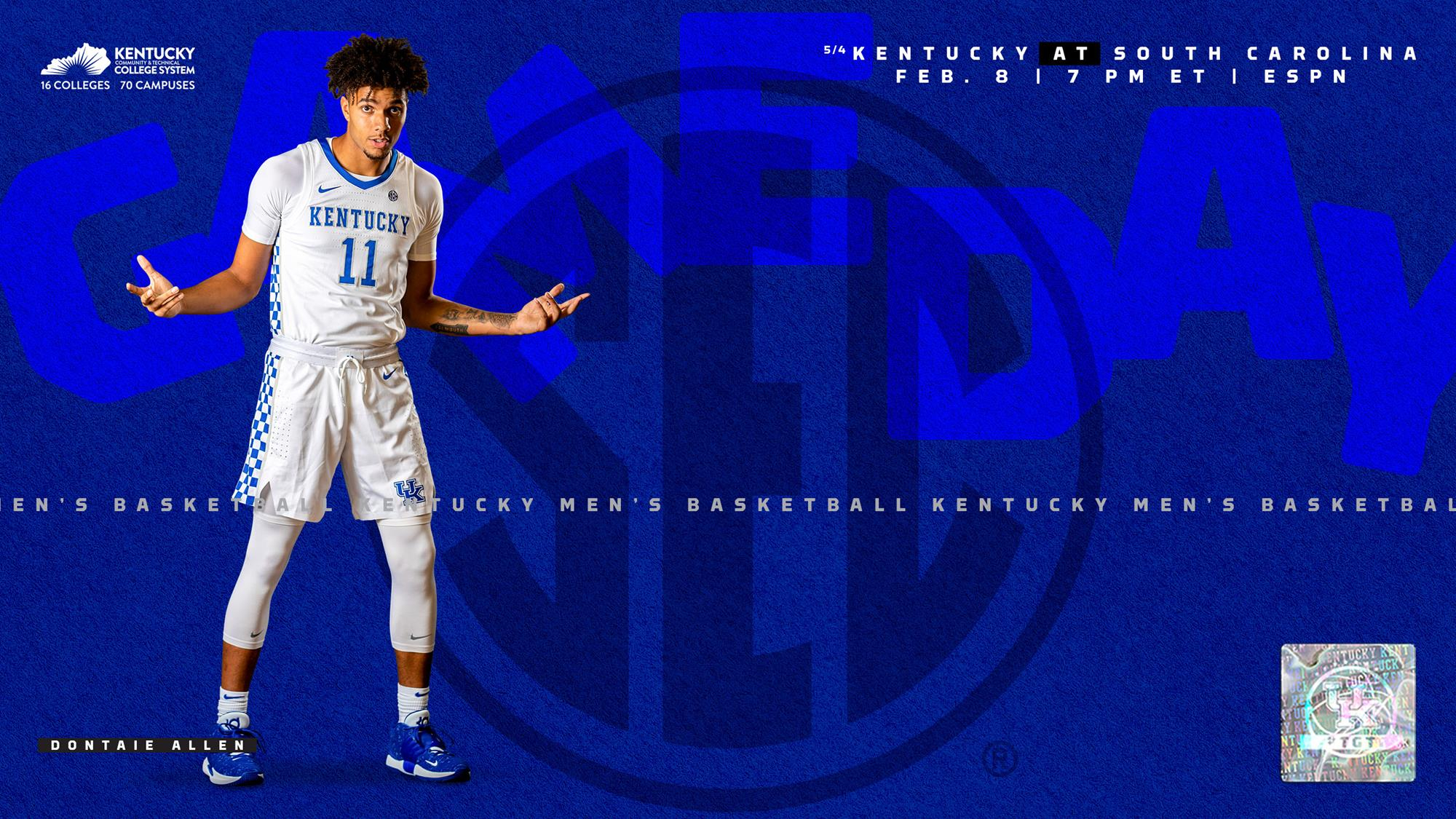 February 7, 2022 - 06:29 PM
No. 5 Kentucky Looks for Continued Road Success
After winning their fourth straight game, and eighth in their last nine, by winning at Alabama on Saturday, No. 5 Kentucky hits the road on Tuesday for an SEC matchup at South Carolina.
Kentucky has become a very solid road team, especially of late. Kentucky won at Kansas on Jan. 30, then won at Alabama this past Saturday. Neither of those places are easy for opponents. Overall, the Cats have won four of their last five on the road.
Now, the Cats will face another road game, at what can be a very loud Colonial Life Arena in Columbia. The Cats will face the Gamecocks but they are also facing the fact that, despite playing really good basketball lately, they cannot become overconfident. That's something that assistant coach Jai Lucas thinks this team is built to handle.
"We have older guys," Lucas said. "We have Kellan Grady, who is 24. We have Oscar (Tshiebwe) who is older, same with Sahvir (Wheeler), Davion (Mintz), Keion (Brooks Jr.). So, it's a little bit different because we have guys who have been through situations that help them with this."
 
Kentucky at South Carolina

Tue., Feb. 8 – 7:00 p.m. ET
Colonial Life Arena
Columbia, S.C.
Game Notes: UK | SC
UK Athletics App

Coverage

TV: ESPN
Radio: UK Sports Network
Watch
Listen
Live Stats

UK
Stats
SC
19-4
Record
13-9
8-2
Conference Record
4-6
81.2
PPG
70.8
64.0
Opp PPG
68.4
.489
FG%
.425
.403
Opp FG%
.403
41.2
RPG
38.6
.353
3PT FG%
.321
.294
Opp 3PT FG%
.323
16.8
APG
13.4
7.2
SPG
8.0
4.6
BPG
5.2

Another thing that an experienced team can have is laser focus and the ability to not look too far into the future. For example, this Kentucky team may be able to make a run at the Final Four and a national title, but the Cats are focused on the task directly in front of them.
"The hardest thing, in general, is just keeping them in the moment," Lucas said. "With social media and stuff like that, it's easy to get drawn into that hole. But (UK head coach John Calipari) does a great job of telling the truth. The biggest thing is keeping them in the moment and trying to eliminate that outside noise."
However, the team, and the coaching staff, know that the NCAA Tournament is the main goal, and Lucas said that Calipari does not shy away from discussing that with the team.
"One thing that coach is always preaching is that we're playing for March," Lucas said. "But we still have to eliminate the clutter than can be like poison and kind of run through the team. (Calipari) goes right at it and nips it in the bud."
The Gamecocks have lost their last two games after winning three in a row. South Carolina has had some recent success against Kentucky in Columbia, winning the last two contests in Colonial Life Arena. However, Kentucky leads the all-time series 53-13, including a 20-9 record in Columbia.
This Kentucky team has found its way on the road in recent weeks. They hope to extend that trend on Tuesday at South Carolina.
Collins Key in Kentucky's Win at Alabama
There was very little to indicate that Kentucky freshman Daimion Collins would play a key role for the Wildcats on Saturday at Alabama. In fact, it would not have been a surprise if he hadn't played at all.
Take a look at UK's last four games, and Collins' participation in them. Collins did not play against Vanderbilt on Wednesday night. He also did not play at Kansas last Saturday. Against Mississippi State, he played just one minute. And at Auburn, he did not play.
That's one minute played in Kentucky's last four games. In fact, in the 2022 calendar year, Collins had not played double-figure minutes until Saturday night. The last time he did so was against High Point on New Year's Eve, when he played 12 minutes and scored six points.
But in the first half of Saturday's SEC matchup, UK head coach John Calipari went to Collins in place of Oscar Tshiebwe. And the moved paid off in a big way.
Collins played just three minutes in the first half, but he made the most of his time on the floor. He made one of two from the floor, hit all four of his free throws and grabbed three rebounds.
Calipari had a thought in the middle of the night that led him to play Collins in this contest.
"Daimion Collins was the difference-maker," the Hall of Fame coach said. "I don't know what woke me up in the middle of the night saying 'lob, lob, lob'. And I watched enough of their tape, they collapse. So you have that, if you have a guy to throw it to. So I told him at shootaround, we're going to throw this lob and I'm putting you in for that reason."
Kentucky fell behind 9-1 and was looking for a spark in the early going. Collins provided that, according to fellow freshman TyTy Washington Jr.
"He helped a lot," Washington said. "He just came in and made his presence felt on defense. Then on offense, Coach Cal was realizing that their 'big ' was stepping up so if we could just throw it up by the rim, he could dunk it."
And while Collins' performance might have surprised many, the Cats could see it coming.
"Everybody in the whole program knows what Daimion can do," Washington said. "He's been spending extra hours in the gym. I knew that this game was going to come if he just got his opportunity to play."
In the second half, Collins added another four points and three more rebounds, helping bring UK's 66-55 win to the wire. His 10 points marked the third double-figure scoring game of Collins' freshman season. He had a career-best 14 points against Robert Morris on Nov. 12. Then on Nov. 26, he had 12 points against North Florida.
Calipari is impressed that Collins has continued to work hard for his opportunity.
"What I love about him is, I didn't play him for five games. Never even looked at him," Calipari said. "And he now has just forced me to figure out how to play him."
MORE GAME NOTES
• Kentucky has won four of its last five road games
• Alabama had 55 points, 28.1 field-goal percentage (18 of 64), and 10 percent 3-point percentage (3 of 30), season lows for the Crimson Tide in all three categories
• Entering last week as the nation's leader in rebound margin, Kentucky defeated Vanderbilt and Alabama despite being outrebounded in both games
• Despite scoring 15 points below the season average, Kentucky managed to place five players in double figures, the first time that has happened since the North Florida game on Nov. 26
• Twelve of Alabama's 15 turnovers were steals by Kentucky, enabling the Wildcats to run the court and have a 16-4 advantage in fast-break points