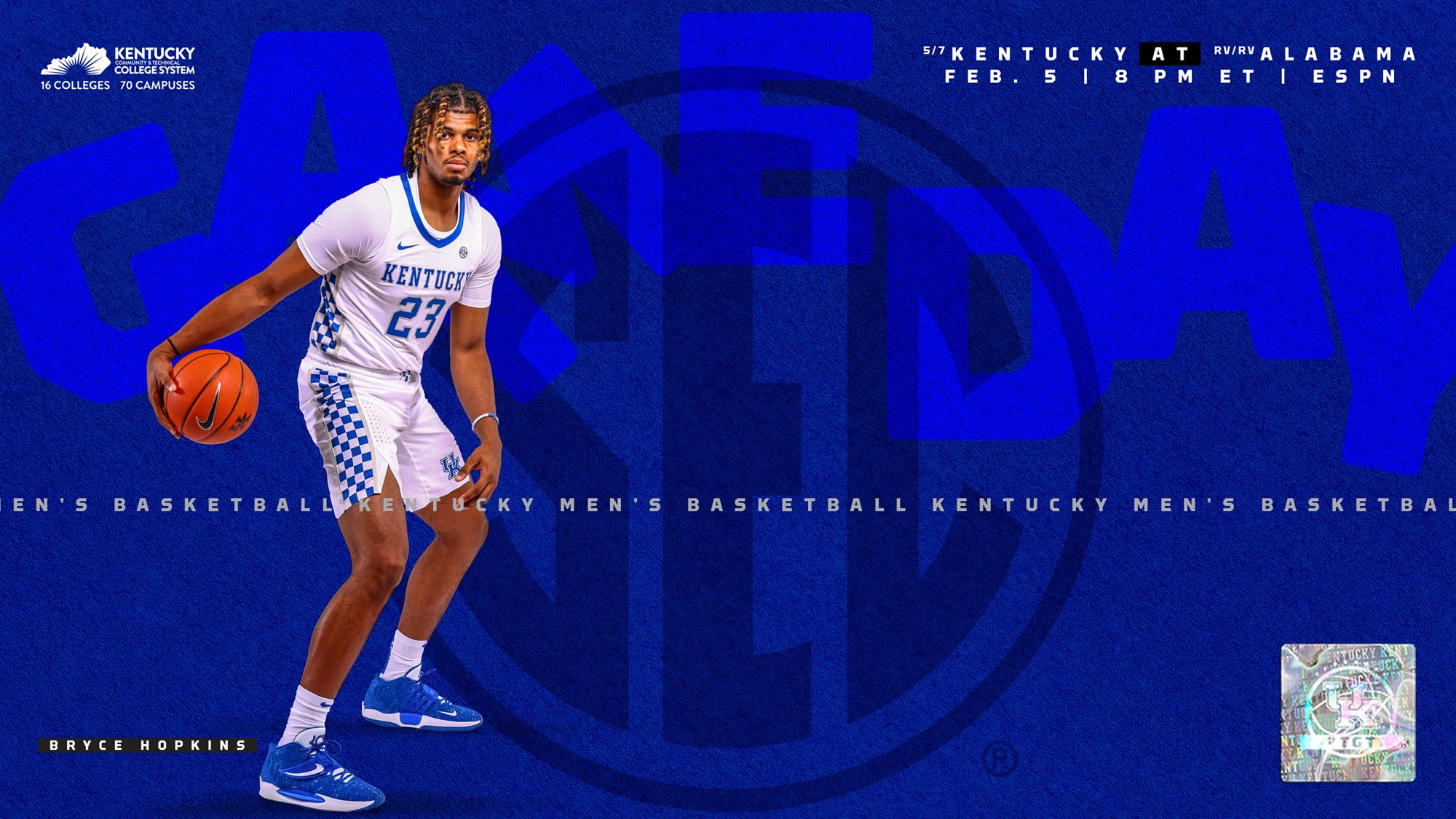 February 4, 2022 - 02:11 PM
Another Saturday, Another Tough Road Challenge for Cats
Prior to the 2021-22 season, there was a team that was supposed to be a clear favorite in the race for the SEC men's basketball title. When the favorite is that clear, the team is almost always Kentucky.
But this season, it wasn't the Cats who were heavy favorites. It was Alabama. The Tide was ranked 10th in the nation and was expected to be the team leading the strong SEC pack this year.
Things have not quite worked out that way for Nate Oats and his team this season, although they have had their shining moments. Alabama is 14-8 on the season and 4-5 in the SEC. But it has been a season where Alabama seems to play to the level of its competition, whether up or down.
Case in point, the Tide whipped No. 4 Baylor last Saturday in the SEC/Big 12 Challenge. Alabama also has wins over nationally ranked Gonzaga, Houston and LSU. But the Tide also have puzzling losses to Rick Pitino and Iona, Missouri and Georgia.
 
Kentucky at Alabama

Sat., Feb. 5 – 8:00 p.m. ET
Coleman Coliseum
Tuscaloosa, Ala.
Game Notes: UK | UA
UK Athletics App

Coverage

TV: ESPN
Radio: UK Sports Network
Watch
Listen
Live Stats

UK
Stats
UA
18-4
Record
14-8
7-2
SEC Record
4-5
81.9
PPG
81.4
64.4
Opp PPG
76.0
.493
FG%
.448
.409
Opp FG%
.436
41.1
RPG
39.9
.353
3PT FG%
.314
.307
Opp 3PT FG%
.316
17.0
APG
14.4
7.0
SPG
7.3
4.7
BPG
4.9

Kentucky will prepare for the best that Alabama has to offer, according to UK guard Kellan Grady.
"I expect them to be ready on Saturday," Grady said. "They just had a big win. And, to be blunt, we're coming to town, and a lot of times, that creates an electric environment. We expect to get the best of them and we'll be prepared for it."
UK head coach John Calipari expects the Crimson Tide's best on Saturday.
"You're on the road, they've beaten some of the top-ranked teams in the country," Calipari said. "It's going to be a really hard game for us to win."
Calipari knows that Alabama's inconsistency makes his job just that much harder.
"You've got to watch more tape," Calipari sakd. "You've got to watch tape – when they didn't play as well, was it the other team or was it them? When they really played well, did they do something different, did the other team do something that led them to play well. So, you get bogged down in tape."
Grady knows that defending the three-point line will be crucial in Saturday's game.
"I think it will be huge," Grady said. "Alabama has shown that they have the capability to beat some of the best of the best teams in our country this year. Part of that is how well they shoot the ball from three. They try to play with some pace and urgency."
The Cats are coming off a 77-70 win over Vanderbilt on Wednesday night at Rupp Arena. Davion Mintz scored 21 points to lead the Cats, becoming the sixth Kentucky player to score at least 20 points in a game this season. Grady knows that having so many options makes the Cats hard to defend.
"It does, for sure," Grady said. "I've been saying, since the season started, that we have six, seven, eight guys that are capable of having 20-point outings. It just speaks to how versatile we are as a team."
Kentucky faces yet another hostile, tough road environment on Saturday. The Cats hope their experience in big games, as well as their balance on offense, can be enough to get another road win.
"Old Guys" Lead Cats Past Vanderbilt
During the John Calipari era at Kentucky, freshmen have typically led the way for Cal's Cats. But the 2021-22 Cats are Calipari's most experienced team during his UK tenure.
It was three of those veterans who led Kentucky to a 77-70 win over Vanderbilt on Wednesday night at Rupp Arena.
In the early going, Kellan Grady, playing his fifth year of college basketball, was lighting it up from long range. Soon thereafter, he was joined by Davion Mintz, who is also playing his fifth year, who hit two of his first three shots from three-point land.
The "old guys" helped the Cats establish a 10-point halftime advantage.
In the second half, when Vandy had climbed within a point at 44-43, it was Mintz who drilled a left wing three-pointer to give the Cats momentum. In fact, it sparked an 8-0 run — completed with two free throws by Mintz — that gave UK a 52-43 lead with 12:11 to play.
Also in the second 20 minutes, Keion Brooks Jr., another of the Cats older players, stepped up when his team needed him. After scoring a career-high 27 points on Saturday at Kansas, Brooks notched 20 points in Wednesday's win. It marked the first time in his UK career that the junior from Fort Wayne, Indiana, has scored 20 or more points in consecutive games.
Calipari challenged Brooks at halftime to be more active in the second half.
"I told Keion at halftime, 'You've got no rebounds.' What happened to that guy I saw?," Calipari said. "I told him that if you get five in the second half we'll win. Good news? He got four. He went out and got rebounds."
Mintz finished with 21 points, tying the career high he set last season against Florida.
Calipari was impressed with Mintz on this night.
"Davion played unbelievable today," Calipari said. "Like really, really good. He just is relentless. And he also runs the floor. He and Kellan spread the court out."
As for Mintz, he knows that Wednesday just happened to be his night.
"There's so many guys on this team capable of getting 20 points," Mintz said. "I can count five more guys on our team outside of that that can do it as well. Like I said, this team is very talented and what goes into that is that unselfishness."
MORE GAME NOTES
• Kentucky is 14-0 at home this season and has won its last 15 games in Rupp Arena.
• Kentucky forced 18 turnovers, third-most of the season, leading to a crucial 15-3 advantage to points off turnovers.
• With the help of the turnovers, Kentucky managed to win despite shooting only 38.6 percent from the field. UK is now 2-4 this season when being outshot by the opponent.
• Entering the game as the SEC's leading team in assist/turnover ratio (+1.42), the Wildcats had 16 assists and only 10 turnovers tonight. It is the fifth time in the last eight games that UK has had 10 or fewer miscues.
• With Mintz scoring 21, UK now has six players who have scored at least 20 points in a game this season, also Oscar Tshiebwe, TyTy Washington Jr., Grady, Brooks and Sahvir Wheeler.