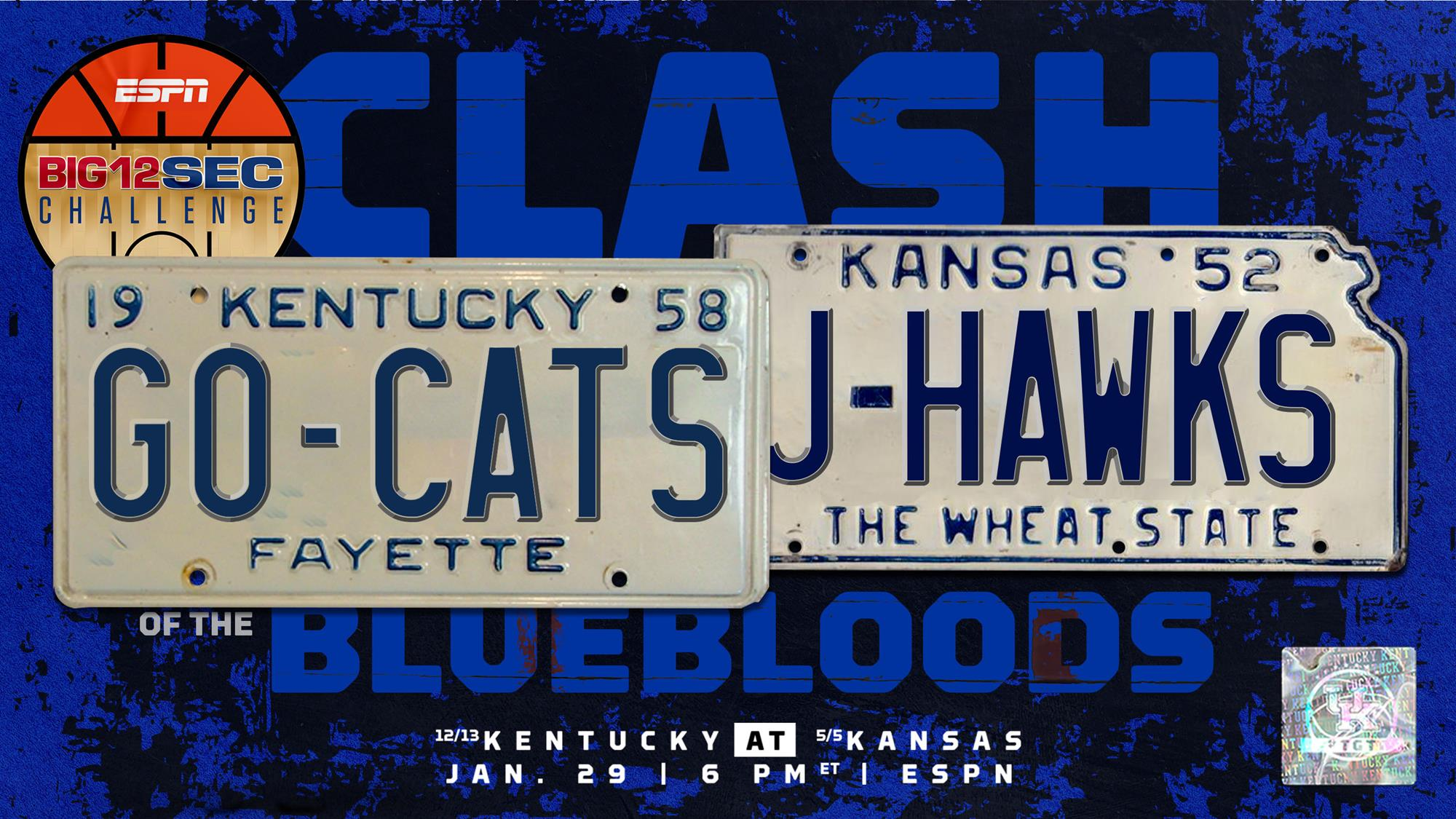 January 28, 2022 - 02:59 PM
Bluebloods Battle as No. 12 Kentucky Visits No. 5 Kansas
The build up to Saturday's game between Kentucky and Kansas will be all about history. And why not? When talking about the most storied programs in college basketball, the conversation starts with Kentucky and Kansas.
Kentucky has won the most games of any college basketball program (2,343), while Kansas is second (2,340). Kentucky has won eight championships, which is second all-time. Kansas has claimed three titles, which is tied for seventh. Kentucky has been to 17 Final Fours, which is third all-time, while Kansas has appeared in 15 Final Fours, fifth in the history of the game.
There's also synergy between the programs. Legendary UK coach Adolph Rupp played at Kansas under "Phog" Allen, the namesake of KU's Allen Fieldhouse. Among the assistant coaches that Rupp played for at Kansas was James Naismith, the inventor of basketball.
Current UK head coach John Calipari also spent some time in Lawrence. Calipari was an assistant for the Jayhawks under Ted Owens and Larry Brown from 1982-85.
And speaking of Calipari, he would be happy to tell you what all of this history means for Saturday's game – exactly nothing. This game is strictly about the 2022 Cats and Jayhawks.
 
Kentucky at Kansas

Sat., Jan. 29 – 6:00 p.m. ET
Allen Fieldhouse
Lawrence, Kan.
Game Notes: UK | KU
UK Athletics App

Coverage

TV: ESPN
Radio: UK Sports Network
Watch
Listen
Live Stats

UK
Stats
KU
16-4
Record
17-2
82.2
PPG
81.5
64.2
Opp PPG
67.9
.497
FG%
.493
.407
Opp FG%
.424
41.7
RPG
37.3
.349
3PT FG%
.366
.301
Opp 3PT FG%
.313
16.9
APG
16.4
7.0
SPG
6.7
4.9
BPG
4.3

Kansas is 17-2 on the season and ranked fifth in the country. Senior Ochai Agbaji leads the Jayhawks in scoring at 21.3 points per game. Agbaji has been the Big 12 Player of the Week on three occasions this season, including the last two weeks.
The Jayhawks are riding a five-game winning streak heading into Saturday's contest. Bill Self's team has not lost since falling to Texas Tech in Lubbock on Jan. 8.
Kentucky is coming off an 82-74 overtime win over Mississippi State on Tuesday. The Cats are facing a top-five opponent for the second straight Saturday. UK lost at Auburn 80-71 one week ago. Kentucky hopes to have freshman guard TyTy Washington Jr. back for Saturday's contest. Washington was injured in the first half at Auburn last Saturday and missed Tuesday's game against Mississippi State. Calipari noted that Washington is not the only Cat currently ailing.
"He didn't practice yesterday," Calipari said. "Daimion (Collins) didn't practice yesterday. Jacob (Toppin) didn't practice yesterday. Orlando (Antigua) wasn't at practice yesterday. So, we were down to two and the rent was due."
Whether Washington, Collins and/or Toppin play on Saturday or not, Calipari knows that the game will come down to which team executes better.
"We have to do our stuff better than they do their stuff, because it's really similar," Calipari said. "They take 20 threes a game. They shoot them at a high percentage, especially a couple of the guys that they know to get them off. They do a great job. Bill's always done a great job of creating post areas for people to score so that they get easy baskets. They play really fast. They're running dribble drive. This is the ultimate challenge going to Allen Fieldhouse. They're a top-five team."
Saturday's game will be the latest game in the series between the two. The programs have met 33 times, with Kentucky holding a 23-10 edge. The teams have split eight games during the Calipari tenure at UK. Most recently, Kentucky lost to Kansas 65-62 in the Champions Classic last season.
But Saturday's game is not about history. It's about a pair of teams challenging themselves as the postseason inches closer.
Kentucky Outlasts Mississippi State in Overtime as Calipari Notches 800th Win
To John Calipari, his latest milestone only means he's been coaching a long time.
Fittingly, No. 12 Kentucky and the Hall of Fame coach needed an five extra minutes to reach 800 career on-court victories.
Kellan Grady scored eight points in overtime, including consecutive 3-pointers about a minute apart, and Sahvir Wheeler added two free throws to lift the Wildcats over Mississippi State 82-74 on Tuesday night.
"I have to publicly thank all my players, going back to UMass and Memphis and here," Calipari said of winning that many games.
Grady finished with 18 points and Oscar Tshiebwe produced 21 points with 22 rebounds for Kentucky (16-4, 6-2 Southeastern Conference). After missing a 3-pointer at the end of regulation, Grady regrouped in the extra session to drive the baseline for a layup before adding 3s with 2:23 and 1:13 remaining for an 80-74 lead.
"Sometimes it is crucial to see the ball go in once or twice," said Grady, who made 7 of 16 overall and 4 of 11 from long range. "I put my head down and drove and made the reverse layup, and then hit the next two 3s after that."
Calipari praised Grady's persistence, adding, "He missed four wide-open shots, I told him to keep shooting the ball and we designed a play for him. He's shown he can miss some shots and come back."
Wheeler twice made the first of two free throws to extend the lead on the Bulldogs, whose only basket in overtime came from Iverson Molinar, a layup with 2:43 left.
The Wildcats led 53-38 with 12:25 left before the Bulldogs (13-6, 4-3) rallied by holding Kentucky scoreless over four minutes. Molinar scored 22 of his career-high 30 points in the second half to lead Mississippi State.
The Bulldogs were coming off a 78-60 rout of rival Mississippi on Saturday. They shot 62% in the second half to erase the deficit but made just 1 of 7 in overtime (14%) and missed a chance for their first victory in Rupp Arena since 2009.
"Really, really hard-fought game," Bulldogs coach Ben Howland said. "I like the way we fought back."
Wheeler had 15 points and six assists and Keion Brooks Jr. added 12 points and six rebounds for Kentucky, which played without guard TyTy Washington Jr. (left ankle injury).
"I wish we hadn't blown that lead, but I think it was good for us to show we can win a game like this," Grady said. "It shows we have some resilience."
MORE GAME NOTES
• Calipari amassed his 800 wins in the fourth-fewest games coached (1,037). Only Adolph Rupp (972), Roy Williams (1,012) and Dean Smith (1,029) achieved the feat faster
• Tshiebwe had UK's first 20-20 game in 46 years, when Mike Phillips had two such games in 1975-76
• Kentucky won its fourth straight overtime game, the last two of which have been against Mississippi State, and the Wildcats are 63-49 all-time in extra periods
• Kentucky won the rebounding battle 44-33 and second chance points 13-3. The nation's leader in rebound margin, Kentucky is 16-1 this season when outrebounding the opponent, 13 of which have been by double-figure margins
• Kentucky won despite having a season-high 17 turnovers for the third time this season. Ironically, UK has won all three games, vs. Albany, at Texas A&M and vs. Mississippi State