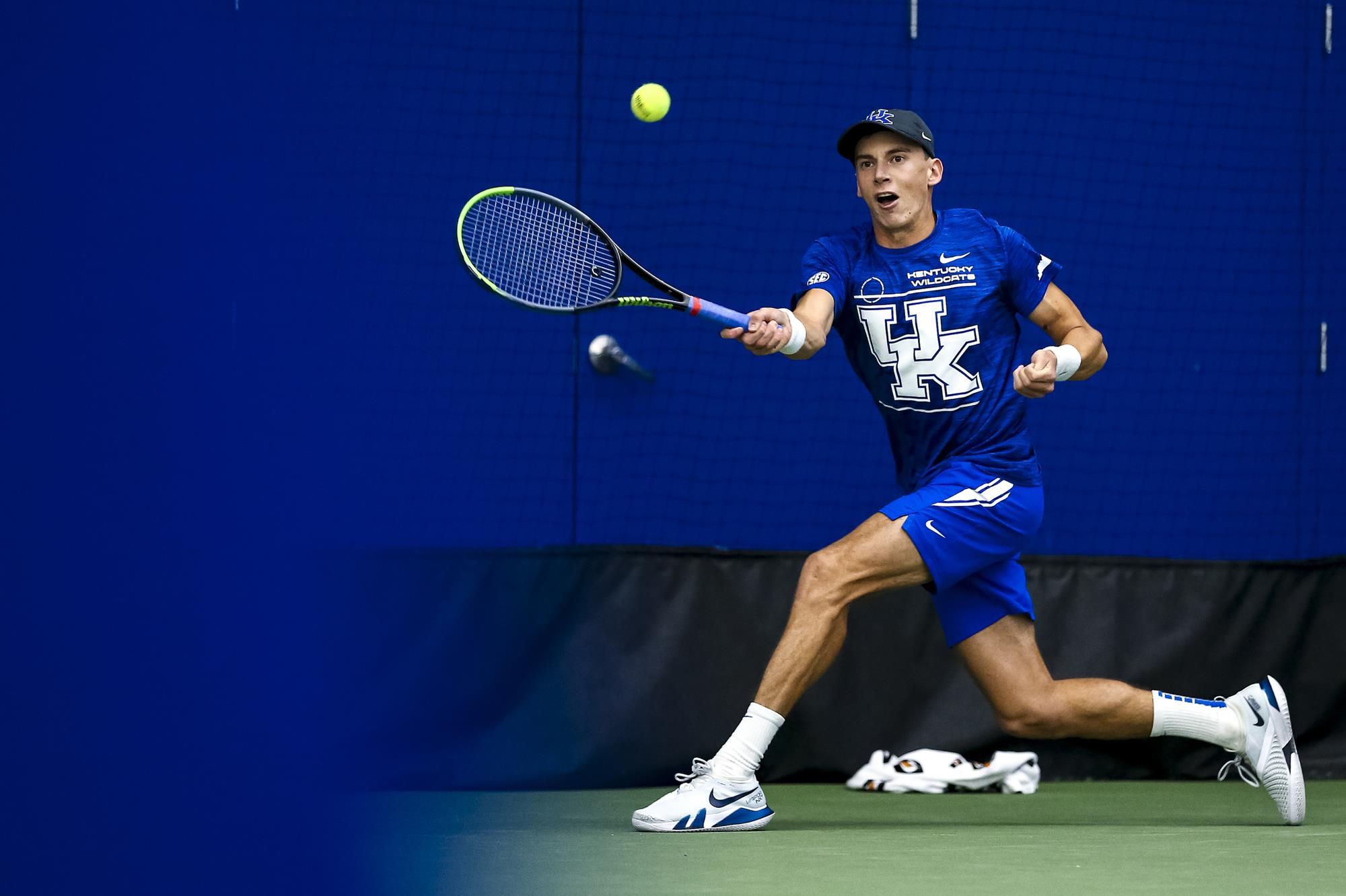 January 22, 2022 - 07:45 PM
No. 11 Kentucky Earns Second Sweep in Two Days Over NKU
CRESTVIEW HILLS, Ky. – Kentucky (4-0) traveled to the Five Seasons Sports Club on Saturday afternoon and swept Northern Kentucky (1-1), 4-0, to remain perfect on the season and earned its second sweep in two days, both over in-state competition. 
 
Redshirt sophomore JJ Mercer earned his first clinching point in his Wildcat career after taking down Trevor Ball that started with a tight first set, earning the victory in a 7-5, 6-3 win.
 
"Our team did a really good job competing today," said Mercer. "It was a tough one in the doubles, but we got the point, we bounced back, got three singles, and we were able to beat them 4-0."
 
Reigning Intercollegiate Tennis Association Player of the Year Liam Draxl and captain Millen Hurrion made quick work of their opponents, both as partners in doubles and as individuals in singles. 
 
The pair won 6-2 over Emilien Burnel and Santiago Casamayor to earn the first doubles point of the match. Draxl and Hurrion then took care of their singles opponents, Burnel and Jorge Rodriguez, winning by scores of 6-1, 6-1 and 6-2, 6-1, respectively.  
 
Sophomore Yasha Zemel and senior Ying-Ze Chen clinched the doubles point for the Blue and White after winning a thrilling match against Ball and Vincent Knott, finishing with a score of 7-5. 
 
The Wildcats have now swept Northern Kentucky in eight matches since 2014.
 
Kentucky will travel to Starkville, Mississippi on Jan. 29-30 to participate in the ITA Kickoff Weekend Tournament, filled with a field of Southeastern Conference foes. 
 
The Cats will first play Alabama, the third seed in the four-team field, on Saturday at the A.J. Pitts Tennis Centre. Should Kentucky win, it will play the winner of the Mississippi State and Arkansas match to compete for a spot in the ITA Indoor National Championship in Seattle, Washington, on Feb. 18-21. The matches will be the first time facing a conference opponent this season. 
 
Kentucky 4, Northern Kentucky 0 
 
Singles
Liam Draxl (UK) def. Emilien Burnel (NKU) 6-1, 6-1
Millen Hurrion (UK) def. Jorge Rodriguez (NKU) 6-2, 6-1
No. 89 JJ Mercer (UK) def. Tom Berry (NKU) 7-5, 6-3
No. 122 Yasha Zemel (UK) vs. Trevor Ball (NKU) unfinished
Jonathan Sorbo (UK) vs. Santiago Casamayor (NKU) unfinished 
Heman Nama (UK) vs. Vincent Knott (NKU) unfinished 
Order of finish: 1, 2, 3*
 
Doubles
1. Liam Draxl/Millen Hurrion (UK) def. Emilien Burnel/Santiago Casamayor (NKU) 6-2
2. Tom Berry/Jorge Rodriguez (NKU) def. JJ Mercer/Josh LaBlanc (UK) 6-3
3. Yasha Zemel/Ying-Ze Chen (UK) def. Trevor Ball/Vincent Knott (NKU) 7-5
Order of finish: 1, 2, 3*
 
For the latest on the Kentucky men's tennis team, follow @UKMensTennis on Twitter and Facebook, @kentuckymenstennis on Instagram, and on the web at UKAthletics.com.
 
– GO CATS –
For more information contact:
Ryan Cullinane (rrcu222@uky.edu) – (859) 257-8309